If you're starting a company or you think it's time to rebrand, then you definitely need a new logo. You want to send the message that your company is turning a new page, and a brand-new logo does just that.
While you might want to try to design your logo yourself, many business owners prefer to work with a professional logo designer. Sometimes even logo designers need services to help them get started or with tricky projects!
This week we're taking a look at Penji, an agency offering many different design services for brands all over the world.
There are many reasons why you might be needing graphic design services. Maybe your old graphic designer is leaving the company, or maybe the agency you worked with before isn't working out anymore. Maybe you're currently a logo designer who needs a specific type of design that you've never done before.

It doesn't matter why you need new graphic design service; what matters is that you get great creative products from a professional who you like working with. This week we're taking a look at how one agency, Penji, helps business owners and logo designers around the world.
Why Would A Logo Designer Use Penji?
Sometimes logo designers can get in over their head. It might happen as a result of having too many clients and not enough time. Or it might be because a project requires work in an area the designer has never worked in before.
Knowing that you've committed to something you can't deliver is a terrible feeling. Its also bad news for your business. You can work with a professional logo design service like Penji to help you finish that project that's been haunting you from your to-do list.
It's A Four-Step Process
With Penji, you follow four simple steps: create your project, connect with designers, revise their designs to fit your needs, and then finally, you download the design.
If you're a business owner with not a lot of time on your hands, then Penji is a great solution. You can communicate through the Penji platform, keeping those conversations separate from your other business operations.
What Designs Are Available?
The great thing about Penji is that if you can imagine it, their experienced designers can make it. That means advertisements, marketing materials, logos, website, and app designs.
While Penji does offer many different types of designs, they don't offer other marketing services, like content writing or video editing. Animation, 3D modeling, WordPress, motion graphics, and programming are also off the list.
But if you need anything from an album cover to book illustrations, or from a Facebook banner to a Twitter header, Penji has you covered!
What's The Turnaround?
According to Penji's site, you'll get your first draft within one to two days. Speed is important, but it's also important that you work with designers who are experienced professionals. Make sure you allow for enough time for the designer to do their job.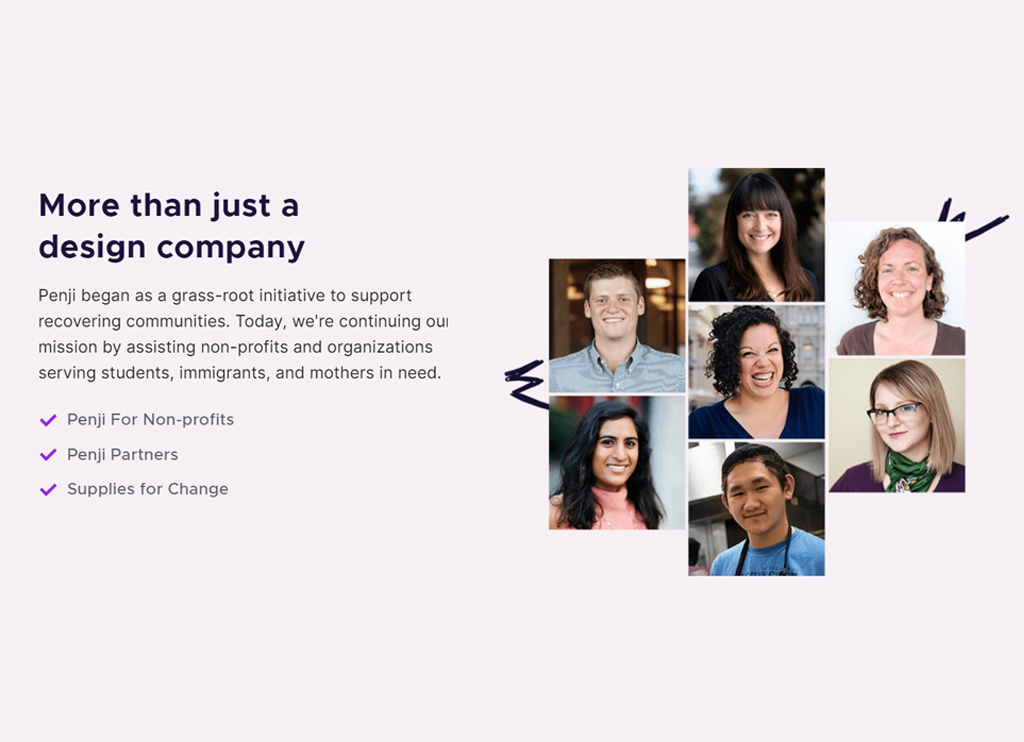 Can You Change Designers?
Maybe you're a logo designer working on a major project for an important client. You're having trouble with one aspect of the design, so you reach out to Penji to connect with a designer who might be able to help.

What happens if you don't like the designer you match with?

What happens if their style is totally wrong for the project or the client?
If you're a business owner, what happens if the designer's communication style doesn't work for you?
There's good news: you can contact Penji and they will swap out designers for you, so you don't have to work with that individual any longer.

There are so many potential opportunities for things to go wrong. In a creative field like design, personality really does matter and it can affect the success of a project.
There's also a lot of potential for success. We hope you're assigned a designer you love right away!
The Final Product
After you've finished communicating with your designer, you can okay the project and download the final product. You don't need to wait for the designer to email you or send you the files. They'll be available on the platform and you will always have complete ownership of the files!
If you're worried about file type, there's no cause for concern. Penji's designers will send you your final product in many different file types, so you have exactly what you need.
Communicate and Collaborate
If you're looking to open your own businesses, if you need to redesign your logo, or if you need help with your own logo design project, Penji has great solutions. The pricing tiers range from $400 to $900 a month, but if you need graphic design services fast, then you'll definitely benefit from a membership. Working with professionals will make your life easier!