99Designs is a resource for people looking for web and graphic designers. The platform connects those looking for a design to the artists who can create logos, web designs, illustrations, graphics, and so much more.
My Honest Review of Flocksy [Plus Exclusive COUPON]
Whether you're starting your business or going through a rebranding, your marketing material and web design can be vital to your success. Since it can take weeks to find and receive work from a single graphic designer or marketing agency, online services with a fast turnaround are extremely appealing. Does Flocksy's Unlimited Creative Services subscription live up to the hype? Let's dive in.
Flocksy is a creative services platform that offers unlimited graphic design, video, copywriting, illustrations and more for an affordable flat rate. There are several different tiers and payment plans available, so you're sure to find one that would fit your company's needs.
Flocksy's first and most affordable tier, the Silver Plan, not only provides logo design but also offers several other graphic design services as well as copywriting and custom illustrations. These services are all included in the higher tiered subscriptions, in addition to web and app design, landing pages, and voice-over work (to name a few).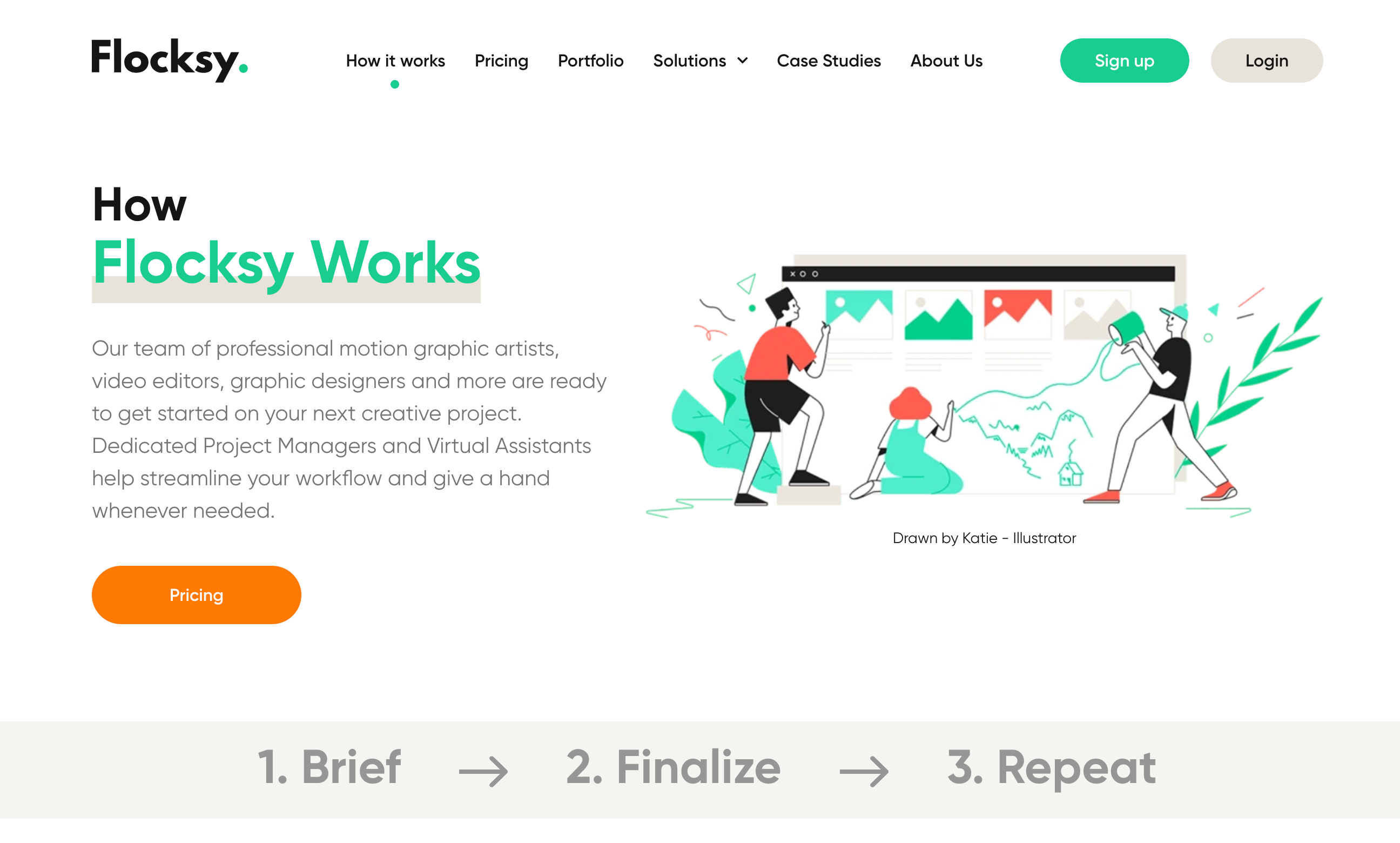 The Flocksy platform and pricing are very upfront and straightforward. Whether you need unlimited marketing materials, virtual assistant services, or one-off projects — you submit your briefs the same way and can monitor them all from your dashboard.

1. First, determine which plan is right for your business needs. The Gold and Platinum plan come with Virtual Assistant services, but no matter which tier you choose, you'll be assigned a Project Manager. Your dedicated Project Manager is there to help you use the platform, answer any questions and keep you informed about your project status.

2. Once you set up your account, you can create your first project brief, Virtual Assistant project or choose a package from the marketplace. You can choose from the available categories (copywriting, graphic design, video, etc.), and then easily answer the questions provided and provide references to specify what you need.

3. When you're creating your project, you'll also be able to add brand buckets. These allow you to organize all your brand guidelines and material in one place. These files can include previous logo designs, a brand guide, color palettes, or whatever you need. The buckets are essentially like having a Google Drive folder for your brand assets.

4. Once the project is created, you can sit back and wait for results. If the Flocksy team has any questions they'll promptly let you know or start working on your project.

5. As your creative team works on your projects, they'll send you updates and ask any questions they might have to ensure they're meeting your expectations. Best of all, thanks to the Zapier integration, you can get your updates wherever works best for you. Slack, Trello, Microsoft Teams, etc.- they're all available. If you like Slack, Zapier can help you manage projects through their channels. If you like Trello, Zapier can make new cards every time you start a project.

6. When your project is done, you'll get the final files from your creative and be able to leave feedback or ask for revisions. The best part is you'll be able to invite back creatives you enjoy working with. These long-term relationships allow you to build rapport with your creative. They'll get to know you and your work, creating a smoother experience during each of your subsequent projects.
Quality, Consistent and Quick
The work that comes out of Flocksy is high quality because Flocksy pre-vets all their creatives and ensures they only hire the best talent. You can count on your creative team and virtual assistants for a quick turnaround and work you'll be proud of.

At Flocksy.com you can see a portfolio of work that spans categories and style types. The logos range from crisp and clean to elegant and soft. There are also examples of custom illustration work, video editing projects and landing pages. Because there are so many different types of digital artists and web developers working on the projects, Flocksy can handle almost any design style or need.

Overall, Flocksy is all about quality. If something isn't perfect the first time around, they allow unlimited revisions, and the creatives regularly ask questions to ensure they understand exactly what you need from them. It's hard to find that type of dedication to quality from a typical freelancer. It's like having your own in-house team without paying for the full-time employees.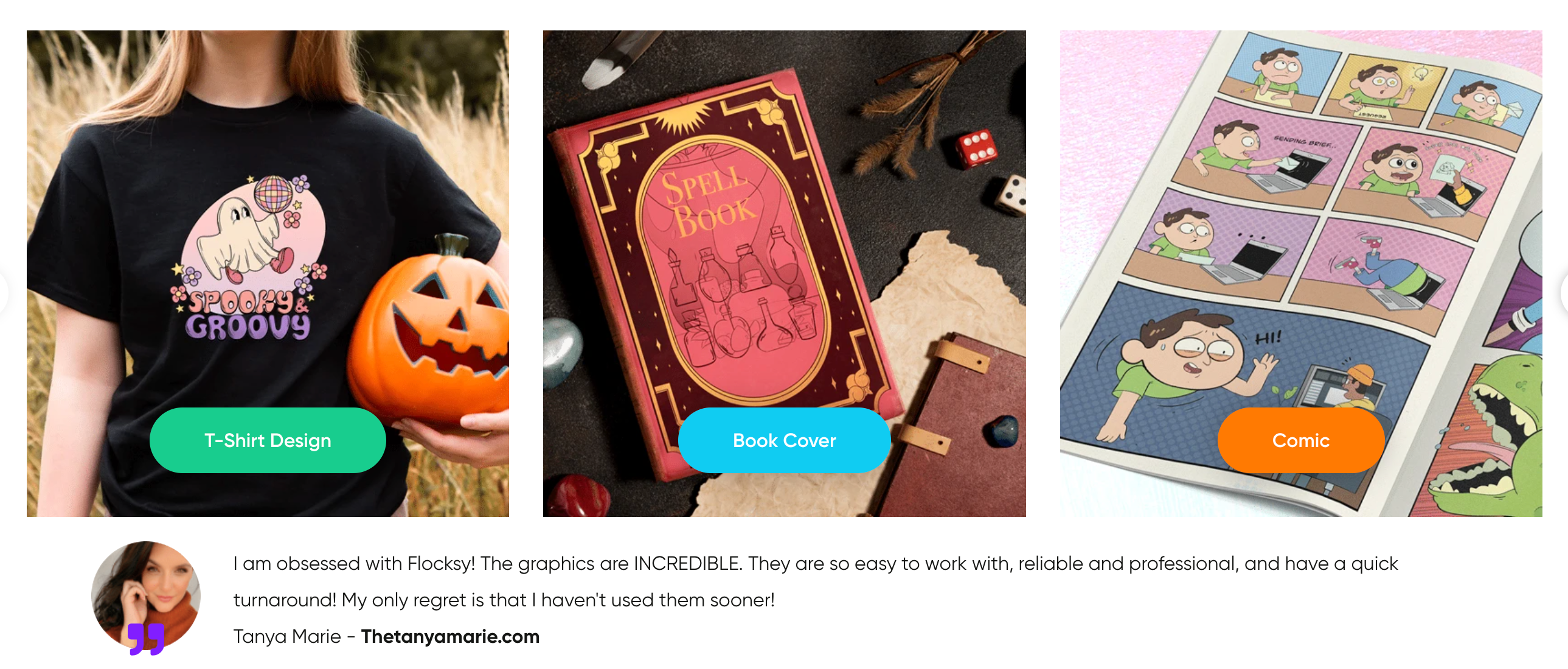 GET 20% OFF YOUR FIRST MONTH OF FLOCKSY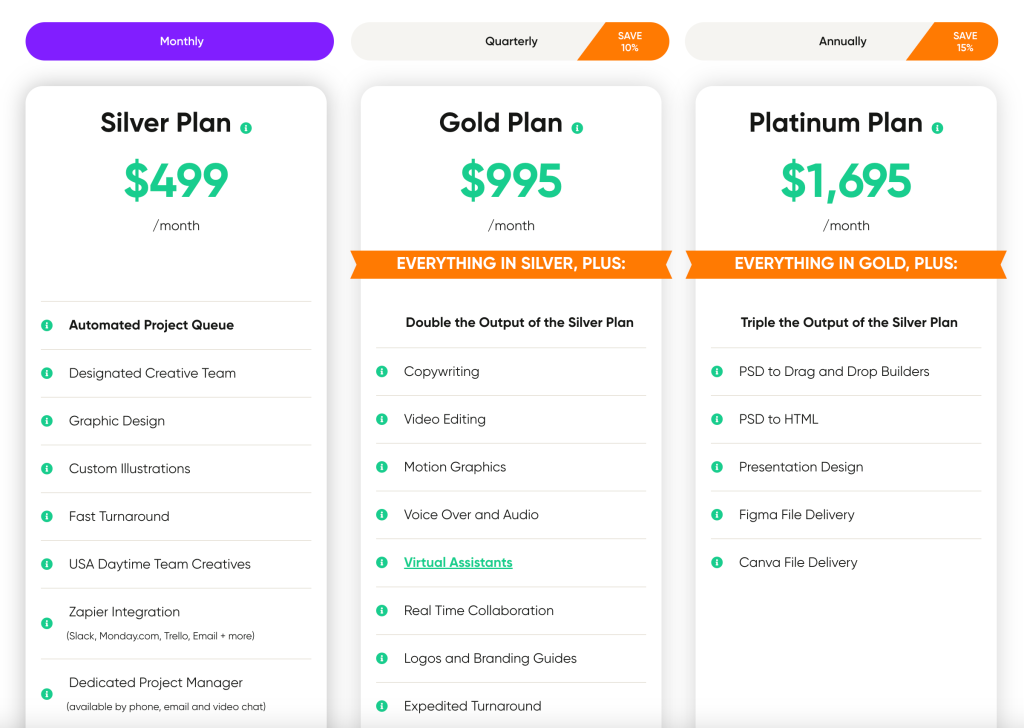 Flocksy offers three pricing tiers with fixed monthly, quarterly, or annual payment plan. Even the entry level Silver plan includes Zaiper integrations, dedicated project manager, unlimited graphic design and custom integrations and the ability to form your own creative team.

The Silver Plan is $499 per month and provides unlimited copywriting, design, and illustration options. You'll have one active project slot and a queue that updates and assigns creatives to projects automatically. You'll also be able to access the Flocksy marketplace where you can purchase affordable one-off projects that aren't included in the Silver Plan (web design, video editing, etc.) from the Flocksy team as needed.

With the Gold Plan, you get a lot more flexibility. The Gold Plan is $995 per month, and comes with everything listed in the Silver Plan as well as their voice-over and audio team, web and app design, and animated GIFs. With the gold plan, you can have unlimited brand buckets — making it the perfect plan for larger companies and marketing agencies. You also have the ability to run Virtual Assistant projects with the Gold plan, meaning you can not only have your marketing materials created for you by Flocksy but also posted to your social media accounts, data input and so much more.

With the Platinum Plan, you get everything Flocksy has to offer. The Platinum Plan is $1,695 per month, and you'll get everything that comes with the Gold Plan as well as presentation design, PSD to HTML, work done in Figma and Canva and more.

All plans come with unlimited active users and brand buckets, a 14-day money back guarantee, which means there's no end to the brand materials you can collaborate on.
No matter which plan you choose, you'll get a dedicated project manager and use the same vetted creatives. So, while Flocksy's monthly plans are cheaper than the competition, they're certainly right in line with what similar companies offer in terms of quality and project options. Also, with Flocksy you're able to receive a plethora of marketing materials since they offer copywriting and video editing services on top of graphic design.
How Long Does a Project on Flocksy Take?
Flocksy is all about fast turnaround times and quick responses. When you create a project, you can expect a message from a Flocksy creative the same day. You can also typically expect same day updates if not project finalizations from the creative. This time can be affected by how complex the project is. However, you'll always be provided with an estimate of the completion date and regular updates from your creatives and project manager.
For Virtual Assistant projects, the VA team will work for an hour on whichever task you'e assigned them each day. This could be anything from data input to booking the cheapest flight available. Your project manager will help you decide how to chunk up your task and you'll receive an update, files or completed project by the end of the day.
Additionally, as you work with the same creatives consistently, you'll be able to enjoy a smoother, faster experience, which is something their competitors can't.
To use Flocksy successfully, it can be quite helpful to start at the top – your brief. Because this is the first and most-detailed point of contact with your team, it's beneficial to be as thorough as possible. By providing as many details as possible, you minimize the chance that a creative will have to ask you questions about your project. They'll be able to get started right away and get it back to you sooner.


Because Flocksy offers so many services, it can be important to include your brand messaging and style with each project in your brand bucket. That way, no matter which creative works on your project, they'll understand what your company is all about and who you are. The nice thing about Flocksy is that you can also include several reference images and links in the brief for your Creative to use as inspiration. 
Overall, Flocksy provides access to high-quality creatives who can complete your projects quickly. While more complex projects do take longer, the work you get back is never going to take longer than a typical marketing agencies timeline and will always be worth the wait. You also build a long-term relationship with your creatives, which can be invaluable. Moreover, Flocksy offers many services, not just graphic design or copywriting.
Here is the only downside to the Flocksy services:
There are several design and copywriting services that offer similar services as Flocksy. However, many of them don't combine those two offerings in one the way that Flocksy does. Some run on design contest platforms, while others offer a similar flat rate.
● Design Pickle – Design Pickle offers three-tiered plans for graphic design services. However, they don't offer copywriting or voiceover services. What's more, in their top-tier plan, you're paying well over what Flocksy charges for their Access Plan, and you don't get as much. If you need solely graphic design, the lower plans might be good options for you. But if you're looking for a well-rounded service, Flocksy is where it's at.
● Kimp – Kimp also offers unlimited design and three plans- graphics, video, and graphics + video. Their services are similar to Design Pickle. However, because they let you focus on either graphics, video, or both, it makes it easier for businesses looking for one or the other. Again, they don't provide copywriting services or voiceover work.
● 99Designs – 99 Designs is a graphic service backed by Vista. They allow users to work directly with creatives or start a contest. They can create graphics for logos, book covers, websites, and more. Again, they focus solely on design. Because of their contest and one on work, the service prices vary.
Fequently Asked Questions
There are a couple of questions you might have in your head before you start working with Flocksy. Here are a few answers to some of the most burning questions.
GET 20% OFF YOUR FIRST MONTH OF FLOCKSY
Leave your own review of Flocksy!
Honest, accurate first hand reviews only. When possible please link to the project results you are leaving the review for.
{{ reviewsTotal }}
{{ options.labels.singularReviewCountLabel }}
{{ reviewsTotal }}
{{ options.labels.pluralReviewCountLabel }}