When you want professional, custom design, it can take more time and money than you have to locate and hire a graphic designer. Crowdsourced design sites are a budget-friendly option. Within one site, you have access to multiple graphic designers and numerous design categories. Flyers, brochures, infographics – you name it! 
The Top 10 Logo Design Contest Sites [updated 2022]
by David Melvin – LDM Editor
When you want professional, custom design, it can take more time and money than you have to locate and hire a graphic designer. Crowdsourced design sites are a budget-friendly option. Within one site, you have access to multiple graphic designers and numerous design categories. Flyers, brochures, infographics – you name it! You can even run a design contest where designers compete to have you choose their design.
There are multiple sites out there, but which ones are your best options? We've ranked and reviewed the top 10 online graphic design services below. Read on to find out how these top 10 freelance graphic design services compare.
We've pulled the stats from the top ten logo contest sites just for you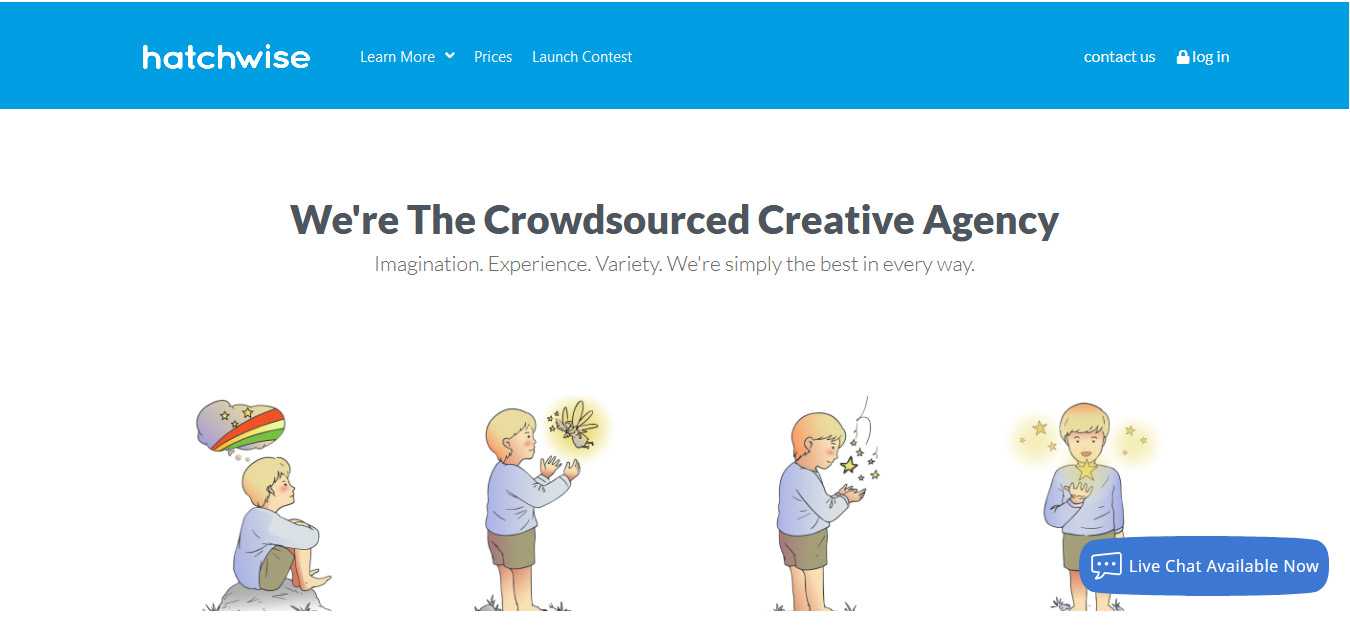 Need a unique name for your business or an eye-catching design?

Hatchwise can help!
---
Most design sites only offer contests for logos, but Hatchwise lets you run contests for anything. On Hatchwise, you can get banners, websites, brochures, or just about anything designed.
When you select a contest winner, you get the full rights to their design. All designers and copywriters are pre-vetted. Contests automatically run for 10 days, but you can put a rush on things for an added fee.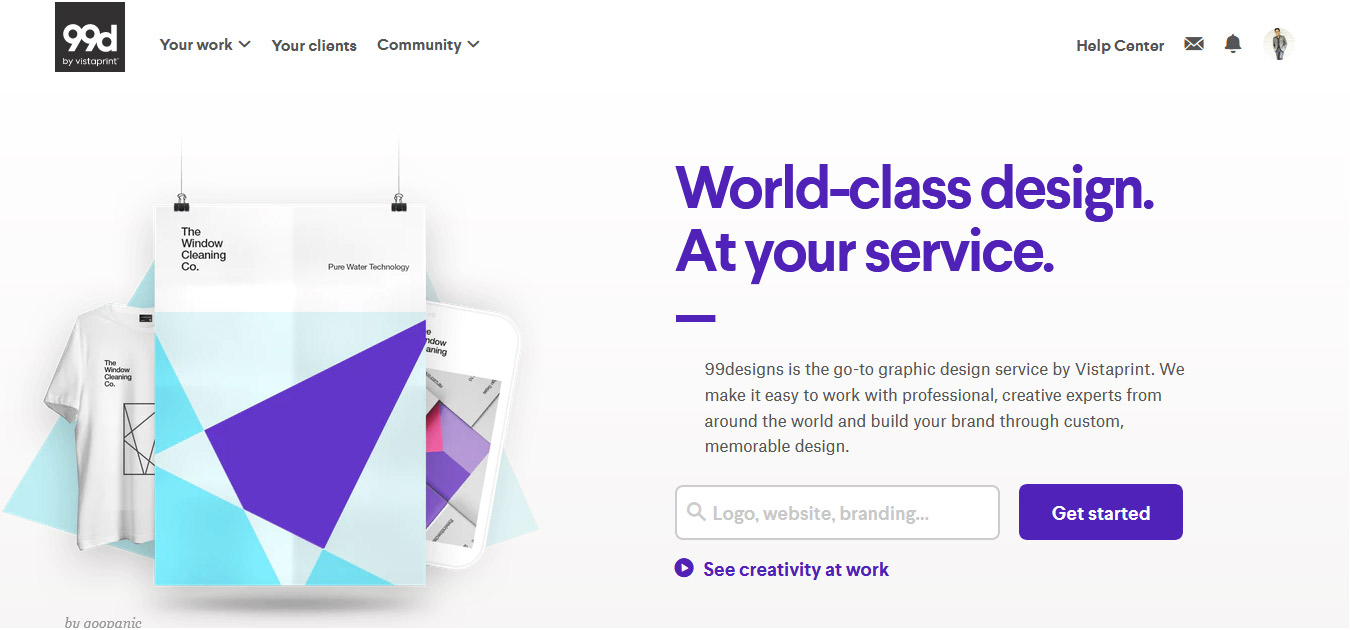 With 99Designs, you can hire a freelancer directly or run a design contest.
---
What you pay is based on your needs. 99Design's specialty is print materials, but you can also get website design and more. 
Turnaround times vary based on what you're requesting and the package you've selected. Many services are bundled. For example, the "the logo & brand identity pack" includes a logo, letterhead, business card, and Facebook cover. If you run a contest and love the winner's work, you can then directly hire them for more work.
Pricing will vary. Most of the bundled services are a couple of hundred dollars. For 1-on-1 projects, you set the budget and can accept or reject quotes.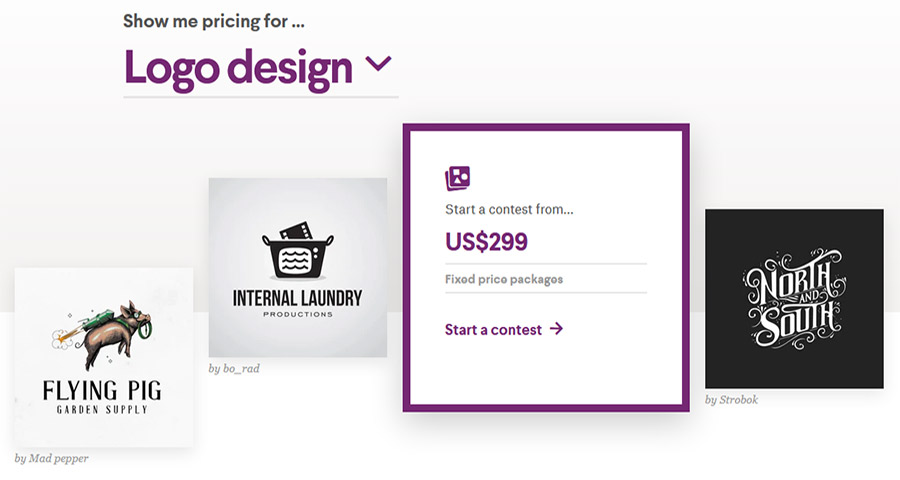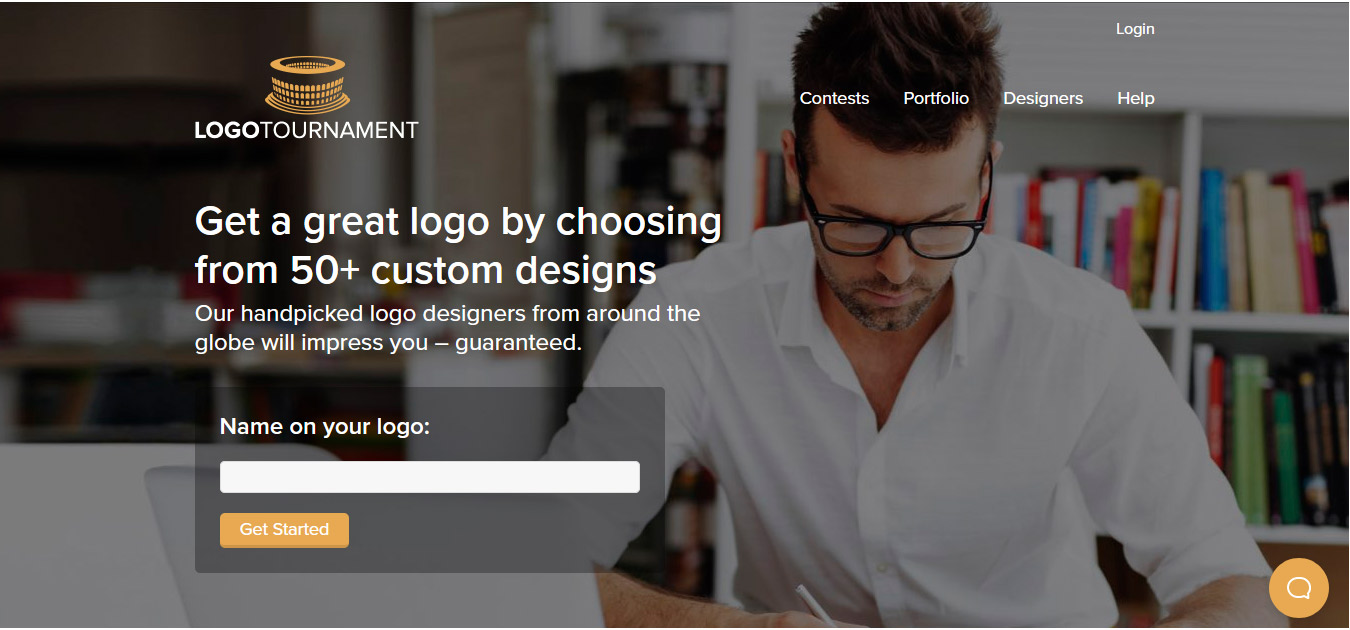 As the name suggests, Logo Tournament's specialty is logos.
---
All the designers are hand-selected and pre-vetted. You can run a contest or hire a designer 1-on-1.  The contests are blind meaning that the designers can't see and copy the other designers' work. Logo Tournament allows you to customize your design so you get exactly what you need.
Contests have an initial blind phase which lasts 4 days. Then over the course of 2 days, you select the finalists. After that, you have up to 7 days to choose a winner.
How LogoTournament Works:
For 1-on-1 projects, the designer will set the price. Logo Tournament charges a just 5% service fee on top of that.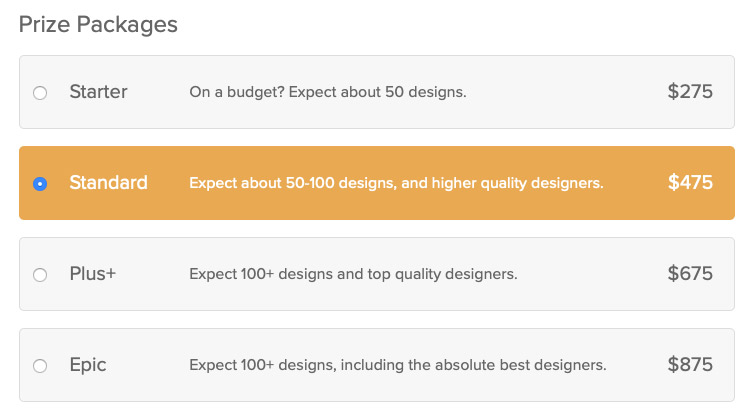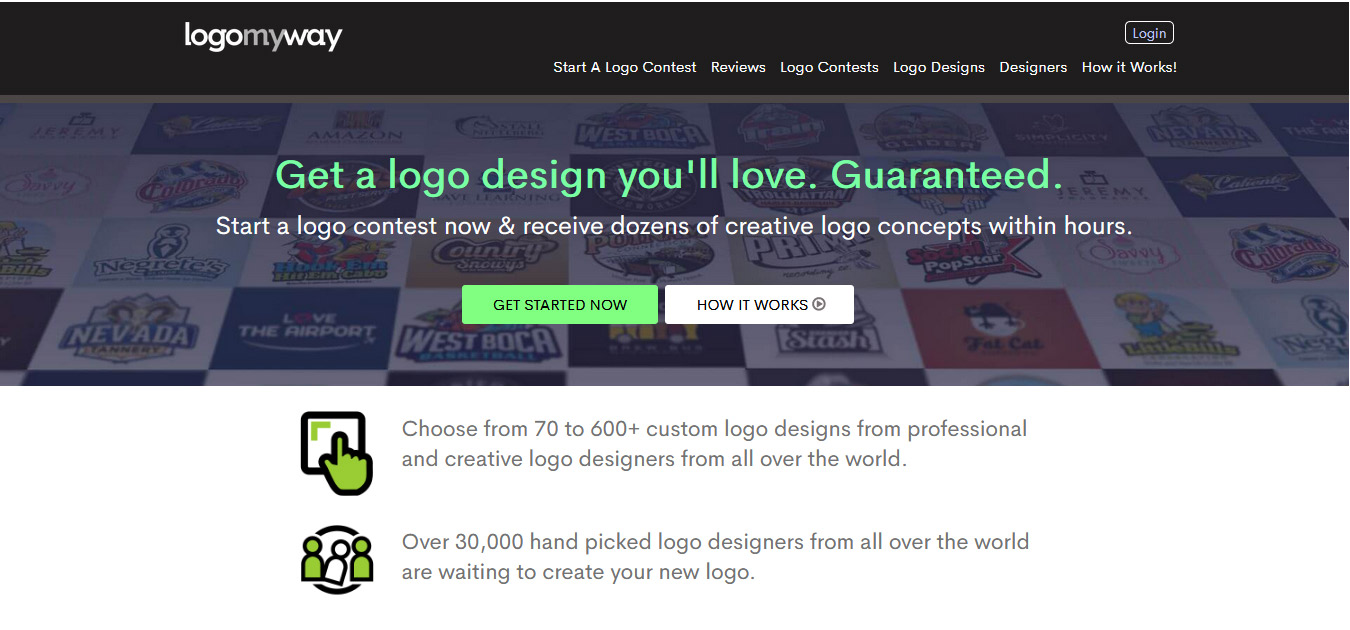 LogoMyWay is another design site that focuses on only logos.
---
You can get an amazing logo and customize it so it's just the way you want it. The pricing structure is clear-cut, and it's easy to set up a contest. Contests run either 5, 7, or 10 days. You can't rush a contest, but you do have the option to extend your contest. For a fee, other add-ons are available such as promoting your contest.
Listing Fee: $39
Prize Money: $200 -$1,000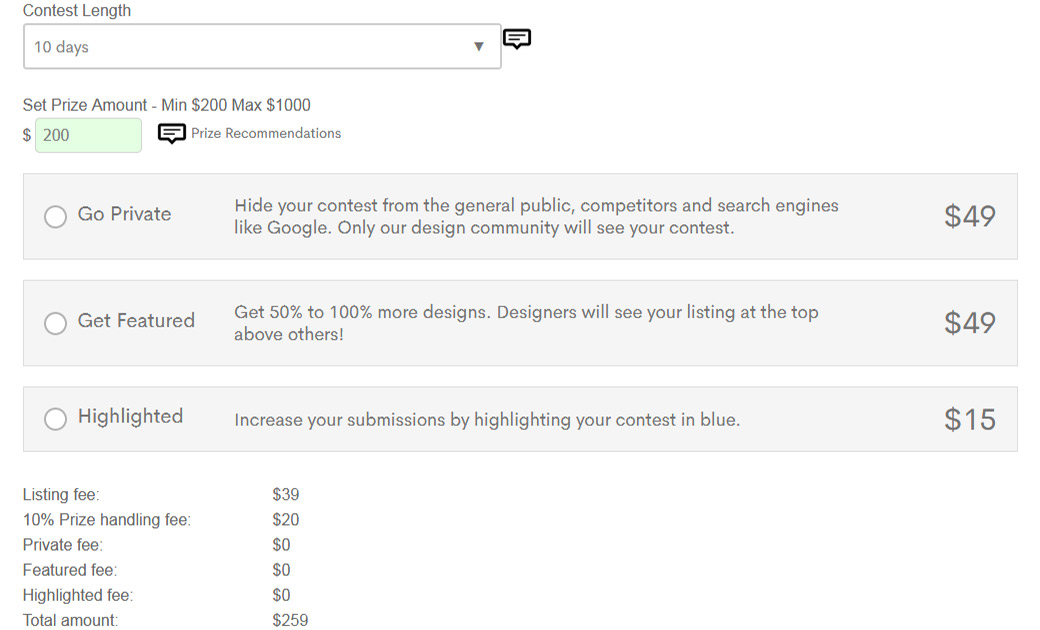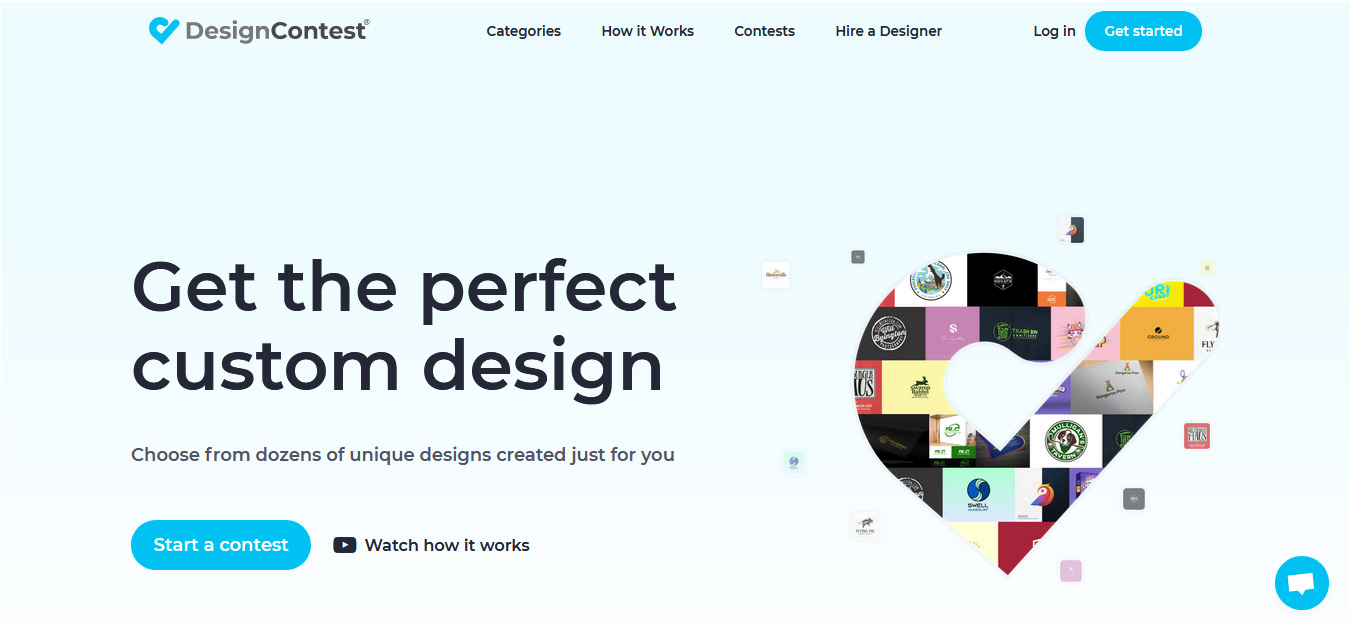 DesignContest is a one-stop shop for your design needs.
---
You can get packaging design, web design, illustrations, and more.  DesignContest asks a series of questions to help their designers craft the perfect design for your business. This is helpful for clients who don't know what to include in a creative brief. For an additional fee, you have the option to promote your contest or make it private. A contest runs 7 days, but you can put a rush on it for an additional $29 fee.
Prize Money: $295 -$895
OR set your own price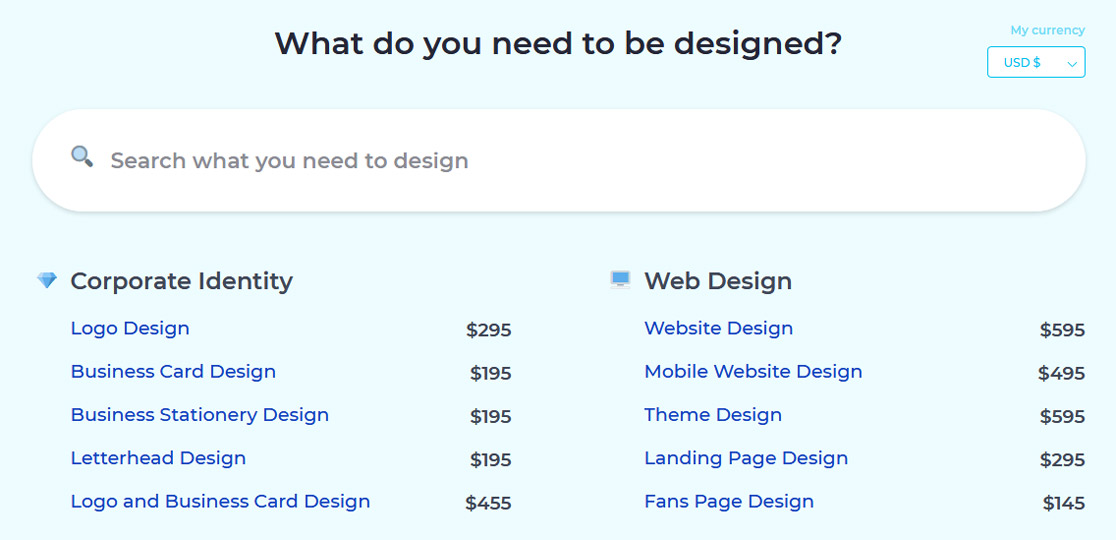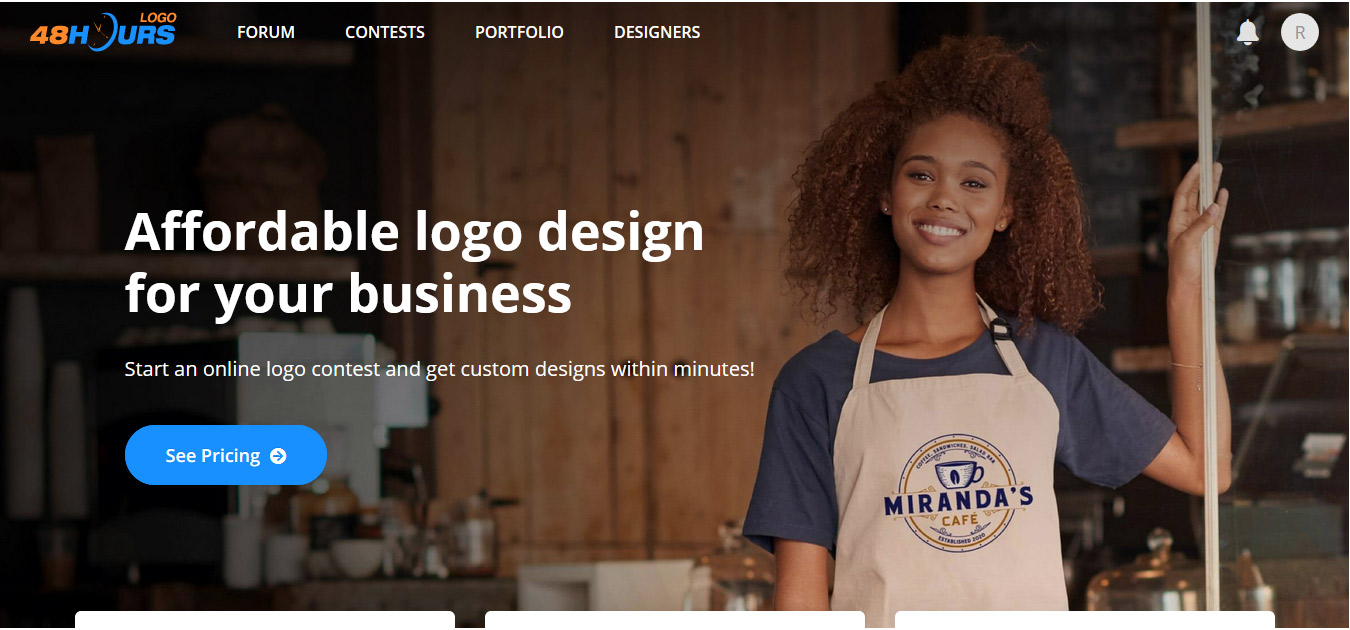 48HoursLogo mainly does logos, but you can also get other designs like signage, brochures, and t-shirt design.
---
The main thing that sets 48HoursLogo apart from the competition is that you get fast results without an additional fee. If you're in a rush, 48HoursLogo is the best place to go. The default contest length is 3 days, but you get that 48 hour turnaround with the higher prize packages. Optional add-ons are available.
Pricing varies based on the product selected.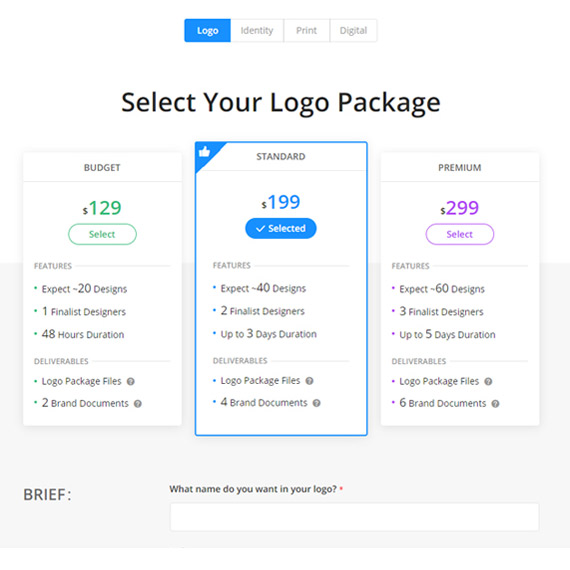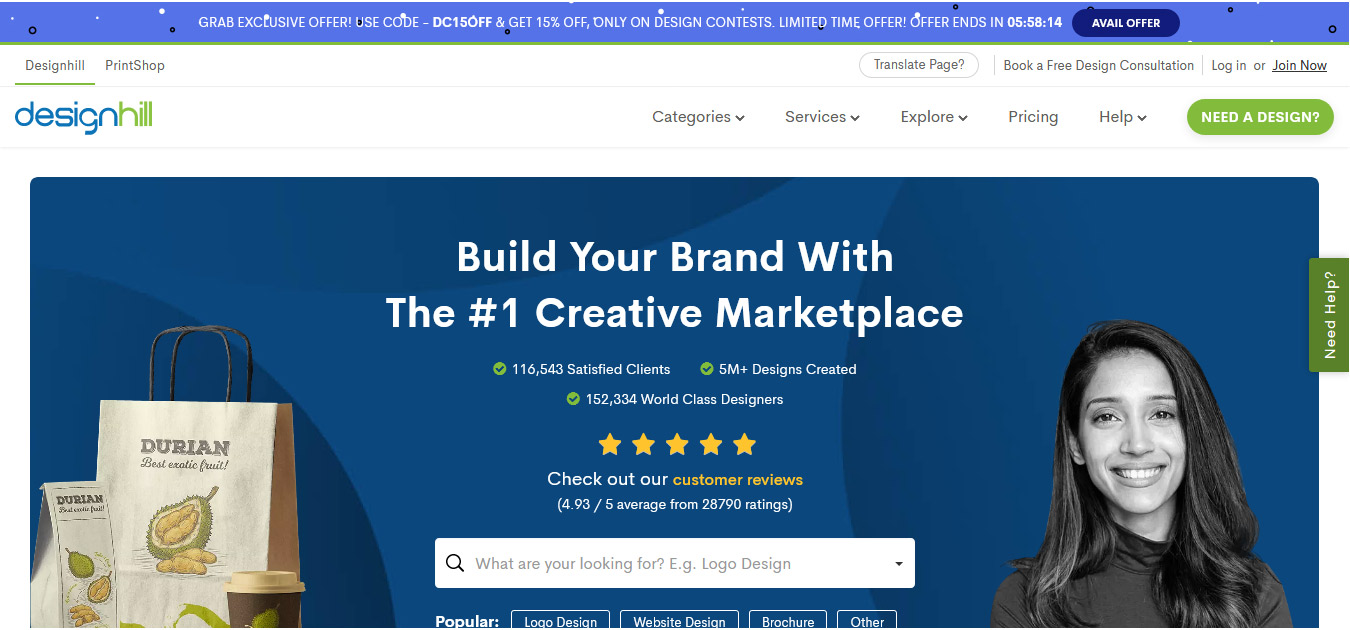 With DesignHill, you can hire a freelancer directly or run a contest.
---
There's also a marketplace for services offered via Fiverr. Most design categories are offered. Plus, you have the flexibility to choose how you want to get your designs.
Contests take up to 10 days unless you pay to speed things up. When creating your project brief, you can specify the colors and styles that you prefer. If you want to work with DesignHill's top designers, you can send them paid invites to attract their attention.
Pricing varies but the basic contest packages are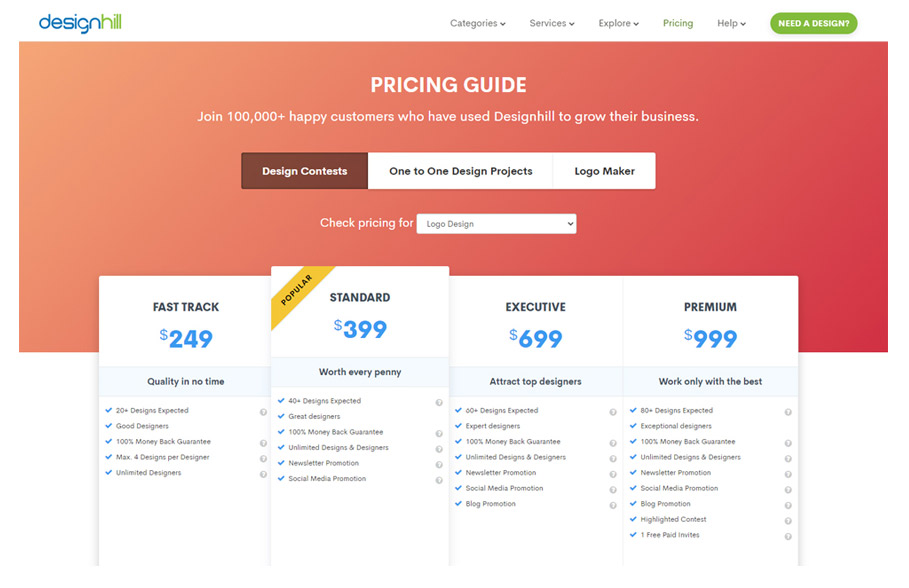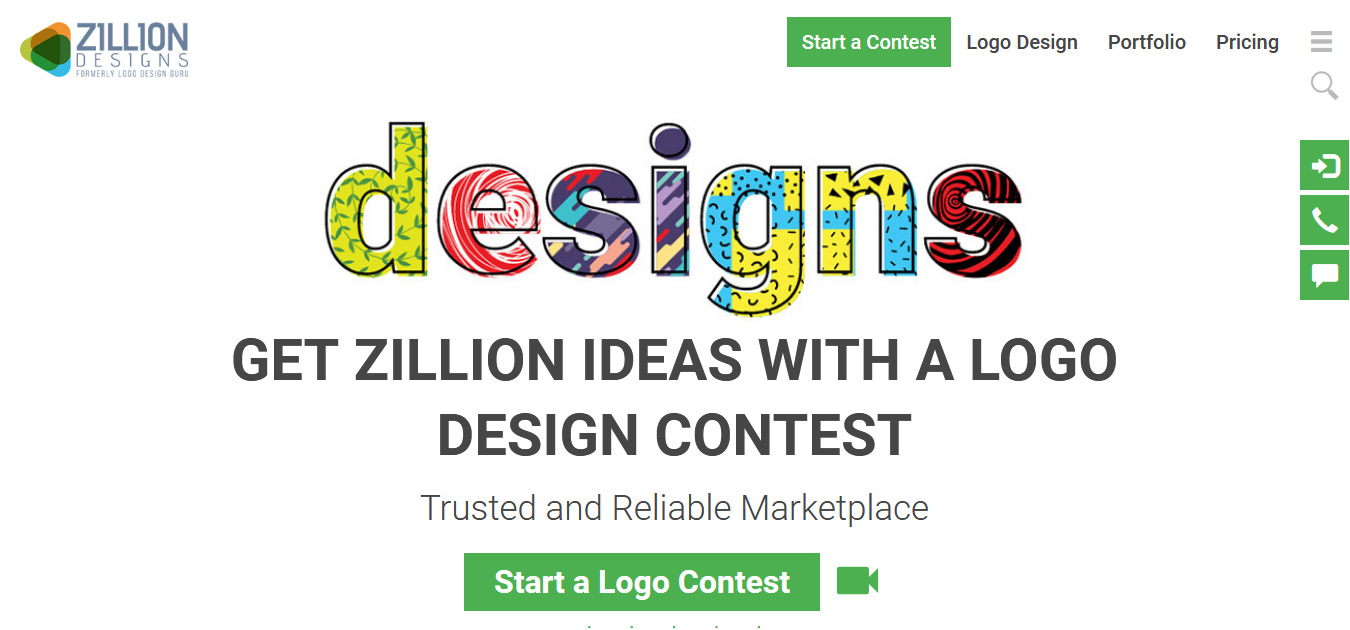 ZillionDesigns is a crowdsourcing site that offers graphic design plus SEO and web development.
---
You can even get your design material printed through ZillionDesigns. If you run a contest and love the winning designer, you can then choose to work 1-on-1 with that designer. ZillionDesigns bundles services, so you can get multiple designs all by the same designer. This ensures a cohesive look across all your design materials.
The automatic contest length is 7 days. But for a fee, you can shorten it or extend it. 3 days is the shortest length available while you can extend your contest up to 14 days. ZillionDesigns also offers a money-back guarantee but with stipulations so read the fine print. If you choose to guarantee your own contest, it nullifies the money-back guarantee.
How ZillionDesigns Works:
Pricing varies by project so there's no set rate. Bundling is available. ZillionDesigns sets a minimum prize amount for each product. The minimum for small print materials is $75. For web design, it's $700. Hundreds of products are available.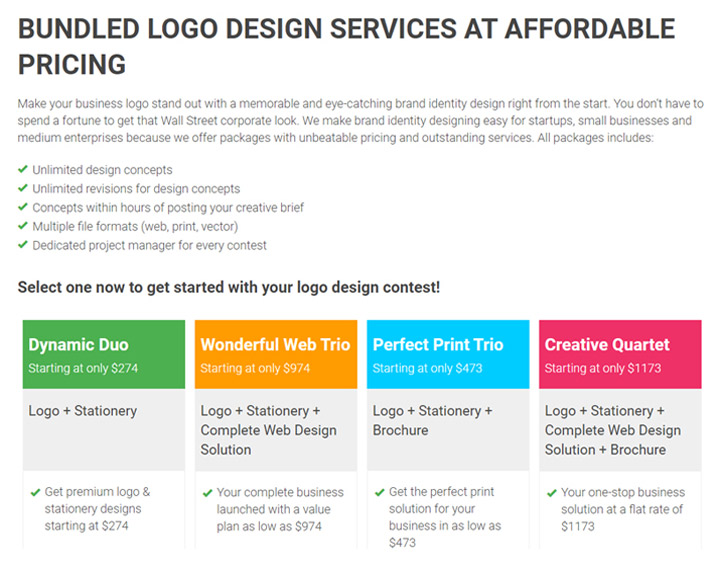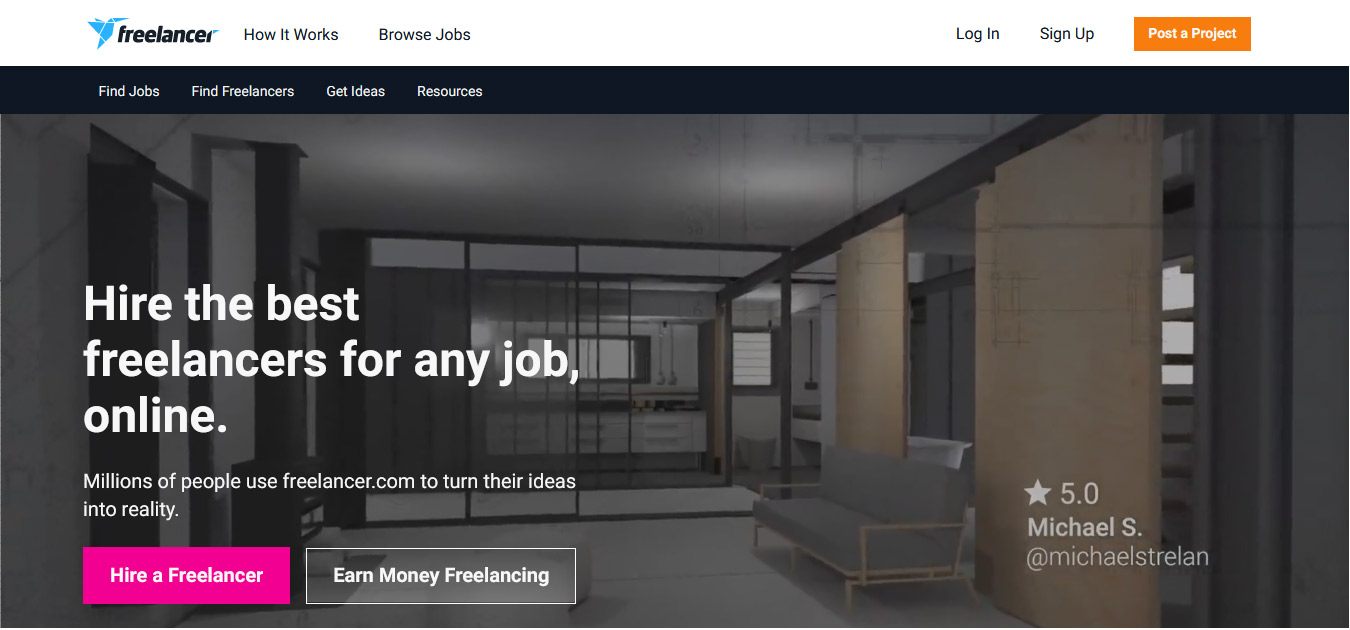 Freelancer does much more than just graphic design.
---
On Freelancer, you can hire a graphic designer, copywriter, administrative assistant, and more. You have the option to hire directly or run a contest.
If you have a complex project or need multiple types of projects done, Freelancer is a good bet. It offers virtually anything. It offers a lot of flexibility and lets you set your budget. The minimum prize amount for a contest is $10, but this won't get you many entries, of course.
For contests, choose your time frame. 3 to 30 days is free but 1 day is available for an add-on fee of $35.
For posting projects, select standard listing or pay extra to have a recruiter find freelancers for you.
Add on other upgrades if desired.
For contest and job postings, you set the budget. When you post a job, you have the option to pay by the hour or project.
Project budgets are on a range from small projects in the $750-$1,000 range up to major products costing $50,000 plus. Once you set your budget range, you receive quotes from freelancers.
There is a 3% fee on basic projects.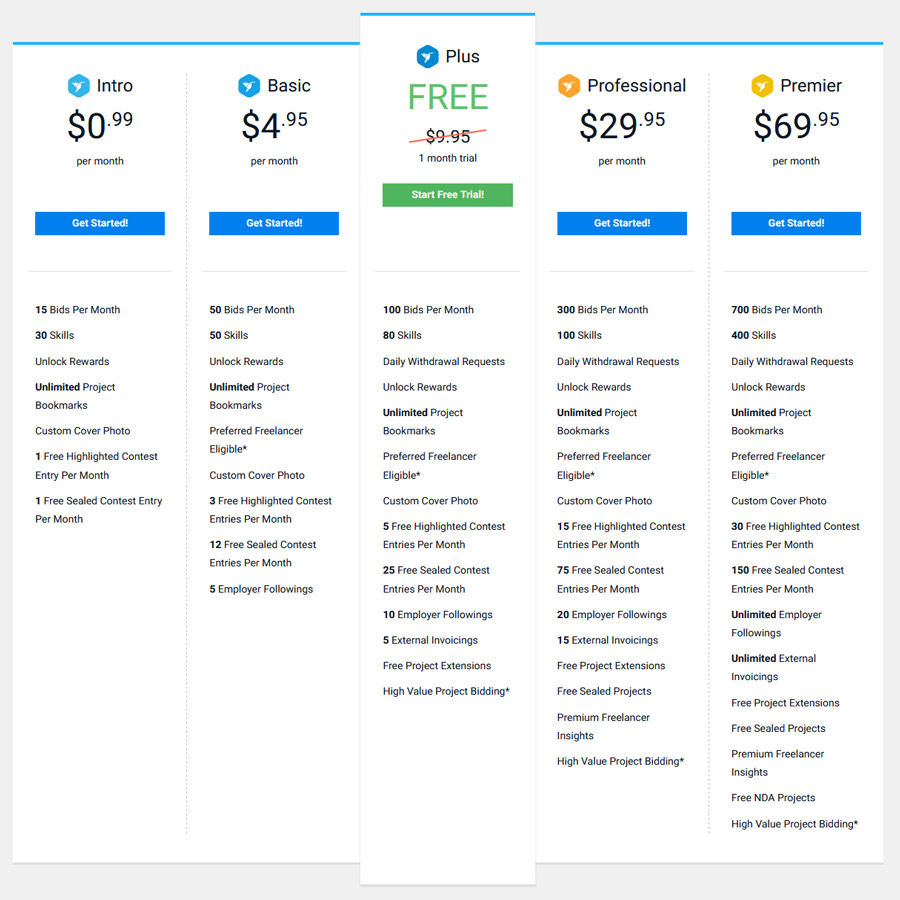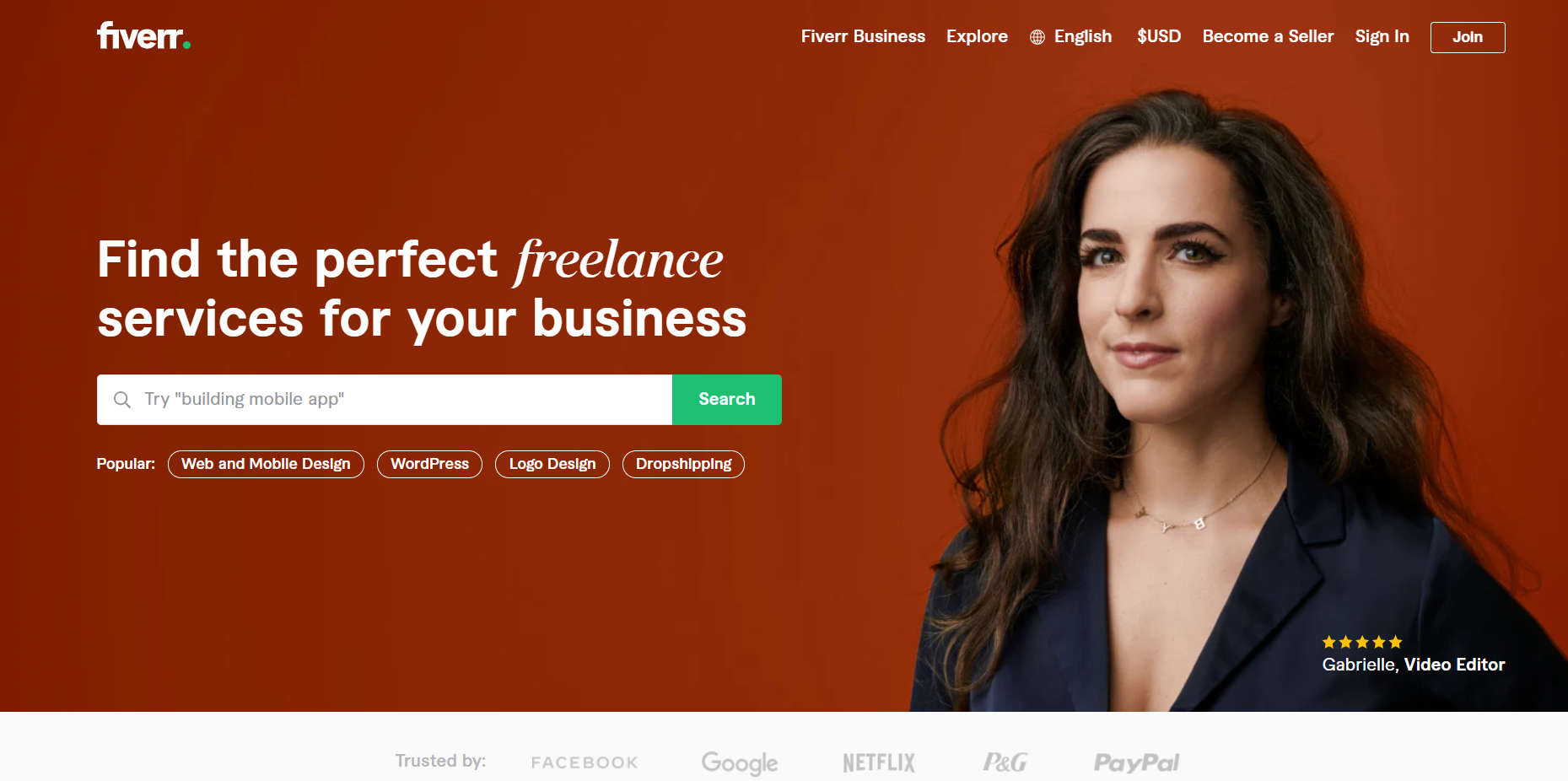 A whole world of freelance talent is available right at your fingertips.
---
One of the world's largest freelance marketplaces, Fiverr, allows businesses to search for freelance talent on demand and allows freelancers to sell their services directly to businesses. Fiverr's model encourages businesses and freelancers to choose one another, creating a strong initial foundation for each project. Each freelancer sets its price, so you never have to worry about Fiverr not staying within your business's budget. Whether you need graphic design, digital marketing, copywriting, video editing, data analysis, website development, or another creative need, Fiverr has a freelancer for you.
Fiverr's pricing varies based on what each seller decides to charge their Gig for. The starting price is $5, which is where Fiverr got its name from and is what all Fiverr Gigs originally started at when the company first launched. No matter what the chosen starting price is, the seller will always receive 80% of the total order value. For example, if a Gig is $10, the seller would receive $8, and Fiverr would keep $2. Additionally, Fiverr does charge a processing fee of $1 on all purchases that are $20 or less. If the order is $20 or more, the processing fee is 5%.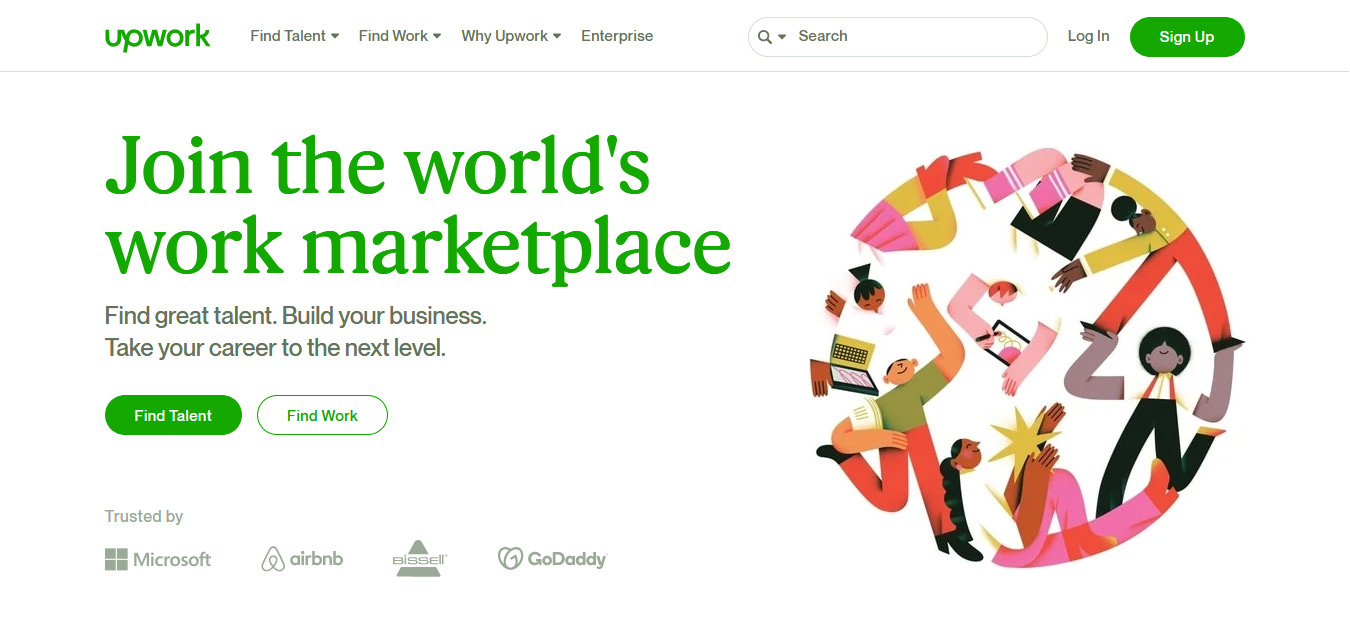 Like Freelancer, Upwork offers a wide range of marketing, creative, and design services. You can outsource virtually anything on Upwork.
---
Contest can't be run on Upwork but you can post jobs for graphic design projects. You can also view freelancers with posted bios and read reviews of their work from their previous clients.
The site offers a free monthly option, but you can pay $49.99 per month for a few more perks like the ability to invite up to 15 freelancers per job. If you're in a rush, Upwork isn't the place to go.  But if you're looking to hire someone long-term, Upwork is a good place to look.
Pricing is based on the budget you set and the proposal you accept. There is a standard 3% processing fee on all payments.