Let our Intelligent AI Logo Maker create a free Custom Logo for you in seconds
AI-Powered Professional

Logo Design
AI is revolutionizing the world of creative design, and logo design is no exception. As developers are working consistently to perfect the AI design process behind the scenes, the technology continues to produce ever more impressive results. Ready to give it a try for yourself? Our new AI powered logo designer is currently available for free while it is still in the development stages. Our team is still ironing out some of the rough spots so users should expect a bit of trial and error as we explore this exciting new technology together.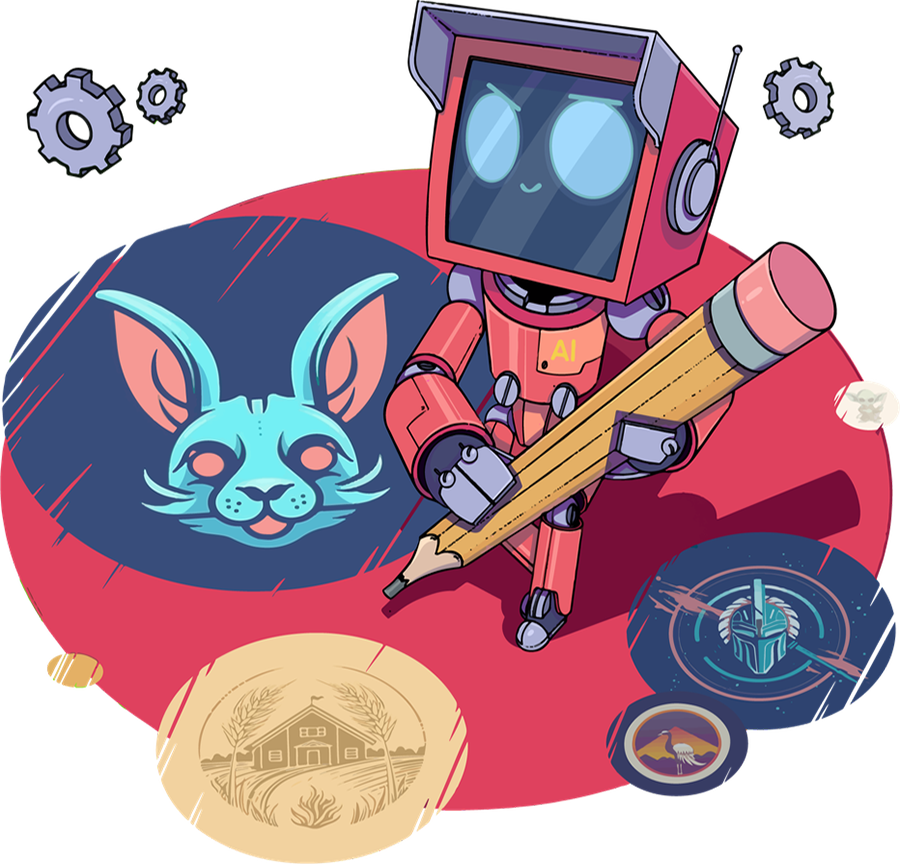 Give it a try and

join us in the experiment.


Start a Logo Contest for just
$99
and have real live logo designers improve and fine tune your results!

Get Editable Files
Customize your company name and get an editable vector version of your new logo for just $49

Free Logo Design
Get a free custom logo designed by a professional custom logo designer
The Importance Of Building Your Brand Identity
As a business owner, your branding strategy should be at the forefront of your mind from the very start. Yes, it is really that important. Your brand is the outward face of your business. The colors, the graphics, and even the fonts you choose will become the symbolism that represents your business to your consumers, employees, and the world.
Every single aspect of your brand identity should represent your business in some way. The colors you choose should convey the emotion and feeling you would like your audience to associate with your brand. The fonts and wording should tell viewers exactly what your business offers, and what it stands for. Finally the graphics, or illustrations used in the logo design should draw all of these elements together in one conceptualized snapshot that symbolizes your business in a nutshell.
The Cornerstone Of Your

Brand Identity
The brand logo may be one of the hardest-working pieces of your branding design. This small graphic illustration is tasked with grabbing the attention of consumers in a sea of competition. If that weren't enough, it must also communicate who your brand is, and what you have to offer, all in one diminutive package.
What Makes A Great Logo Design
These key factors all play a role in creating a memorable logo design:
● Emotions/Feelings evoked by brand colors
● Strategic use of contrast
● Symmetry of design elements
● Repetitive themes
● Overall logo size
● Individual element size
● Word choice
● Font
● Letter size
● Brand messaging
● Design background
● Representation of key textures
● The use of shape to convey brand message
● Symbolism/Insider messaging
● Uniqueness of design
● Trendiness of design
● Differentiation from similar brands
● Brand voice
● Readability
● Clarity of overall message
● Clarity of brand identity
Professional Logo Design

vs. AI-Powered Logo Maker
When it comes to making the choice between a logo crafted by a professional logo designer or one generated by an AI-powered logo maker tool, it can be helpful to reflect on the benefits and drawbacks of each.
A professional logo designer will possess not only artistic talent, but also a depth of knowledge in the various elements that make all the difference between a good design and a truly iconic logo. They will be able to transform your raw vision into a brand identity that incorporates all of the factors listed above to ensure that your logo delivers on all fronts. Of course, talent and expertise can come with a steep price tag that may be out of reach for many startups, and small businesses.
That is where the AI-powered logo maker can offer a viable alternative to pricier bespoke design services. The AI-powered logo maker is being consistently developed to utilize many of the above design rules to produce unique designs that do a great job of representing your brand at a fraction of the cost.
Alternative


Logo Maker

Options
Logo Makers have been available to the public for some time and there are a variety of different options available to choose from. Of course, we are excited about our new AI-powered logo maker, however we encourage users to check out the various alternatives to find the tool that meets their unique needs.
All logo makers are not created equal and users will find that some focus on one particular aspect of logo design over another. One of the most common complaints from those using the free logo maker tools is the lack of originality in many of the designs. Mixing and matching designs from several logo makers may offer a solution to this lack of uniqueness in design.
Check out our list of logo maker alternatives and see the results produced by each tool. With a range of logo designs to choose from, you can easily pick and choose your favorite elements from each design to create a logo that is truly your own.
The Power Of A Great Logo Design
While every element of your brand identity has an important role to play in conveying your brand's message to the world, it is your brand logo that does the bulk of the work. A great logo design provides the instant impact that convinces consumers to take the time to explore your brand beyond that crucial first impression.
A great logo design combines all of the other elements of your brand identity and distills them into one, small image that will serve as a stand-alone representation of your entire business for years to come. Your brand logo will grace your business signage, packaging, social media accounts, promotional materials, and so much more. You owe it to yourself and your business to explore all of the options available from logo makers to professional logo designers when creating this powerful piece of your business identity.