Think about your day. When you think about your day, you'll likely find that some part of it was spent behind a computer screen.
That's because computers have become a part of our everyday lives. We work behind a screen, we catch up with friends behind a screen, and we even stream television shows behind a screen.
But have you ever given any thought to where this essential part of your day first originated from? Or how has the computer you spend your days behind evolved through the years?
Well, it all started with a man named Michael Dell. Michael founded Dell and grew the business to what it is today, which is one of the leading brands in the world. Yes, you heard me right, the world. Dell operates on a global scale to design, manufacture, sell, and support a wide array of technology products and offerings.
What comes with Dell's success is a modest logo that has stood the test of time and has grown to be one of the most universally recognized logos in the world. The logo conveys loyalty, which is what Dell's customers are: loyal.
Below you'll find a deeper dive into Michael, his multi-billionaire dollar enterprise, and the story behind his logo.

The History of the Dell Logo
Meet Dell
---
Dell was founded in 1984 by Michael Dell. But how did Michael grow Dell to be what it is today? And what is his story? These are questions many of us have never sought answers to. We just use our computers and don't seek out the backstory.
But Michael's story is an inspiring one and it starts back in Houston, where he was born and raised. Michael got his first computer, an Apple II, at the young age of 15. He became fascinated with how his computer worked, and so he did what any curious teenager would do; he took it apart. From there, his love of computers only grew.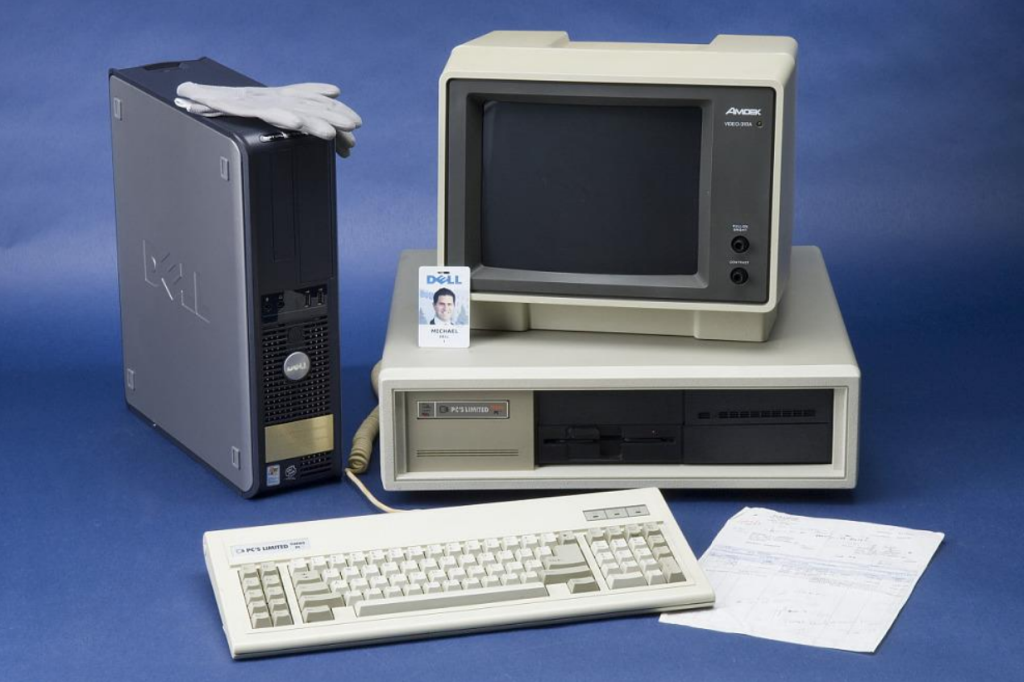 Dell's Evolution
---
1984-1986: PC's Limited Era
Dell did not start as "Dell." Dell was founded under the name PC's Limited, which Michael started in Austin. Michael started this first venture while attending the University of Texas, as a pre-med student. While he was following the path that his parents wanted for him, Michael still had that unwavering curiosity about computers. That curiosity led him to begin to sell upgrades for personal computers right out of his dorm room. After receiving $1,000 in seed money from his family, Michael formally started PC's Limited. With these funds, he began trading personal computers from IBM. After finding quick success with this (he sold over $80,000 worth of computers!), Michael dropped out of college at the age of 19 to run PC's Limited full-time.
PC's Limited first computer was the Turbo PC that was released in 1985 and priced at $795.This computer featured an Intel 8088 processor that ran at a speed of 8MHz and included a hard drive of 10MB.
This was before the era of Facebook and Instagram ads, though, so to generate sales, PC's Limited sold directly to users through advertising in a national computer magazine. That one advertisement earned PC's Limited over $73 million in revenue in one year. Michael didn't stop there, though. His company then launched a new product at the Spring Comdex trade show, which became the fastest performing personal computer that had entered the market to date.
This hype caught the attention of venture capitalist, Lee Walker, and in 1986, Lee became the first President of the company. Lee stayed with Dell for four years but retired in 1990 due to health concerns (he was succeeded by Morton Meyerson). In those 4 years, Lee mentored Michael directly and served as a recruiter for Dell's Board of Directors.
Roadblocks Along the Way
---
For a company that has been around since 1984, Dell doesn't have a long list of roadblocks they've had to overcome. Michael did resign from his role as CEO in 2004, but he kept his status as a chairperson, so he was still involved in Dell's growth (Kevin Rollins became the new CEO in 2004). Besides new leadership, Dell has had to deal with increased competition in the marketplace. When Apple introduced its unique line of products and computers, some customers chose Apple's offerings instead of Dell. Despite that, Dell's customers are loyal, and the company has been able to consistently see billions of dollars in revenue.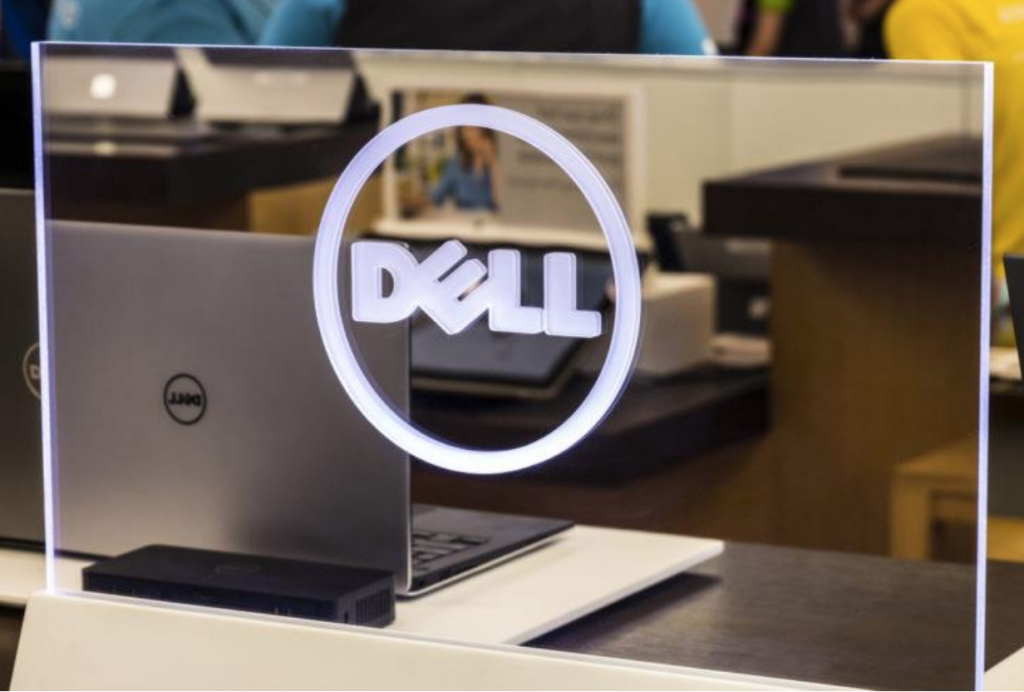 The Meaning of Dell's Logo and Dell's Logo History
---
While Dell's signature wordmark hasn't wavered much, the typeface and style have been updated. But overall, for the last 37 years, the logo has remained consistent, only changing five times.
The variations through the years were not developed by just one company. Instead, Dell used a handful of design agencies and branding firms from New York City. They wanted to change perspectives and wanted to engage experts who specialized in graphic design. That's because Dell felt that professionals could make the brand stand out more than the company could if they tackled this themselves. Alongside the logo's evolution, Dell has also evolved to be a multi-billion-dollar enterprise.
Below, is a deeper dive into these logo variations.
2016: Dell's Logo Today
---
After Dell merged with EMC, Dell revisited their logo design once more. While this resembles their most recent design, the new logo has thinner lines and a thinner circular frame giving it a cleaner look.
Dell's Logo Font:
Throughout Dell's various logos, you'll notice that no matter the font, it's always readable. The font Dell chose was Futura Extra Bold, a geometric type, developed by Paul Renner.
Dell's Logo Color:
Dell's logo combines three colors: blue, black, and white. Blue is universal among tech brands, so it's no surprise that Dell opted for this color. Blue is known to represent trust, loyalty, and wisdom, so it makes sense for a tech company to choose this color. While black was an early color choice for Dell, it was chosen because it conveys power, elegance, and authority. Meanwhile, white allows for the wordmark and other components to stand out and boldly standalone. White has always remained the background color for Dell and it signifies simplicity, protection, and humility.
Dell's Logo Meaning:
It may be hard to identify a deeper meaning when looking at a simple shape with a wordmark, but the meaning of Dell's logo was taken from its founder. When Michael started Dell in 1984, Michael's mission was to change the world with his ideas. You may have even heard him say, "turn the world on its ear," which is why in one of the logo variations, the "E" is slanted. Other variations have included a circular frame to symbolize the world.
Dell Today:
Even with Apple's entry into this tech space, Dell is still a leader in this industry. Most companies distribute Dell computers in their workplace and many personal users opt for a Dell because it is a loyal, trusted brand. Today, Dell serves approximately 180 countries and has more than 150,000 employees. What started as a PC offering, has expanded to include desktops, laptops, servers, monitors, workstations, printers, software, and data storage (partly thanks to EMC).
In his personal life, Michael married Susan Lieberman in 1989 and together they have 4 children. At 27 years old, Michael became the youngest CEO, and according to Bloomberg Billionaires, Michael was ranked in April 2021 as the 25th richest man in the world.
And as far as Dell, today, Dell's annual revenue is about $92.15 billion. Even with new CEO leadership with Kevin Rollins, Dell's success today was due to the steps Michael took along the way. He worked with strategic partners, hired an exceptional team, and made sound decisions. And once Dell merged with EMC, Dell made the biggest deal in history for the tech industry.
Lessons Learned from Dell
---
Dell's story is an inspiring tale of putting in the work and starting from the ground up. Michael started with a curiosity early on and he took that curiosity (and $1,000 from his family) to form his first company at 19 while in college. From there, he only continued to work hard and grow his business, which is a true tale of entrepreneurship.
Whether you are looking to update your business' logo or are looking to create the first version of a logo for your brand, we can all learn some lessons from Dell and Dell's logo design. Logos can often be overlooked and sometimes are not considered an essential part of a business, but that's not the correct mindset. Logos are the first thing that many potential customers see and it's what will resonate with your potential customers long after they leave your website or store. So, as you develop a logo, follow these below lessons learned from Dell.
First, keep your logo simple. If you want your logo to stand the test of time, make your logo clean with fewer design elements. This will help make your logo memorable because detailed logos have a harder time standing out against the noise in our daily lives. Next, make sure your logo is legible. When choosing a font, opt for one that is readable on a wide scale, like Dell's font variation. Because of Dell's simplistic and clean elements, Dell's logo is scalable and can fit on any marketing channel, with high-quality. And finally, their logo is unique. Simple doesn't mean that your logo needs to be boring. Dell's simplistic qualities are never mistaken for a competitor, and it allows for them to stand out.