Logo Design Magazine is a community authored publication focusing on anything remotely related to logo design. To put it simply, we love logos.
Hot Off The Press

Calendly, the leading cloud-based scheduling platform that eliminates hours of communication, recently launched its brand new logo. When Calendly was first founded eight years ago, it advertised solving a huge...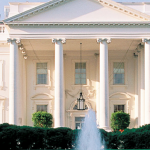 If you watched the inauguration along with the rest of America then you may have noticed that the White House...
Reviews and Recommendations
Logo Design Inspiration

Every year we see amazing redesigns from companies that have decided to give their company a refresh in the new year. We're over halfway through the year and already we've...

A new year means fresh starts and new beginnings for everyone, including business industries. The great thing about a new...

We're considering the old and new logo designs for a housing organization, an organic ice cream company, and a national...
If you've been in the world of graphic design for more than a minute you'll already have heard some of...

Angela Cuellar, a Spanish designer and illustrator, loves simple designs and children's illustrations. Her passions make her logo designs visually...

Video games have been a big part of our society for years, starting decades back and now working their way...

We've all become familiar with some of the classic fast food logos that are signature to our country. These food...