When you want professional, custom design, it can take more time and money than you have to locate and hire a graphic designer. Crowdsourced design sites are a budget-friendly option. Within one site, you have access to multiple graphic designers and numerous design categories. Flyers, brochures, infographics – you name it! 
Top 10 Unlimited Graphic Design Companies [updated 2023]
by David Melvin – LDM Editor
If you are looking into unlimited graphic design companies, you have likely already decided that this is the graphic design solution that you want. What you may not have expected though, was for there to be so many options for these types of companies.
With so many competing unlimited graphic design companies out there, that offer similar features like unlimited revisions and unlimited requests, it can be overwhelming to narrow your search down – we get it. That's where we can help though.
If you're trying to decide what company is best suited for your business, you've come to the right place. Below we take a deeper dive into the top 10 unlimited graphic design companies out there.
We've pulled the stats from the top ten unlimited graphic design companies just for you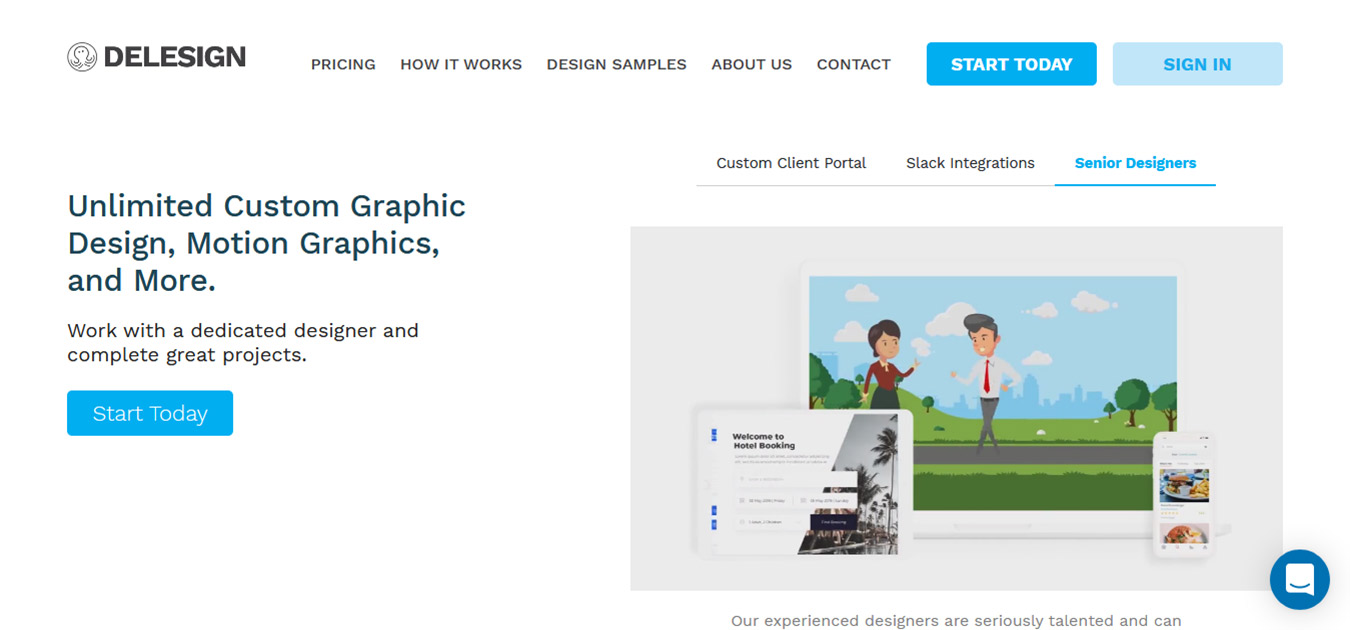 An Introduction To

Delesign
---
If your company is experiencing an overflow of design requests, has overhead costs that are weighing you down, and you need designs quickly, then Delesign was created with you in mind! Delesign prides itself on delivering projects fast, without ever compromising on quality. With Delesign, all you need to do is delegate your design requirements over to their team of high-quality graphic designers and Delesign will take care of the rest for you. 
How To Get Started With Delesign
With Delesign, all you have to do is go through these six simple steps to receive your first design.
Is Delesign A Good Fit For You?
The process Delesign has created works and it's extremely efficient. Signing up with Delesign will save you time and costs, without forcing you to sacrifice high-quality designs for your company. Delesign's team of designers has a wide range of experience but no matter who you are paired with, it'll always be a professional who is no stranger to the graphic design world. 
Reasons Why Delesign Is Great:
Delesign works hard to pair you with only the highest quality designers. Only 38.6% of graphic design applicants make it through Delesign's in-depth skill review and only 12.3% qualify for a video interview with a member of their team. Delesign's designers always work fast, so no matter what designer you are paired with you can expect to regularly receive simple projects back within 24 hours. And if you are ever unhappy with your project, they offer unlimited revisions so you can feel confident that the final product will meet (if not exceed) your expectations!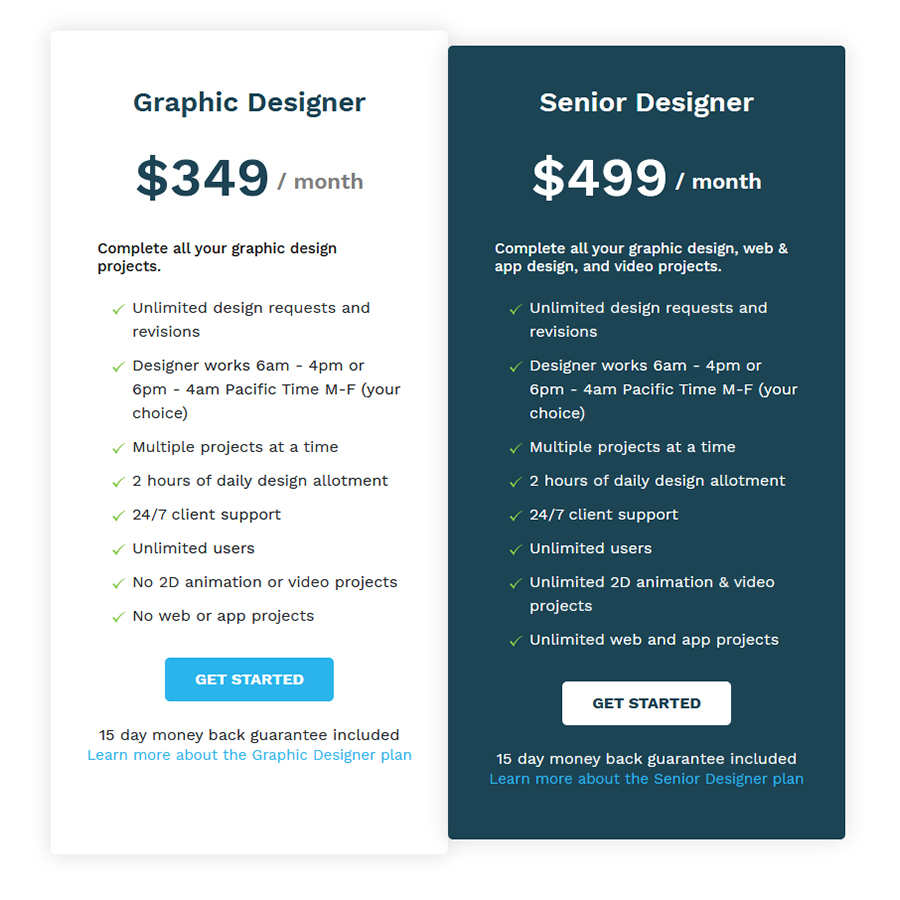 Delesign's "Graphic Designer" package is priced at $499/month. This plan will provide you with an experienced graphic designer who can work on a variety of print and digital projects, but it will not include copy, coding, HTML, illustrations, or web design. If you want to be billed annually, you'll be billed at a rate of $449, which can give you some additional savings.
When Should You Expect To See Results?
If your project is simple, it can often be completed in a day (or less). If your project is more complex, it will take a bit longer. Some complex projects may take up to 7-15 days to be completed.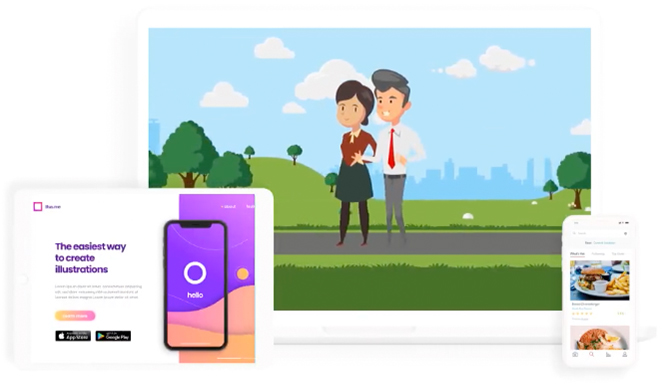 Positives To Using Delesign
Negatives To Using Delesign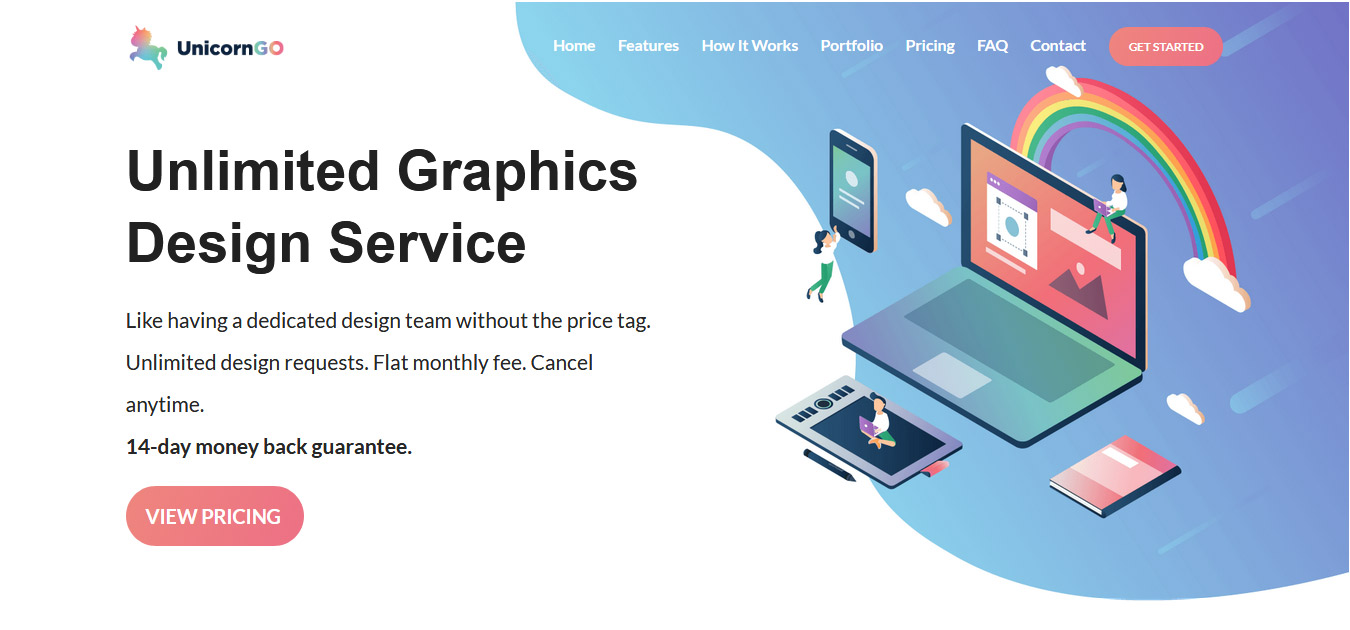 An Introduction To UnicornGo
---
The beauty of UnicornGo is that you'll have a dedicated creative team at your beck and call, without the high cost of an in-house team. Whether you need a logo, infographic, social media banner, or even a one-page website, you can get that project serviced when you sign up with UnicornGo, all for a flat, monthly rate. The vast experience of UnicornGo's designers allows their team to bring the design concepts you have dreamed about to life. 
How To Get Started With UnicornGo
Once you get started with UnicornGo, you'll wonder why you didn't sign up sooner. To get started, just follow these steps:
Is UnicornGo A Good Fit For You?
UnicornGo's founder has a sales and marketing background, so his approach is always focused on putting the customer first. This approach makes a tremendous difference when there are so many competitors out there focused on other priorities. UnicornGo's fixed-fee model, with no hidden costs, provides you with a cost-effective solution that is much cheaper than having someone on your company's payroll. That means if you need something as simple as a social media graphic, or as complicated as a new webpage, you'll get a high-quality design at an affordable cost. 
Why UnicornGo Is Awesome:
What makes UnicornGo's model special is that you don't need to be a large company that has unlimited design needs to work with them. Even though they are an unlimited design company, if you only have a handful of projects that you need to be completed, they will give each project the same level of attention. Even though the company is based in Australia, you never have to worry about the time difference because their designers will work around the clock to deliver you high-quality designs.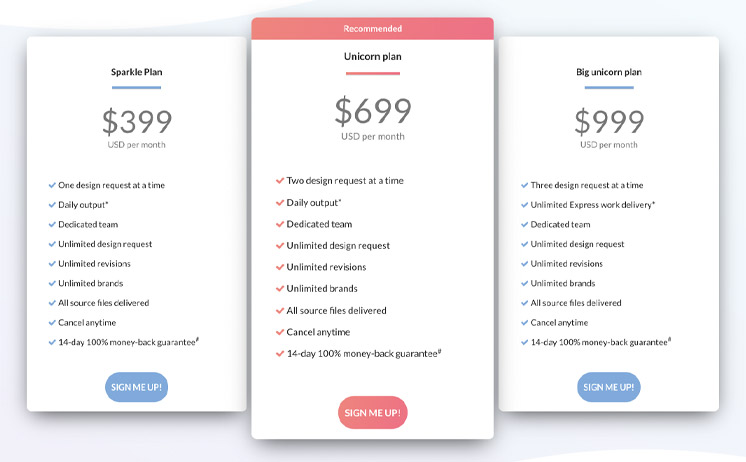 UnicornGo's plans are priced at a flat, monthly rate based on how many requests, and how many brands you want projects completed for, at one time. Their cheapest plan is priced at $399/month, whereas their most expensive plan will cost you $999/month.
When Should You Expect To See Results?
Slightly slower than some competitors, you can expect designs back from UnicornGo typically between 3-5 days on average. If you ever need projects quicker, you can pay extra for express delivery.
Positives To Using UnicornGo
Negatives To Using UnicornGo
An Introduction To Designed
---
Designed doesn't have a "one size fits all approach." With them, they bring on experts in whatever design discipline your project falls in, ensuring that you have the right team in place no matter what project you need to complete. Their platform makes it so that you no longer need to navigate the pros and cons of hiring an expensive agency, versus a flaky freelancer, versus a pricey in-house team. When you sign up with Designed, you'll always receive high-quality designs from their exceptional, US-based team. 
How To Get Started With Designed
Designed's process all takes place on their in-house project management platform, called "The Hub." Using this platform as your project's headquarters makes the process simple from start to finish.
Is Designed A Good Fit For You?
If you have more money in your design budget, then spending it on Designed is worth it. Their services are advanced, their platform utilizes the best tools on the market, and the designs are premium. Designed lets you directly interact and partner with designers so if you have the money to spare, it'll be well worth it because Designed will make sure you get your money's worth. If you aren't sure if it is worth the cost, you can always sign up for a free demo to try them out
Reasons Why Designed Is Great:
Designed is awesome because it takes away the day-to-day management of your graphic design needs, but still lets you be involved. Designed is one of the few platforms out there that allow you to have an ongoing dialogue with a designer, without a project manager serving as a middleman. Their work is some of the highest quality work you can get from an unlimited design company, and they let you see this stellar work for yourself when you sign up for a free demo with them. 

Designed keeps their pricing simple: one set of packages focused on unlimited design starting at $2,500 a month and one rate for project-based pricing. The different price points for their unlimited packages are based on things like the number of projects you need to be completed, how much time designers will spend on your projects, and how long your weekly designer call will be.
When Should You Expect To See Results?
For standard, simple requests, you can expect to receive a project back in 1-2 days. For a larger, complex requests, you'll receive a custom turnaround time estimate.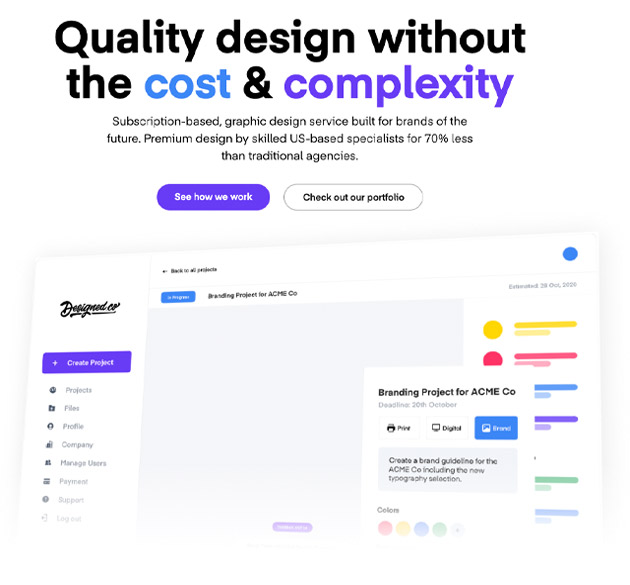 Positives To Using Designed
Negatives To Using Designed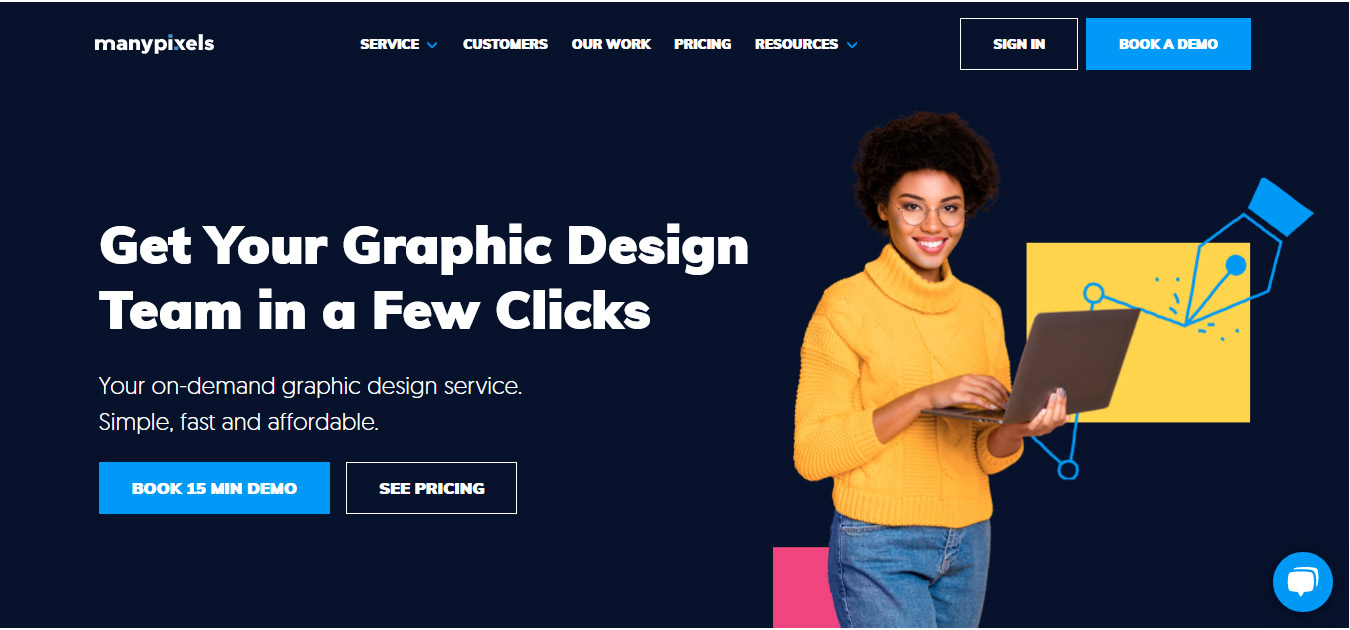 An Introduction To ManyPixels
---
When it comes to graphic design, you have new needs every day. That's where ManyPixels comes in. While they are known to be an unlimited design company, they can also work with companies that may have limited requests. Since being founded, ManyPixels has served over 3,000 clients and has completed more than 125,000 designs. What sets ManyPixels apart from its competitors is that the company focuses on allowing a designer to learn your business, ultimately allowing you to form a relationship with this designer. The result is high-quality work and cutting-edge designs. 
How To Get Started With ManyPixels
In just six steps, you'll be on your way to receiving your first completed project with ManyPixels.
Is ManyPixels A Good Fit For You?
If you aren't on a tight timeline, then you'll find that ManyPixel's slower approach is beneficial. They cater to all types of companies and industries from startups to smaller businesses, to larger corporations. They also have a different pricing model based on the size and need of your business. The only thing ManyPixels doesn't cater to are companies that need a high quantity of designs fast. 
Reasons Why ManyPixels Is Great:
Since you are paired with a specific designer, this designer takes more of an interest in your brand and will be more attentive and responsive as a result. With this personalized approach, you'll always have a designer that is best suited for your specific line of work and the specific scope of your project. Taking this slower, personable approach often results in fewer revisions (since the designer takes time to learn your brand). If you ever need more projects completed faster, that's not a problem with ManyPixels because you can always add on a second designer for double the output at an additional cost.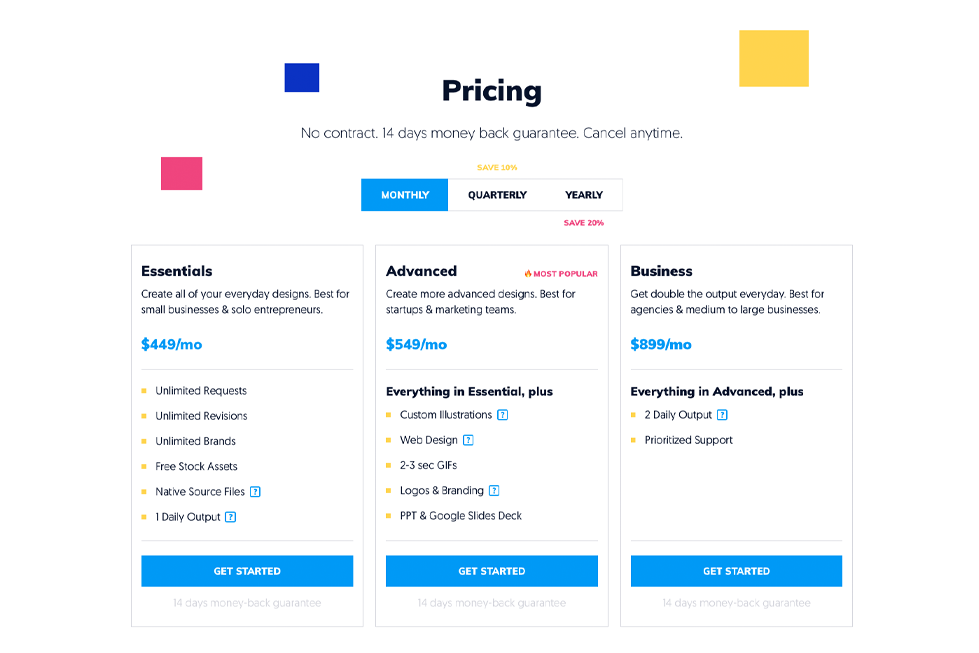 Each of ManyPixels' packages is catered to a different type of business. Their cheapest plan targets smaller clients and is priced at $549/month, whereas their most expensive plan targets larger clients and is priced at $1,199/month.
When Should You Expect To See Results?
Most simple projects, like a social media graphic, will be completed in 1 day, whereas most complex projects may take 2 days to be completed. You always have the option of adding a designer at an added cost, for double the output.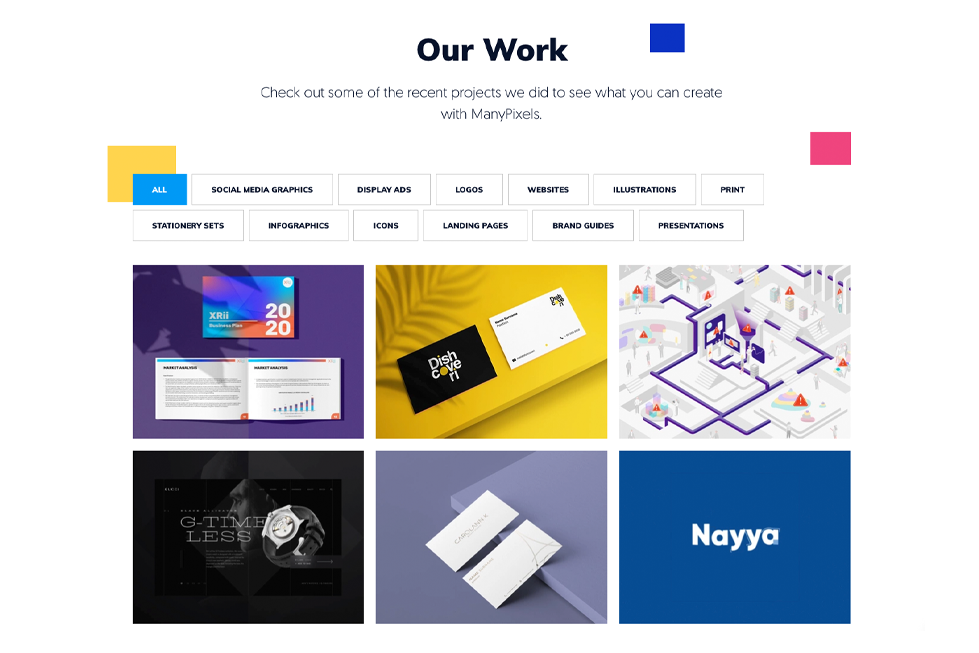 Positives To Using ManyPixels
Negatives To Using ManyPixels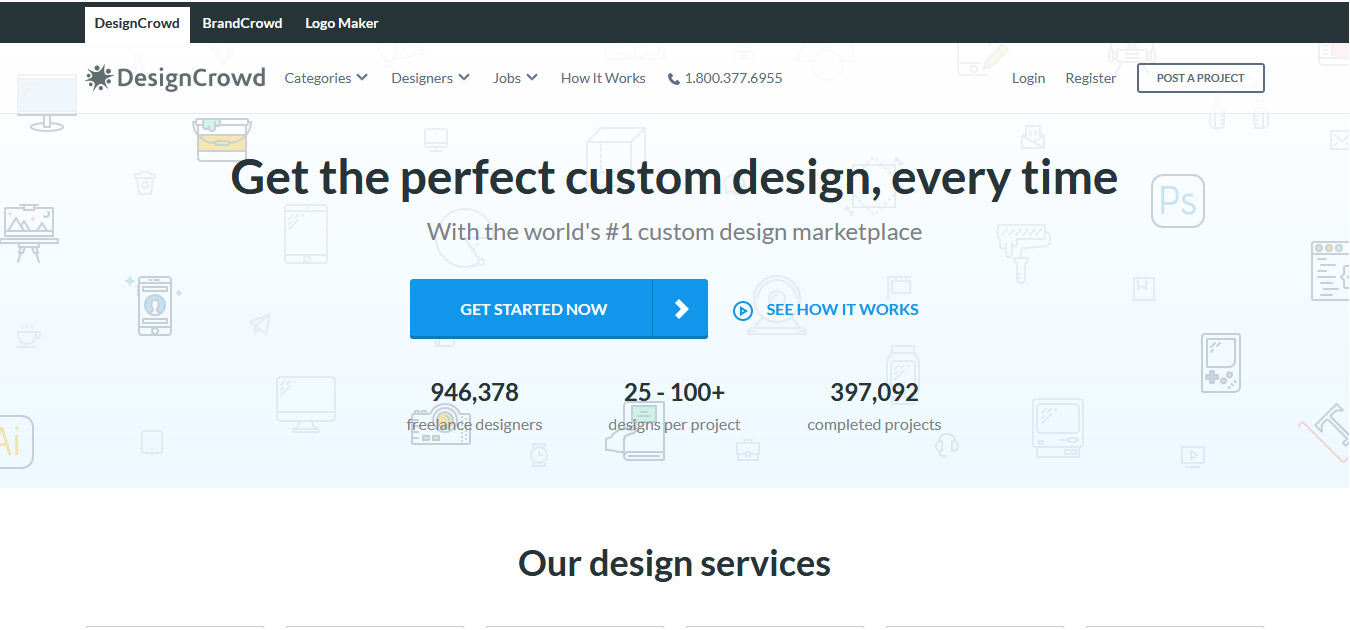 An Introduction To

DesignCrowd
---
DesignCrowd's unlimited design process looks a little different than competitors. With them, they are the world's #1 custom design marketplace which allows you to get a dream custom design every time you need one. DesignCrowd works with over 1 million designers and has completed over 400,000 projects. Their design services range from logo design to web design, to even app design. By using a contest format approach, you can always find a design that you love with them. 
How To Get Started With DesignCrowd
Just like with other unlimited graphic design companies, getting started with DesignCrowd is also easy.
Is DesignCrowd A Good Fit For You?
While there is no limit on how many contests you can start with DesignCrowd, you may find that other companies are better suited if you have a larger number of projects. If you are still developing your brand identity, it could be beneficial to see a wide range of designs and ideas but having to wait a few days for your contest to conclude to finalize your designs, may be a longer process than you have the time for. 
Reasons Why DesignCrowd Is Great:
Being able to have access to designers all over the world is something many of us don't usually have access to. Having a wide range of designer viewpoints can provide you with a perspective you haven't considered before. Thanks to this gamified approach, you'll have dozens of submissions that you can consider and work through until you have your perfect design. That means that no matter what (or how many) projects you submit, designers from all over the world will have the opportunity to work on them and partner with you.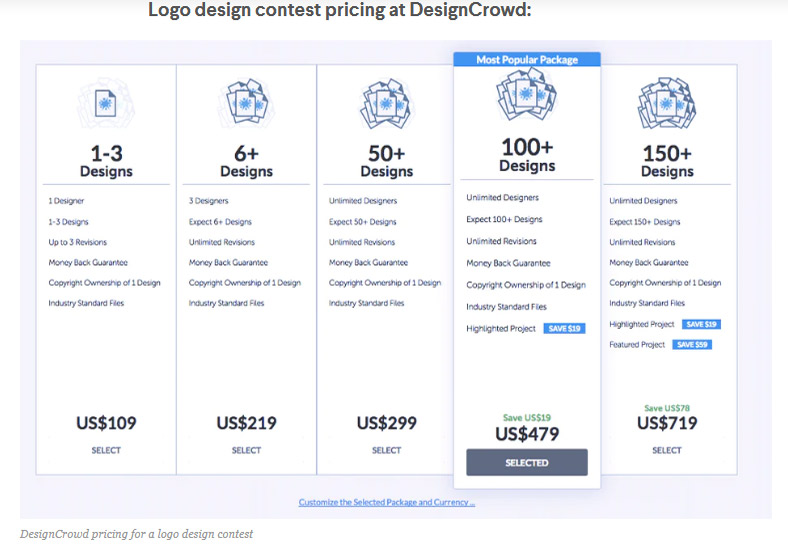 With DesignCrowd, you won't be locked into a monthly rate. Instead, you'll be charged per contest where the price is based on how many submissions you would like to receive. The starting rate for a contest is $99 and the price goes up from there. 
When Should You Expect To See Results?
Contests can run for 3, 5, or 10 days. You'll start seeing designs right away though and if you want your contest to run for a shorter amount of time, you can pay an additional cost for your contest to only be 1-2 days long. 
Positives To Using DesignCrowd
Negatives To Using DesignCrowd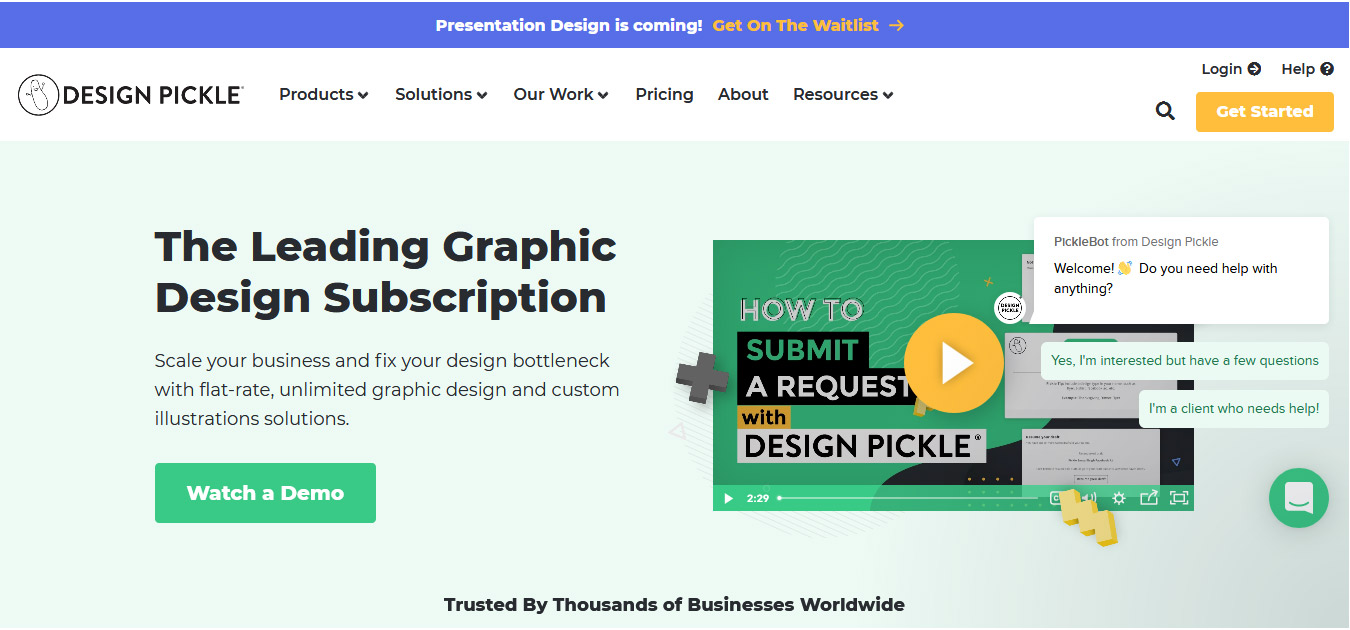 An Introduction To Design Pickle
---
Design Pickle combines two things that are essential to high-quality graphic design – tech, and talent – and delivers clients an affordable solution that is customized for each client. Their graphic design services span from infographics to social media ads, to animated GIFs, to landing pages, to logos, to everything in-between. Design Pickle is truly an on-demand unlimited graphic design company, and they guarantee that you'll have projects worked on daily. 
How To Get Started With Design Pickle
The steps to get started with Design Pickle are like competing platforms, but to get the most out of Design Pickle, you'll want to follow these six steps below.
Is Design Pickle A Good Fit For You?
Design Pickle was built for anybody who has ever worked with a graphic designer before. Those people know that graphic designers can be expensive, have lengthy contracts, can be flakey, or be unable to work through all your design needs efficiently. Design Pickle handles all of this for you at an affordable monthly rate, fixing your creative bottleneck and helping your company grow again. 
Reasons Why Design Pickle Is Great:
Design Pickle was designed for companies of all sizes. That means whether you are a startup or a larger business, Design Pickle can bring your company value. For a set monthly fee, you'll get unlimited graphic design projects worked on. Every designer you partner with will learn your brand and deliver your projects back better than you could have imagined. When you can outsource this work to a creative team you can trust, you can put your time and energy where it is most valuable with your business.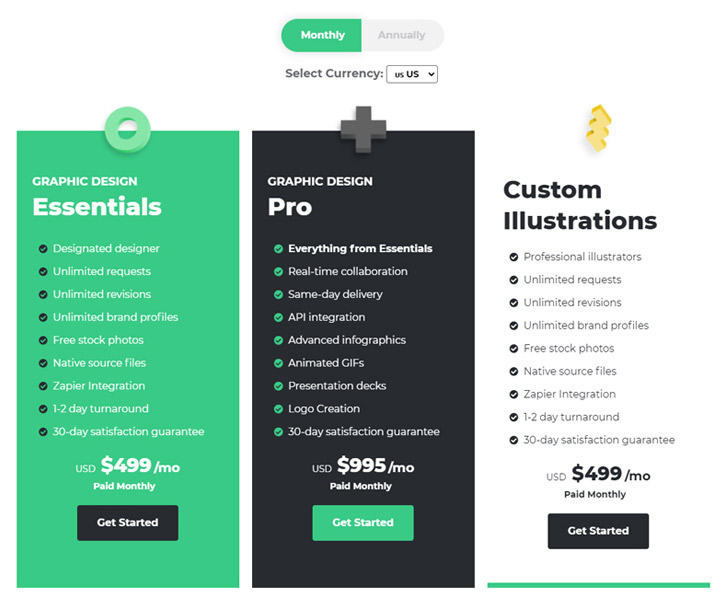 Design Pickle has three graphic design plans that are priced based on how many services and features you get. The cheapest plan is their Graphics Plan for $499 a month and their most expensive plan is their Graphics Premium Plan for $1,695 a month. 
When Should You Expect To See Results?
For the most part, you can expect to get projects back in 1-2 days. However, if you pay for the two more expensive plans, you'll get a same-day turnaround (depending on the complexity of the project).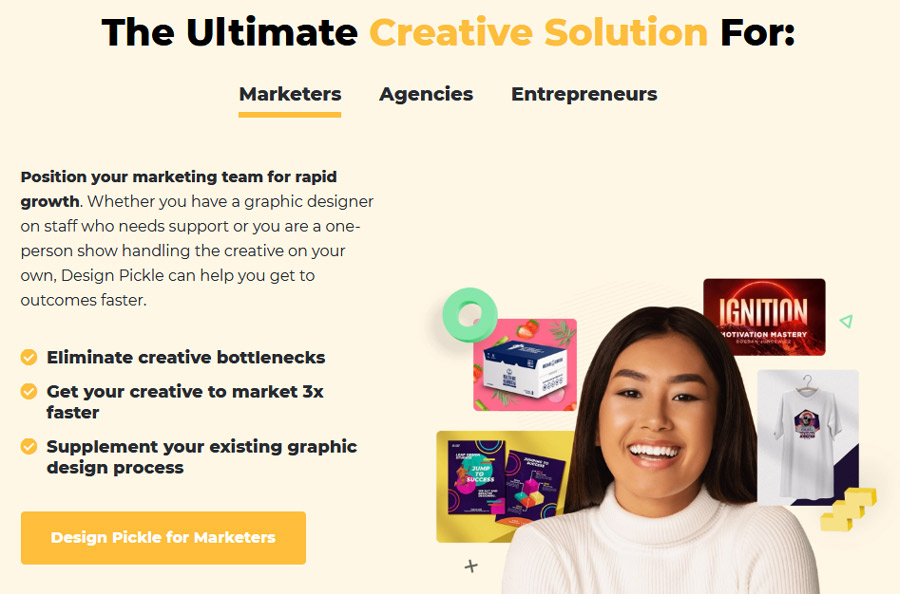 Positives To Using DesignPickle
Negatives To Using DesignPickle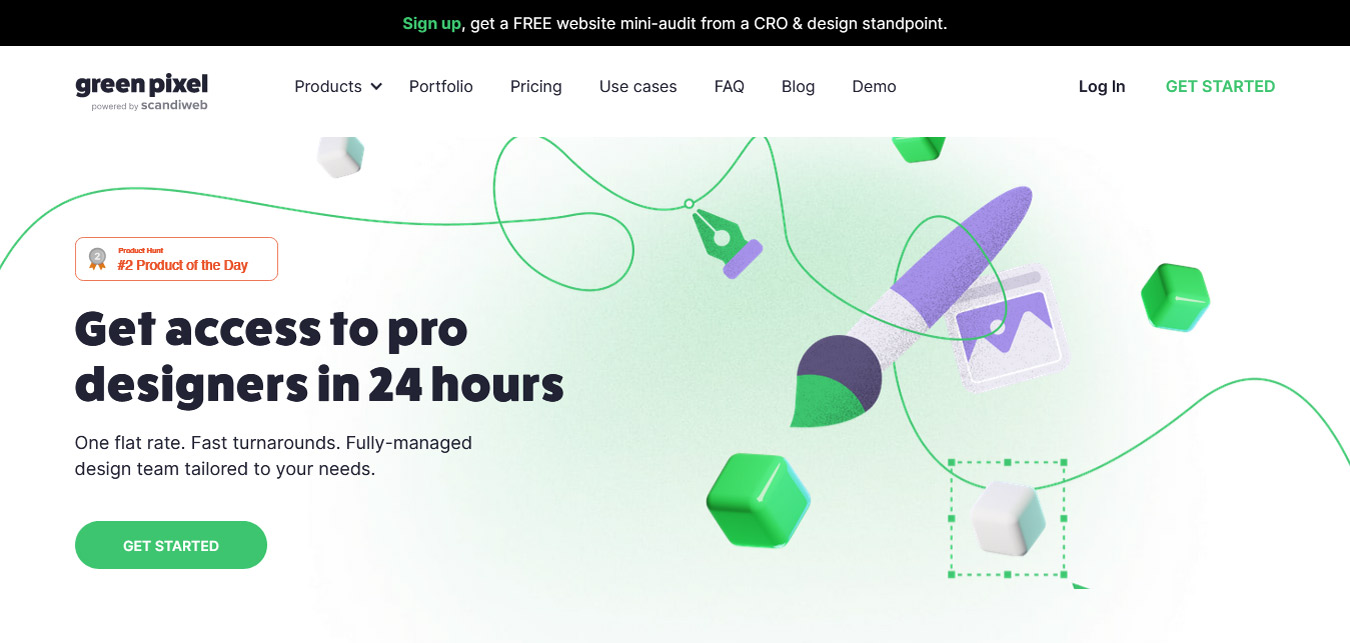 An Introduction To Green Pixel
---
Getting set up with Green Pixel only takes 24 hours. Once you take the step to get set up, your entire design department will be reinvented. Green Pixel was a #2 "Product of the Day" at Product Hunt and brings together top talent from around the globe. You can choose the talent that best matches your brand and set up a custom design team to work through your graphic design projects, at a much cheaper cost than an in-house team. 
How To Get Started With Green Pixel
Green Pixel is focused on setting up each client with a customized design team. That means their process looks a little different than some of their competitors, so you'll want to follow the steps below:
Is Green Pixel A Good Fit For You?
Green Pixel is catered to companies that want to still have management over a design team but want to save money. That means if you have varying needs that span from branding to marketing, to e-commerce, you can build a team that consists of creatives that specialize in each of those specialties. By doing this you'll be able to scale up faster with a creative team you can count on. 
Reasons Why Green Pixel Is Great:
Green Pixel is a company that has had its fair share of publicity – being a Guinness World Record Holder and receiving a Webby Award and Mercedes Benz Design Award. They've worked with brands across 35 countries including The New York Times, The Metropolitan Museum of Art, Puma, and Jaguar Land Rover and have delivered over 8,000 designs from over 50 design experts. Their price for their services doesn't come cheap but if you have the budget, Green Pixel is a company you can trust.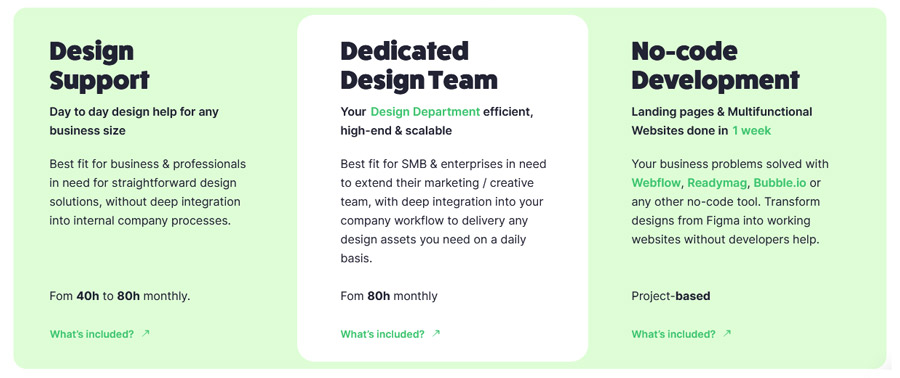 Green Pixel's packages are priced in Euros, but their cheapest graphic design package is 1,520 EUR/month will get you 40-80 hours of design work completed monthly. Their most expensive package will get you 3+ designers, over 80 hours of work monthly, and a whole suite of other benefits but this will cost you over 10,000 EUR/month. 
When Should You Expect To See Results?
The turnaround time will vary based on the complexity of the project you submit. Having a dedicated team allows for them to know your brand better and work through your projects quicker though. For the most part, you can expect to usually receive projects back in 24-48 hours.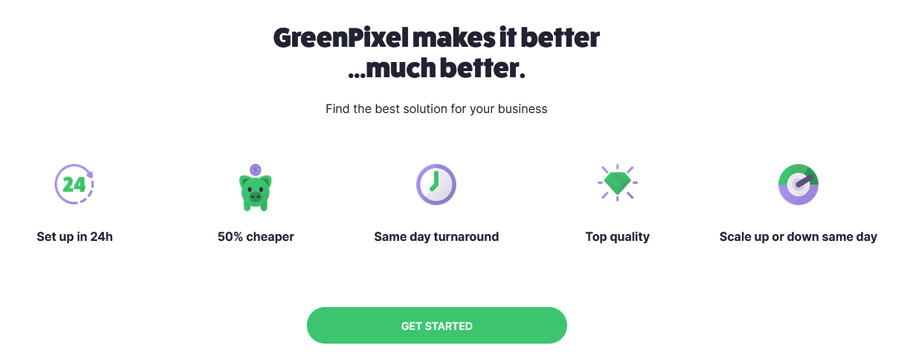 Positives To Using GreenPixel
Negatives To Using GreenPixel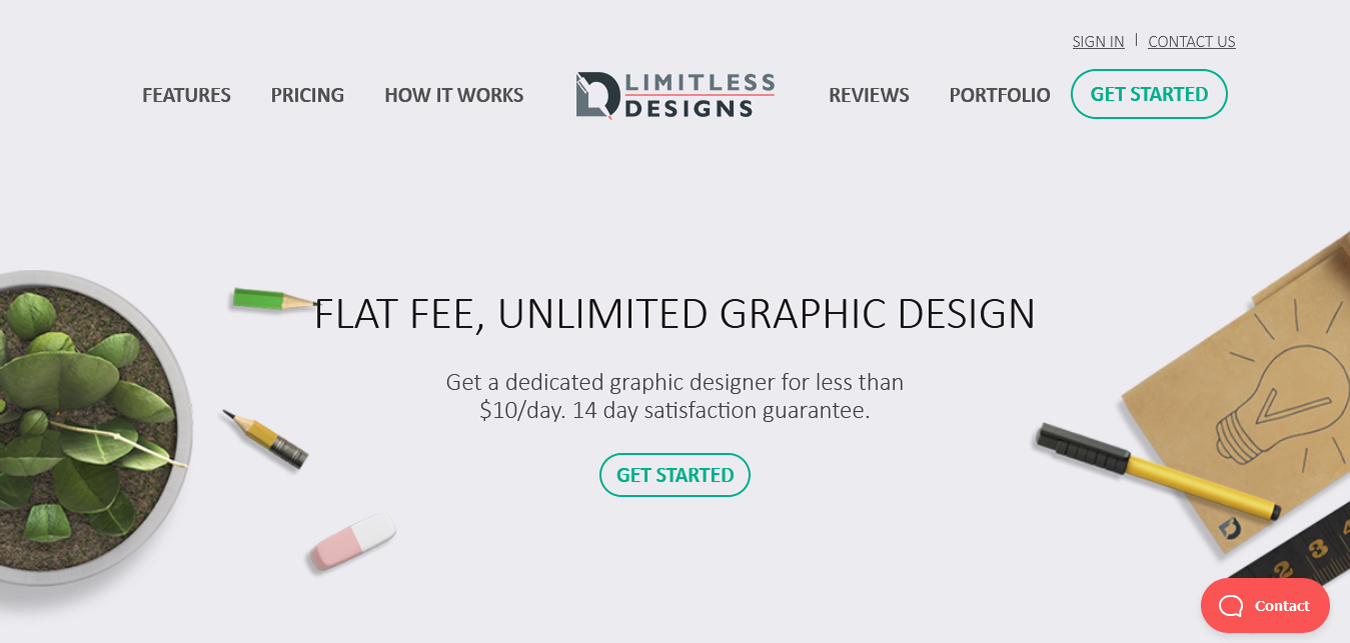 An Introduction To Limitless Designs
---
With Limitless Designs, the options for your company's graphic design are truly limitless. For a flat fee, you'll gain access to unlimited graphic design from a dedicated creative. For this flat fee, your dedicated designer will work through all your small design requests. All their creatives are thoroughly vetted so no matter who you are paired with, you can expect high-quality designs. 
How To Get Started With Limitless Designs
Limitless Design's approach looks different than many competitors because it looks like a process you would follow working with an in-house team member.
Is Limitless Designs A Good Fit For You?
If you want the simplest design solution out there, then yes, Limitless Designs is right for you. Their process takes out a bunch of extra steps competitors have. Even with their simple, streamlined, email-focused process, you'll still receive high-quality designs. The only caveat is that Limitless Designs is catered to companies that have requests that can be completed within 60 minutes, and not requests that ask for logo creation or custom branding. 
Reasons Why Limitless Designs Is Great:
Working with Limitless Designs feels like you're working with a team member, not a freelancer. Whenever you need a graphic design completed all you need to do is send over an email instead of logging into a platform to fill out an extensive design brief. As a business professional, you already have a ton of web pages to visit daily, so with Limitless Designs, you don't have to worry about adding another web page to your daily checklist. While relying on email for communication may make you feel distant from Limitless Designs, they have a support team in place that can help you 7 days a week!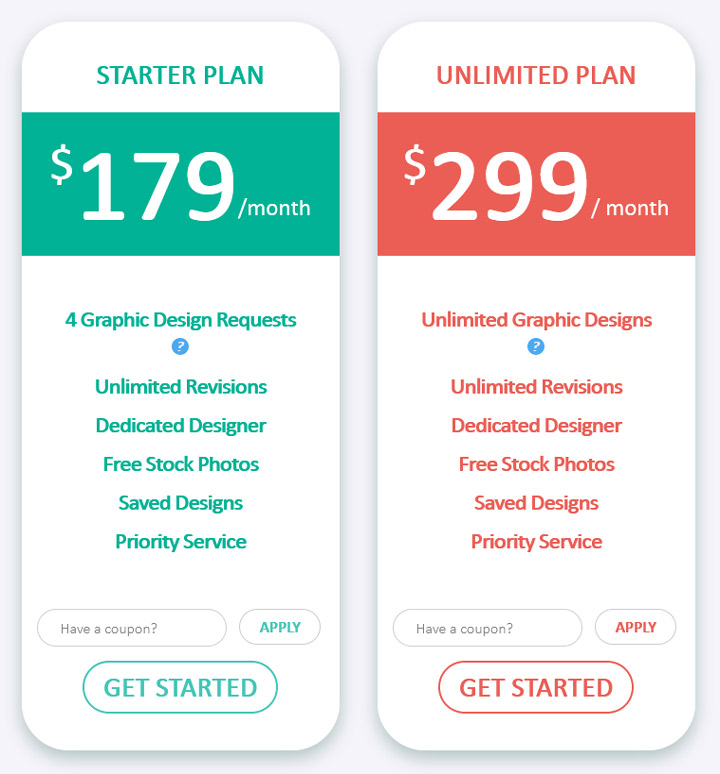 Limitless Design's pricing is straightforward. You can either opt for their $549/month plan, or their $999/month plan. Both plans will give you unlimited designs, unlimited revisions, and a dedicated designer. 
When Should You Expect To See Results?
Since Limitless Designs focuses on smaller requests, you'll often get projects back in hours. They aren't set up for larger, complex projects like logo creation or custom branding, and instead target projects that can be completed within 60 minutes. 

Positives To Using Limitless Designs
Negatives To Using Limitless Designs
An Introduction To

Designity
---
Offering a team of US-based creatives that are supervised by creative directors, Designity can revolutionize the way you have thought about your creative department. Signing up with Designity will truly provide you with the best of all words delivering five-star quality design, reliable talent, limitless capacity, and fast turnaround times. Whether you need website design, mobile app design, illustration, logo design, packaging design, digital marketing, or even publication design, Designity will pair you with a creative director who will form a custom team that will work on all your projects. 
How To Get Started With Designity
Building a custom design team looks a little different than signing up for a standard unlimited graphic design company. That means you'll want to follow the six steps below to be the most successful after you sign up.
Is Designity A Good Fit For You?
At first glance, the cost of Designity may seem high, but when you break it down, the cost is much cheaper than hiring an in-house team, freelancer, or agency. With Designity, you'll have a US-based team, and a dedicated creative director, and can trust that the talent you have working on your projects is a creative you can count on. 
Reasons Why Designity Is Great:
Designity is the only platform out there that matches you with a compatible creative director that will serve as your point of contact. Other companies often match you with a project manager, who doesn't come from the design industry themselves. This creative director will hand pick a custom design team full of vetted US-based creatives. This approach allows you to put your design work in the hands of someone you can trust and every week you'll meet with your creative director to discuss how your projects are progressing, how you are liking the designs, and any plans you have.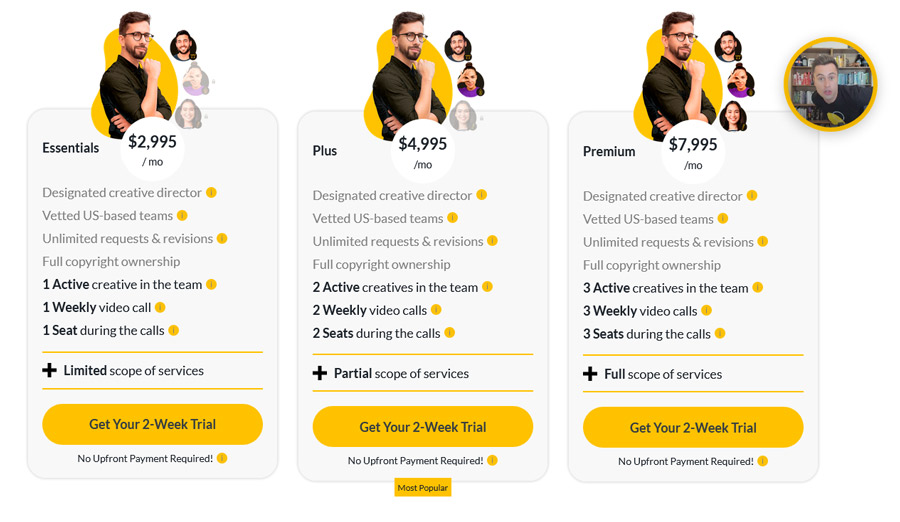 Hiring a creative team is more expensive than other models, but if you like the idea of still having a team aspect to your graphic design, then Designity has a plan for you. Their plans start at $2,995 a month and go up to $7,995 a month. The difference in prices is based on how many creatives you want on your team, how many weekly calls you require, and how many seats you want in that call. 
When Should You Expect To See Results?
The turnaround time of your projects will depend on the type of project and the scope of the work. This means that your project can be completed anywhere from 1-10 days. You'll always be provided a detailed timeline before your project is worked on so you know when you can expect your project to be completed.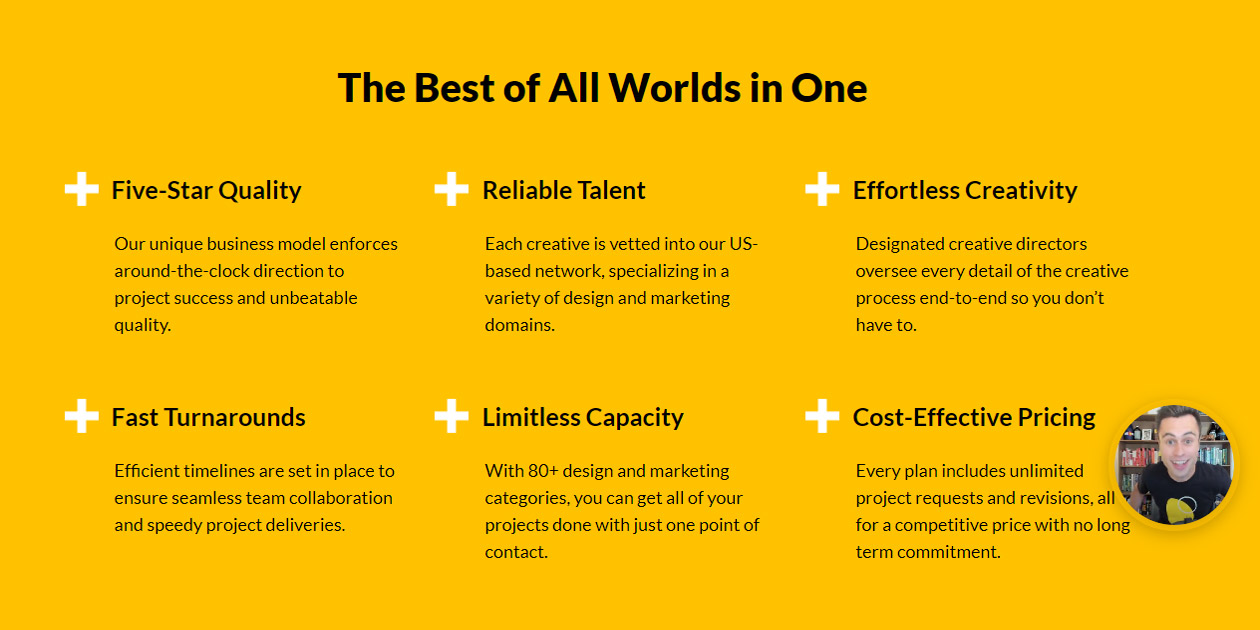 Positives To Using Designity
Negatives To Using Designity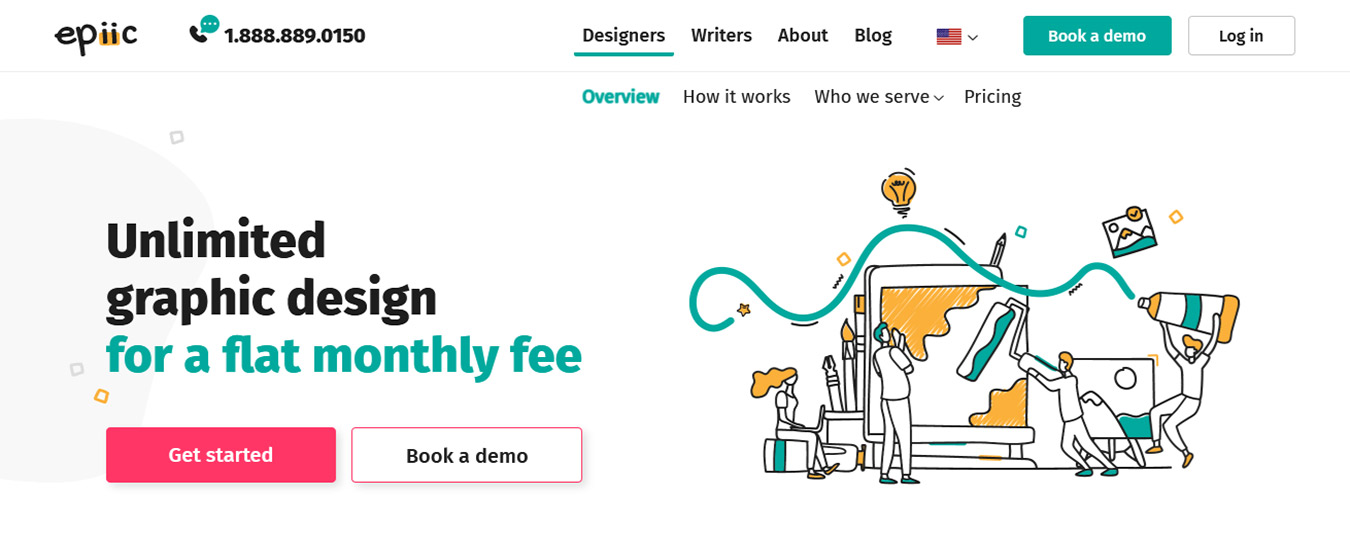 An Introduction To

Epiic
---
Epiic's award-winning design team is available for everything from website graphics to animated GIFs. Their services have been trusted by UNICEF and all their designers are seasoned so your project will not be the first one a designer works on. With a model that is scalable and flexible, no matter what you are looking for with your graphic design, Epiic likely has a place for you. 
How To Get Started With Epiic
Epiic knows your time is valuable, so they keep their process simple for you.
Is Epiic A Good Fit For You?
Epiic is driven by simplicity, powered by talent, and enabled by technology. What more could you ask for? Epiic handles any graphic design need you can think of, so you never have to worry or wonder if your need is within their scope of their graphic design services. With their money-back guarantee, you can always try their services before committing to ensure they are a good fit for your business!  
Reasons Why Epiic Is Great:
Unlike other companies, with Epiic, every project is reviewed for quality before you put your eyes on it. By having your project reviewed by a senior designer, you'll save time from having to go back and forth. Every design is checked that it is 100% original and matches your design brief. If you ever need help along the way, you can reach out to your dedicated project manager or directly communicate with your designer. Unlike other companies that have a 14-day money-back guarantee, with Epiic you have 30-days, but you probably won't need to worry about canceling!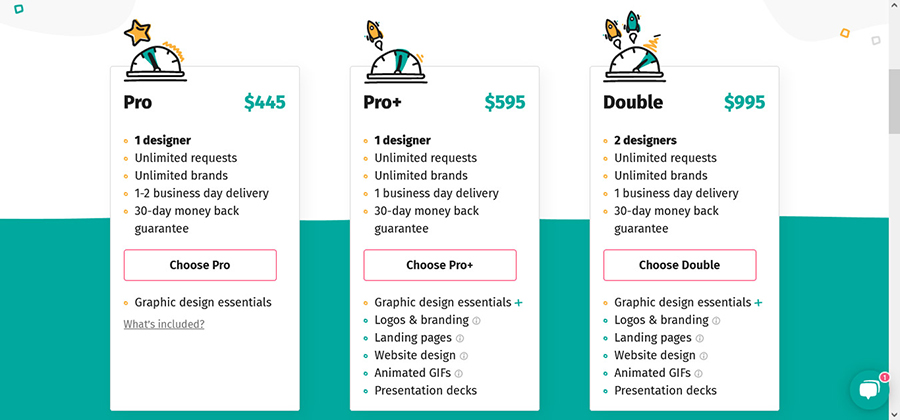 With Epiic's pricing, if you opt to be billed quarterly or annually, you'll save more. If you want to be billed monthly their cheapest plan starts at $445 a month and their most expensive plan is $995 a month. No matter what plan you sign up for, you'll have access to unlimited requests.
When Should You Expect To See Results?
Epiic works fast to complete your projects. Their most affordable plan will have a 1-2 business day turnaround, whereas their other plans have a 1 business day turnaround.