When you want professional, custom design, it can take more time and money than you have to locate and hire a graphic designer. Crowdsourced design sites are a budget-friendly option. Within one site, you have access to multiple graphic designers and numerous design categories. Flyers, brochures, infographics – you name it! 
Top 10 Video Editing Companies [updated 2022]
by David Melvin – LDM Editor
Videos are proving to be a popular medium in marketing, advertising, entertainment, and even education. That's why, if you haven't yet, now is a great time to consider growing your business with the use of video.
How does one go about that? One of the best ways is to outsource your work to professionals. That's why we've compiled a list of Top 10 Video Editing services. These companies will help you to grow your business through the use of video no matter who is your target audience or what your marketing goals are.
We've pulled the stats from the top ten video editing companies just for you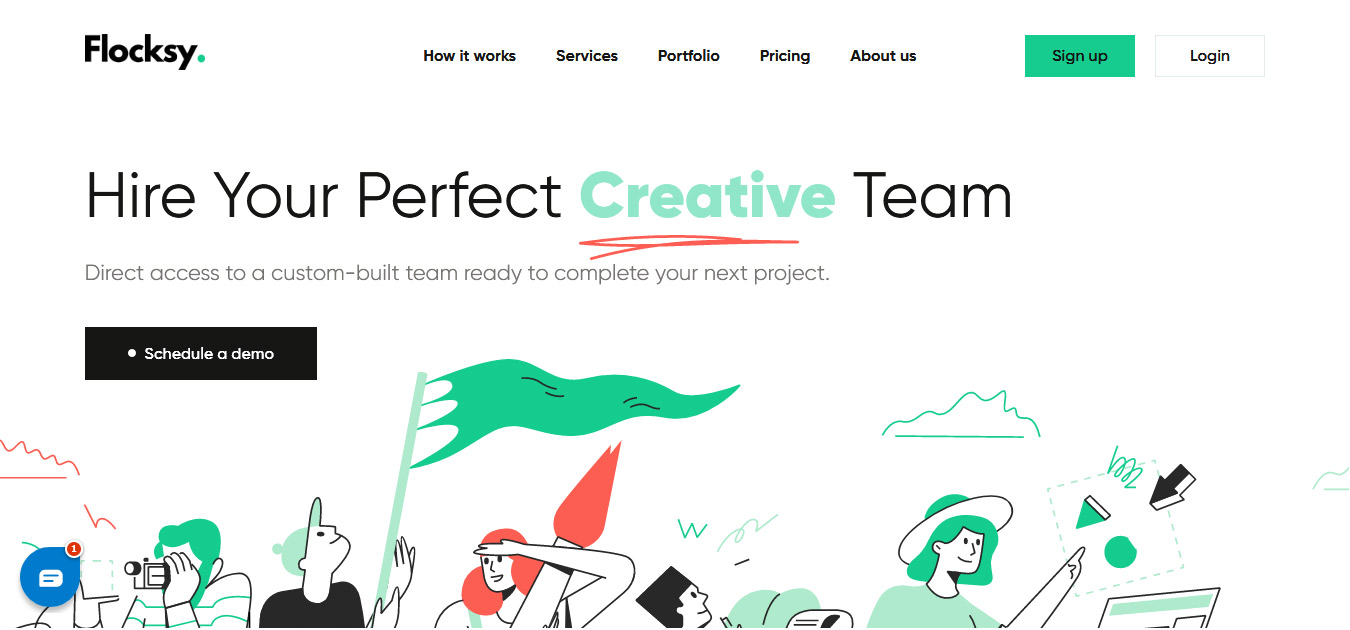 Meet Flocksy
---
While they have plenty of services they provide to clients and a large roster of professional freelance creatives to handle client needs, one lesser-known service is video editing. But that doesn't mean Flocksy is ill-equipped to undertake your video editing needs. Talented freelancers are just aching to tackle this for you quickly and professionally.
Flocksy makes it simple to get your work underway:
The interface is easy to use, and all creatives will happily revise anything you wish within reason. Some will even do a full rewrite. It is all in the spirit of making you happy and keeping you coming back.
Is Flocksy right for you:
Hiring professionals from agencies ensures on time delivery, but you also pay a higher price point for the work. If you cannot afford agency prices, Flocksy is a great alternative. Freelancers love to work and need to expand their portfolio and notoriety in the industry. This is a great opportunity for you to help budding video editors who want to excel for a reasonable price.
What makes Flocksy awesome:
The fact that they do hire freelancers and only freelancers is amazing. Most companies shy away from this because freelancers are often unreliable, using Flocksy as a side hustle. But that is what makes them great. They give newbies and up-and-comers a chance to shine, to develop, and to learn a structured system that will benefit them in the professional world of video production and editing, as well as other fields.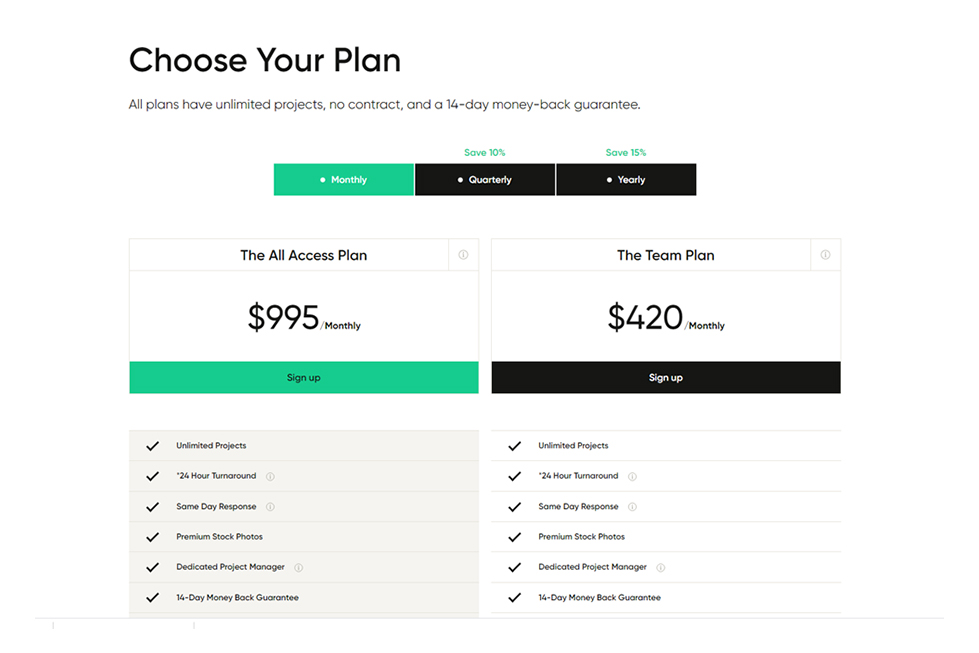 Flocksy offers two plans for most project needs, but for video editing, only one really applies. And these plans can be paid monthly, quarterly, or annually. Discounts are attached to plans involving longer timeframes, the biggest discount with an annual signup. Also worth noting, you plan does not factor in the offers from freelancers. Those are a separate fee.
The Access Plan is $995 a month, including:
Unlimited Projects
Unlimited Revisions
Same Day Response
Premium Stock Photos
Premium Stock Footage
Dedicated Project Manager
14-day Money Back Guarantee
NO Contracts. Cancel anytime.

With this you can have up to 20 users, 2 active projects going at the same time, and unlimited brand buckets. You can access the revision queue and custom template library. And if you want to venture into other services, all niches are available to you and the entire roster of creatives.
Turnaround is given by the creative when they make an offer. It is managed by the dedicated project manager assigned to your work. Creatives can ask for time extensions if needed.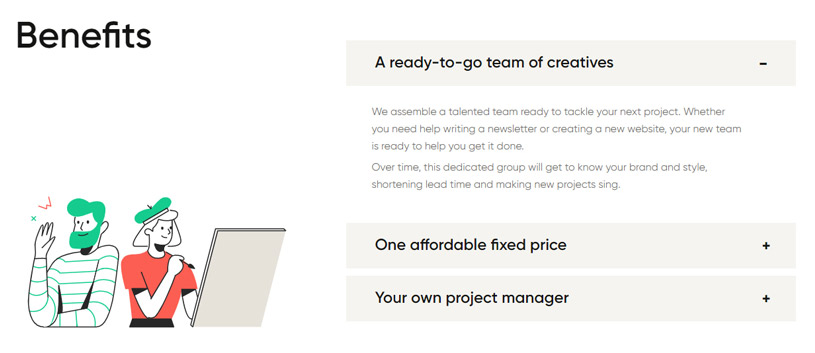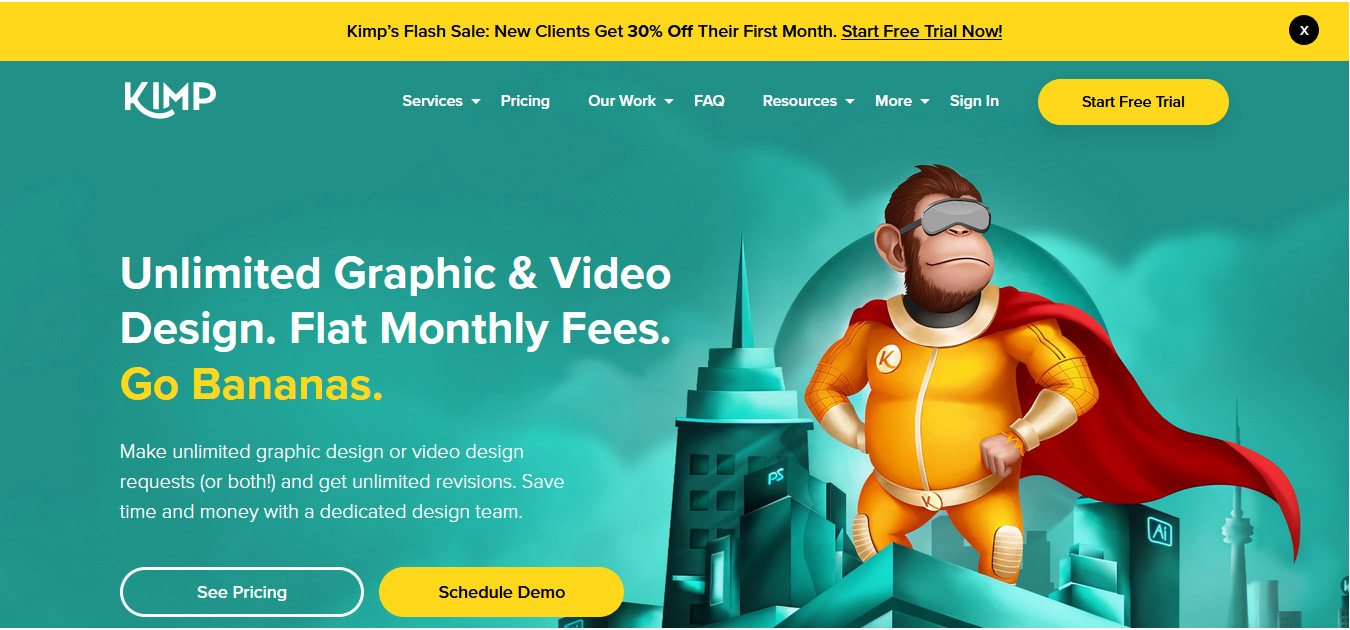 Meet Kimp
---
At Kimp, the name of the game is "unlimited." Unlimited designs, unlimited video requests, and of course, unlimited revisions. And add to that a time saving, fiscally responsible price and you have a winning solution to your graphic needs.
Let's get your marketing game on point and scale that business. This is how you will do it:
Is Kimp right for you:
No one wants to wait forever for returns on their project needs. Kimp knows that and has a plan to get things done quickly, professionally, and affordably. They have three plans to suit any budget, a team of creatives with the skills to tackle your desires, and every design is 100% owned by you, the client.
What makes Kimp awesome:
No hidden cost is one reason. A team setting focused on collaboration is another. And their affordable prices are pretty amazing. But what makes them epic right now is the discount for new clients. You will get 50% off for the first two months, as well as a free trial, just to dip you toe in the water. That, in our opinion, is pretty amazing.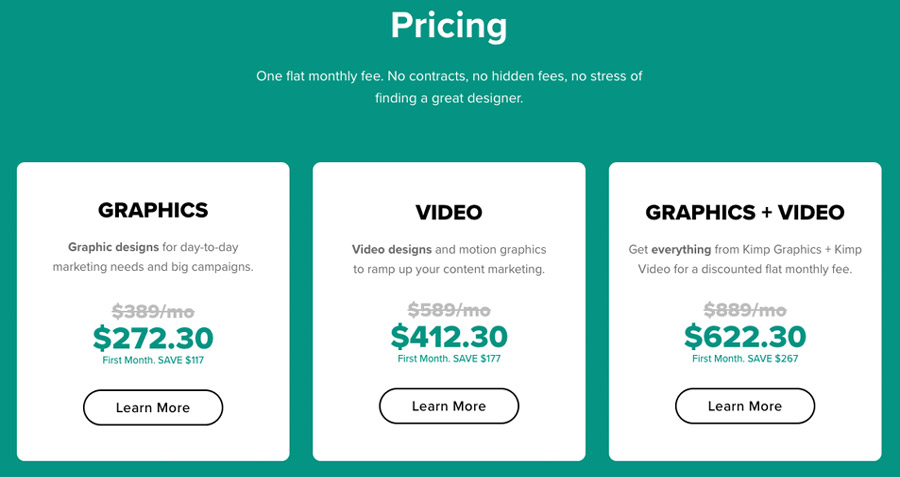 As we said, Kimp has three affordable pricing plan options to choose from, billed monthly, with new clients seeing a 50% discount for the first two months. Take a look at these and pick the one that is right for you:
Graphics package: $299.50, saving you $299, perfect for day-to-day marketing.
Video package: $349.50, saving you $349, just right for all your video design needs.
Or….
Graphics and Video: $497.50, a savings of $497, providing the best of both worlds.
All prices are in USD.
Turnaround depends on the project. For instance, video projects will take longer than graphic projects. What they can say is you will get your design s promptly and they eagerly await feedback.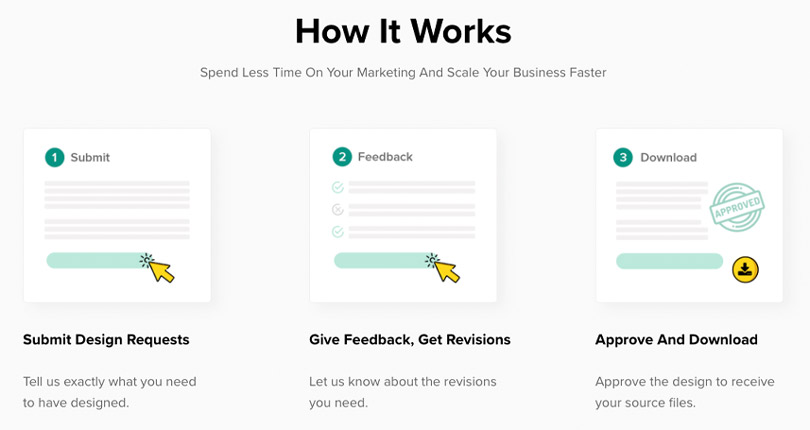 Meet Cutyeti
---
Blow away your audience with the talented video editing skills at CutYeti. Video is a powerful tool, but creative video is often complicated, takes a whole mess of time, and can be expensive. Use CutYeti to do you video editing and take one aspect of the process off your plate.
Getting started with CutYeti is easy. Let's go through the steps and show you just how easy:
That's it. Easy as 1, 2, 3.
Is Cutyeti right for you:
Do you like lightning-fast results, professionally done, custom branded and guaranteed to be amazing? Then yes, CutYeti is the perfect fit. The strive for excellence, giving you premium quality, unlimited revisions and videos, easy commenting, and an affordable price point.
What makes Cutyeti awesome:
It isn't just one thing but the entire package. All the perks of working with CutYeti make it awesome, as well as making it you go-to source for video editing needs. Want a pro, who guarantees the work will be epic, and will make any changes you deem necessary? You get all that and so much more.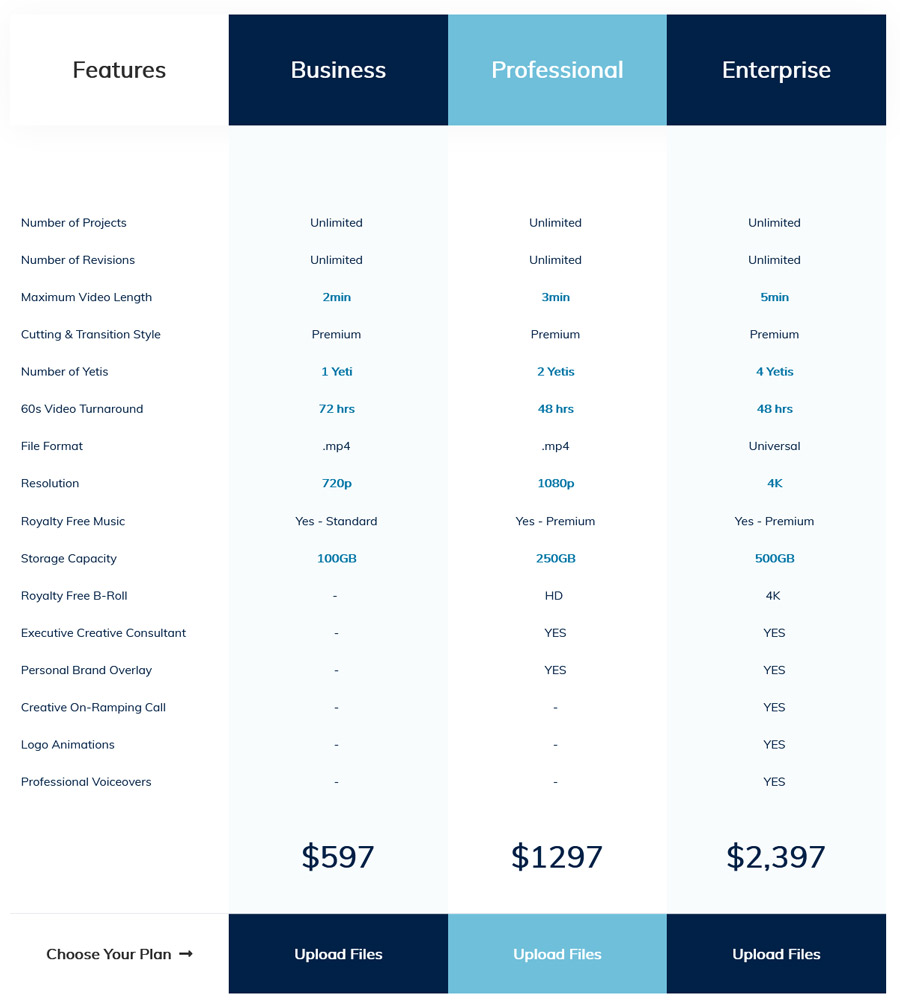 With 3 packages to choose from, you are sure to find the right one for you, and each has a comprehensive list of perks built in. Take a look:
Turnaround varies with the package you select. The shortest window for a draft is 48 hours or less.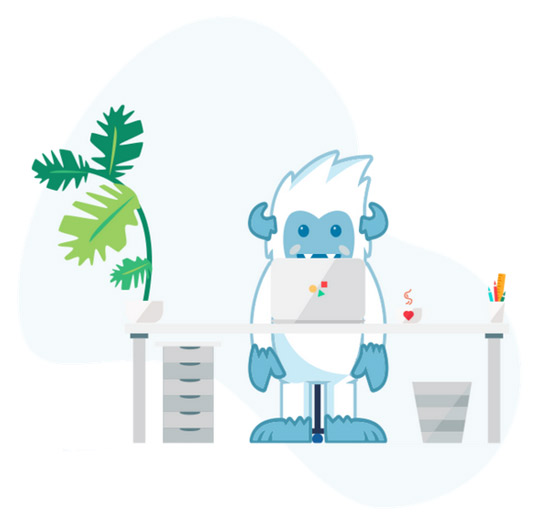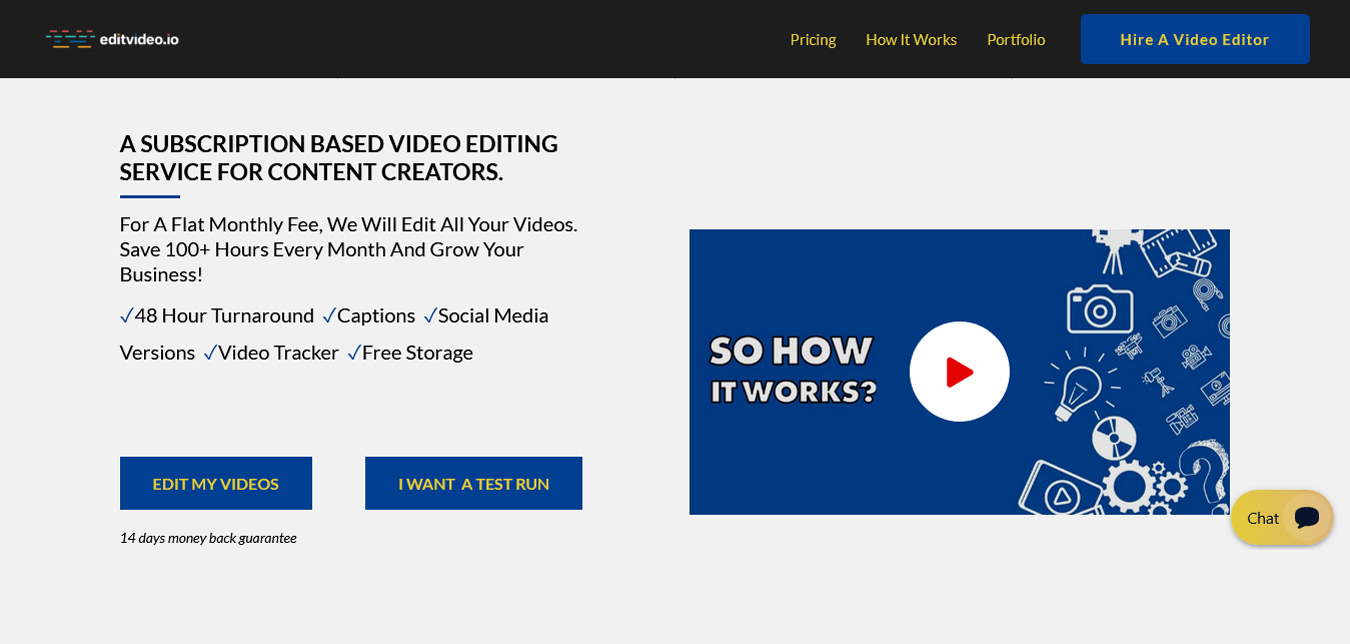 Meet Editvideo
---
You have a problem. You have too many projects and too little time. Maybe you have insufficient storage space. Perhaps the quality is not up to your standards or the high standards of your competitors. Editvideo is here to make all of these worries go away. And they do it for a flat monthly fee.
Get your video projects perfected with a monthly video editing service that works with minimal effort for you.
They specialize in creating compelling videos for YouTube.
Is Editvideo right for you:
If you need your videos cut and polished by professional editors, then absolutely. They have a team of dedicated editing staff that know exactly how to take your videos from drab to amazing. Get the attention you need, want, and deserve and feel happy doing it through Editvideo.
What makes Editvideo awesome:
They possess the mad skills to evolve and electrify your video in ways you have only dreamt of and give you unlimited space to store it until you need it. And they do this with a 14-day money back guarantee. That is pretty sweet. But what takes it over the top is one simple two-word promise…Risk Free.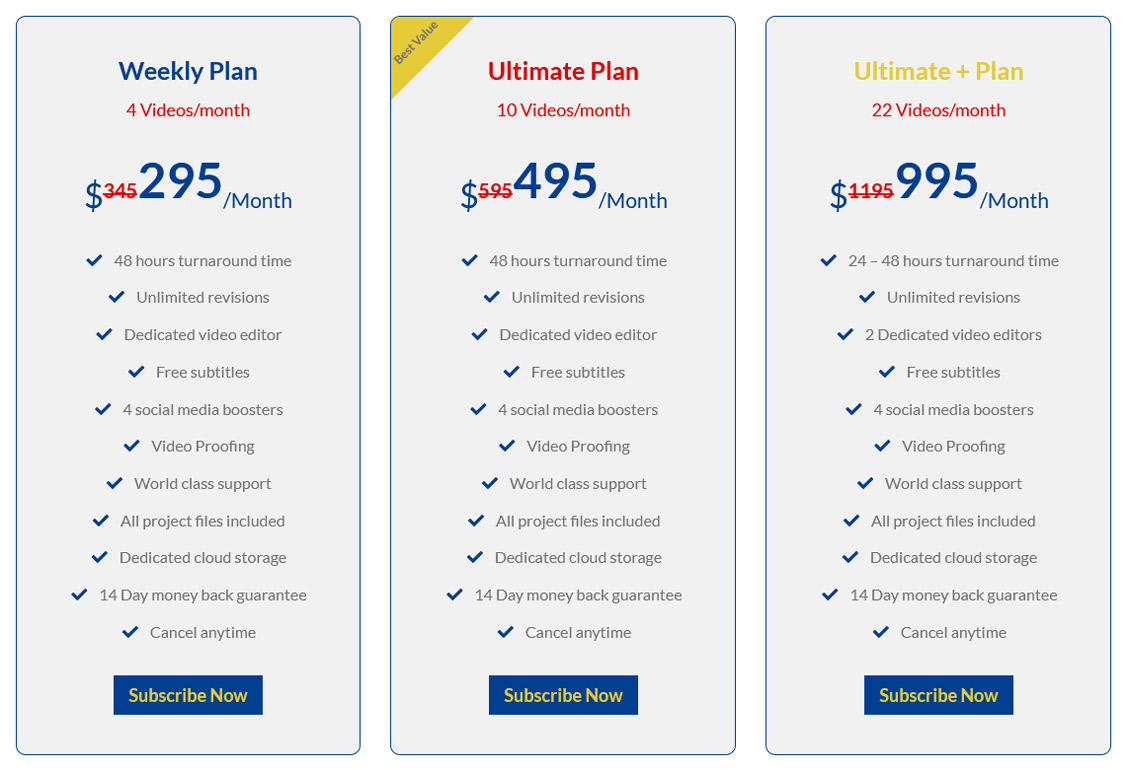 Editvideo has three plans to choose from. Just a heads up, they do not offer unlimited video requests.
48 hours is the base turnaround time.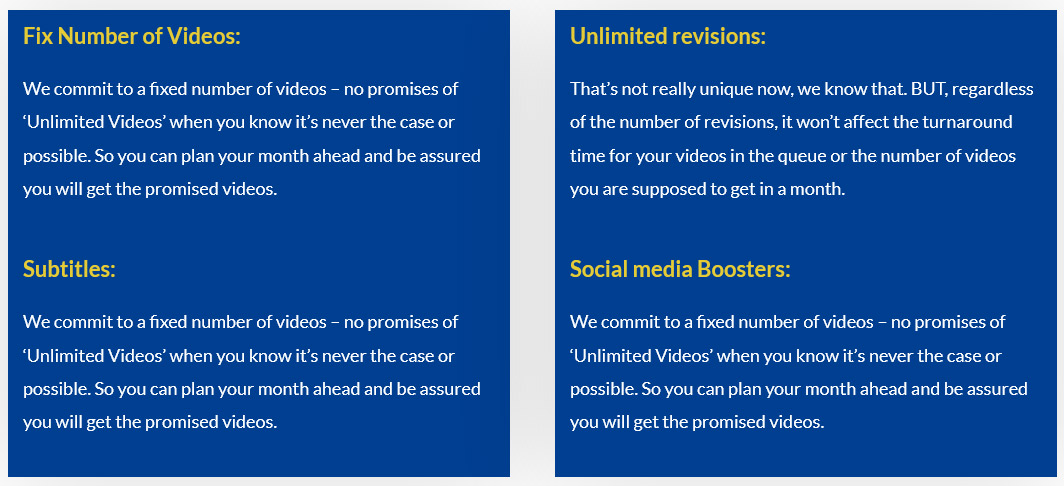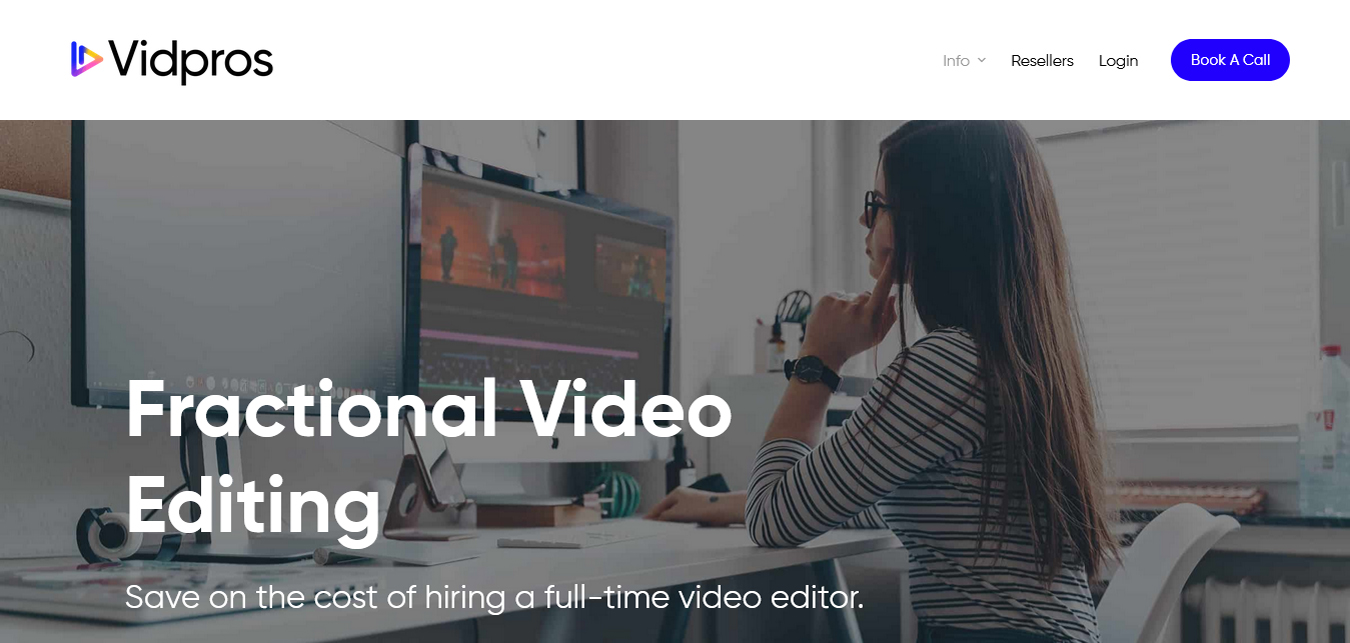 Meet Vidpros
---
Vidpros offers fractional video editing solutions designed to scale your business in an unusual way. They are not a full-time solution, but an as-needed option when you have videos that need a little love. You get a dedicated editor, professional customer service, and your clients will love what they see.
They make it very easy to get your video editing done with the goal of scaling your business.
Like we said, a simple solution for editing needs.
Is Vidpros right for you:
If you only need editing from time to time, then oh, yeah, they are totally your bag. Maybe you are a new business, a smaller entity, or you have an in-house editor, but they are overwhelmed, and you could use some outside help. Well, you have come to the right place.
What makes Vidpros awesome:
The speed a precision of their work is the hallmark of their skills and dedication to the craft. Some agencies or editing companies cover many aspects of the business, but at Vidpros, they specialize in this one, singular talent. That makes them experts and having an expert do your editing is pretty awesome.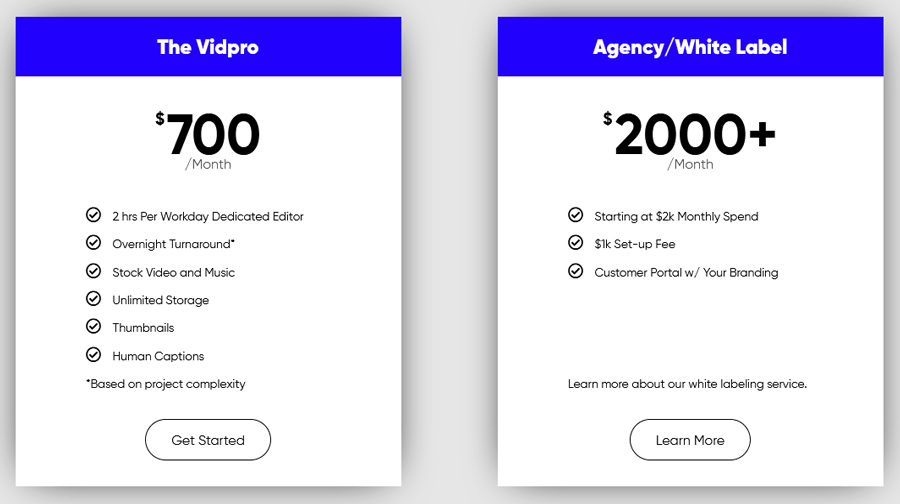 Before we dig into the pricing, it is our pleasure to mention that right now, Vidpros is offering a 40% OFF coupon that pops up the instant to log on to their site. How cool is that?
There are two package options to consider:
The Vidpro is $700 a month and includes:
2 hrs per workday dedicated editor
Overnight turnaround
Stock video and music
Unlimited storage
Thumnails
Human captions

*All based on project complexity
The Agency/White Label is $2000 + a month, but the options make it prohibitive for startups. We don't recommend this package.
In many cases, turnaround is overnight. For more involved projects, it can be up to 48 hours.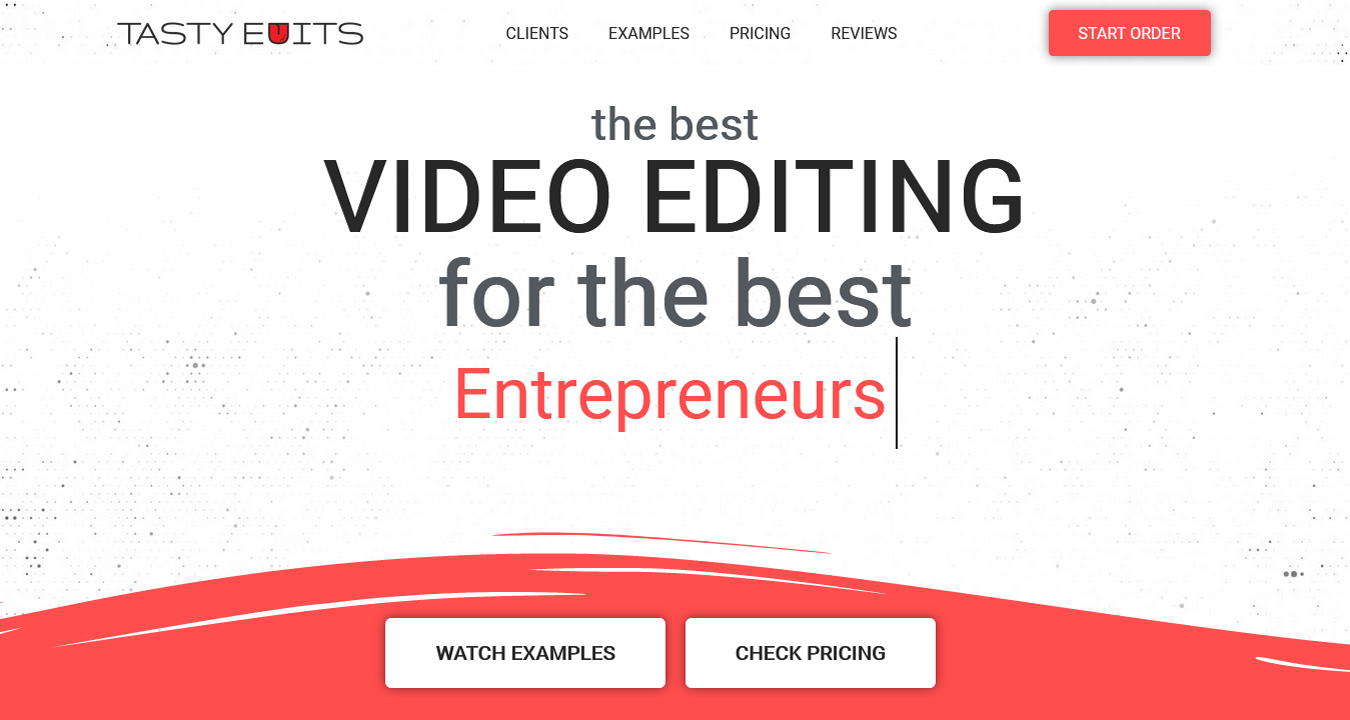 Meet Tastyedits
---
The crew at Tastyedits love working with all many of folk in the field of video creation and editing, including those on both sides of the camera. Let us explain. Not only do they enjoy collaborating with entrepreneurs, but also the creatives who make and edit your videos before you even contact Tastyedits. A true wheel of collaboration.
The best way to get you edit started is to click the drop down and push the bottom button marked "start order." Yeah, we know. Duh!!
Many of their clients are YouTubers and they have over 100 clients, 1000 videos posted, with over one-hundred-million views.
Is TastyEdits right for you:
If you are trying to become an influencer, you have fun things you wish to share with the world, or you just want to make videos for a vlog, this is a great choice. They have a specialized way of making your video pop and sing and all with the crispest resolution and sound your subscribers and clients will appreciate.
What makes TastyEdits awesome:
Their legacy of clients and completed works is certainly nothing to sniff at. But many companies can say the same. What makes TastyEdits really jump off the page is the insane quality of the videos they produce, and the very reasonable price tag to make them. Most companies charge a lot more for a lot lower end work. TastyEdits strives to make your videos, well, awesome.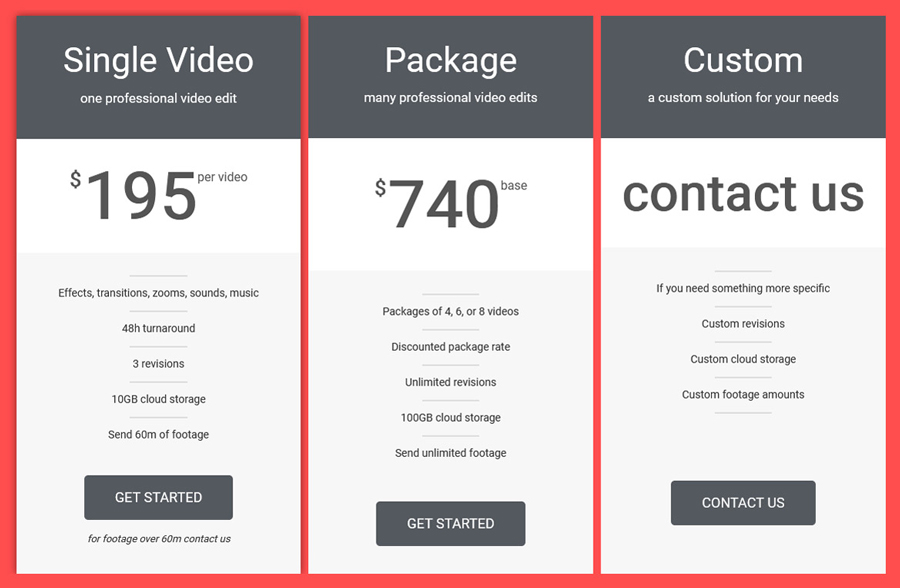 Two packages will serve your video needs nicely. For the beginner, the single package will work, while serious influencers will love to bigger package option. Take a look:
For Single Video, the price is $195, and includes:
Effects, transitions, zooms, sounds, and music
48-hour turnaournd
3 revisions
10GB cloud storage
Send 60 minutes of footage

The larger package is $740 base price and includes:
Packages of 4, 6, or 8 videos at once
Discount package rate
Unlimited revisions
100GB cloud storage
And you can send unlimited footage
Typically, about 48 hours.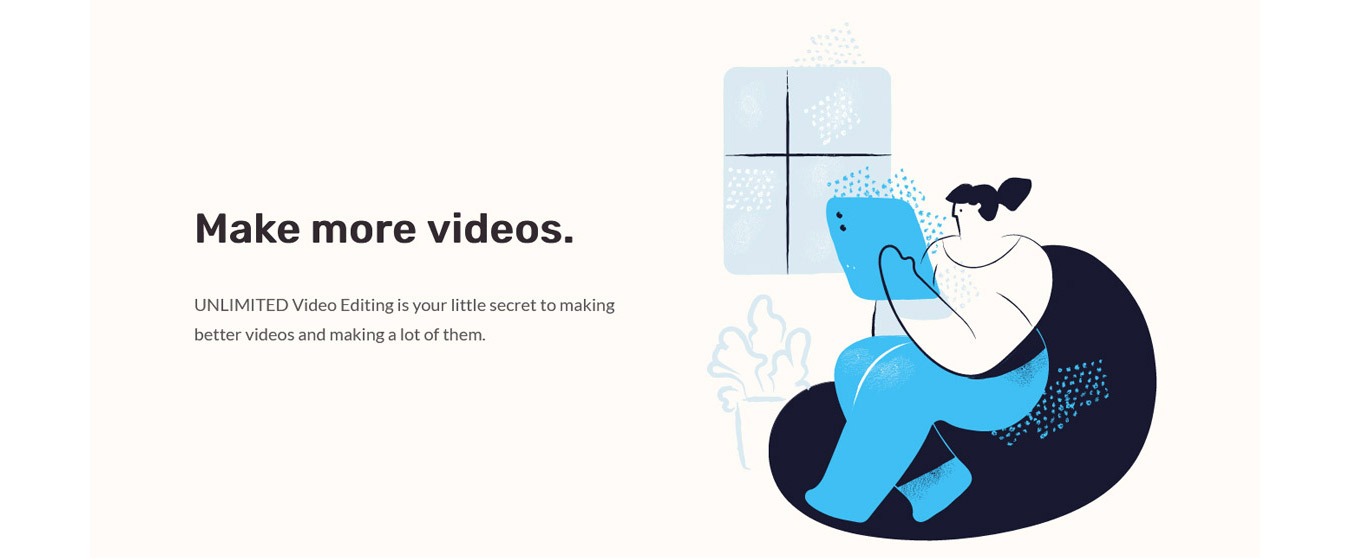 Meet Unlimited Video Editing
---
Do you want to have your own little secret to making lots of amazing videos? Then UVE is the place to be. UVE does all your video editing work, saving you hours of time while opening you up to larger and more interesting creative endeavors, all for a flat monthly fee.
How Unlimited Video Editing Works
They want to test the waters before signing you on, so after you submit your request, the vet your desire to see if you will be a smart match together. If they do, here are the next steps:
That's it. The only step that is unlike any other company is the vetting process. This is interesting because they know collaboration requires understanding. Would you want to work with someone you did not jive with?
Is ULE right for you:
We think they just might be. How do we know? Because they go the extra mile for their client relationship. They desire a cohesive structure to ensure the best outcome. Plus, they give you unlimited revisions which offer you a measure of control over the finished product. And the turnaround is quick.
What makes ULE awesome:
They are experts in the field of video editing. They know the styles that will turn heads. They make the entire process look easy. They have a pretty impressive price point that is reasonable under the typical standards in the field. And you only work with your personal manager so there is no "phone game" miscommunications.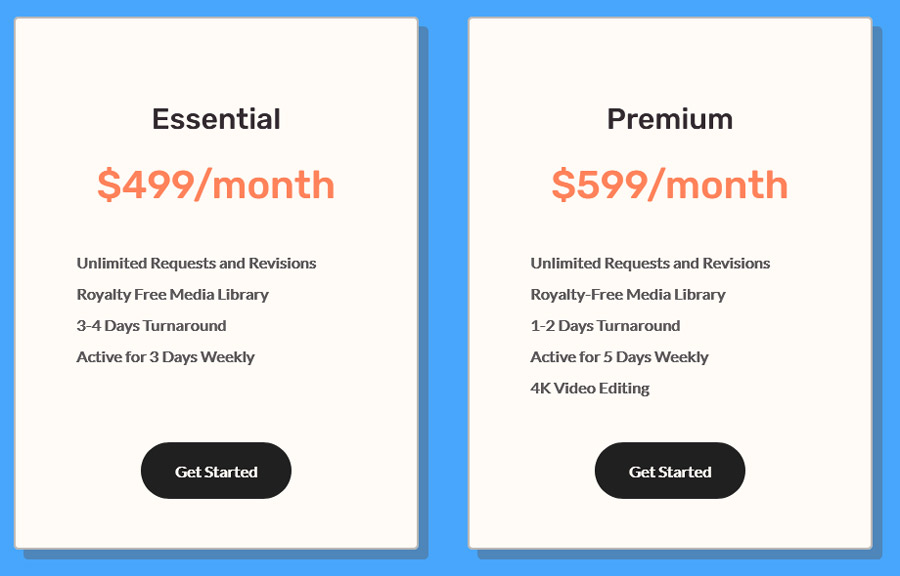 Two prices are available for your selecting pleasure:
The Essential package is $499 a month and covers:
Unlimited requests and revisions (requests are handled one at a time)
Royalty free media
3-4 days turnaround
Active for 3 days weekly

The Premium packages is $599 a month and includes:
Unlimited requests and revisions (still one at a time)
Royalty free media
1-2 days Turnaround
Active for 5 days weekly
4K Video editing
For the Essentials package, it is 3-4 days. For the Premium package, 1-2 days.

Unlimited Video Editing PROS
Unlimited Video Editing CONS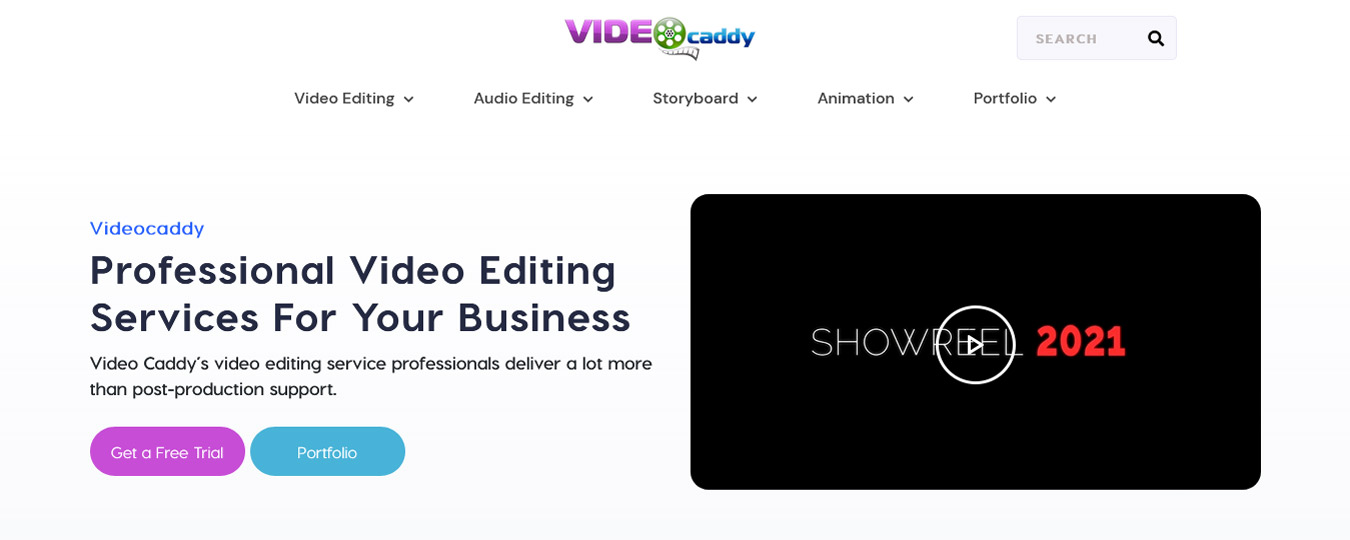 Meet VideoCaddy
---
For a buddy in the business, VideoCaddy is here. They do video editing to the highest of professional standards and go way past post-production support. Get your editing done and have a lifeline that will guide you beyond the end of your work. They hold your hand until you are ready to let go.
With only 4 steps, you can have your video made into an amazing audio vidual experience.
That's all she wrote. 4 simple steps to glory.
Is VideoCaddy right for you:
With a quick turnaround and plenty of happy clients, it is a good investment in your business, and your sanity. Too many agencies and video editing companies complicate things so you must be reliant on them. VideoCaddy keeps it simple, does the work, and gives you great product. So, in short, yes. They are.
What makes VideoCaddy awesome:
While they are the leading video editing team in India, the still believe in enabling clients in the United States to enjoy seamless and profitable videos through their outsourced talents. They offer planty of video editing options across the board. Plus…free trial. And who doesn't love a free trial. And they don't just do business videos but can even tackle home movies and sports videos. Pretty cool, huh.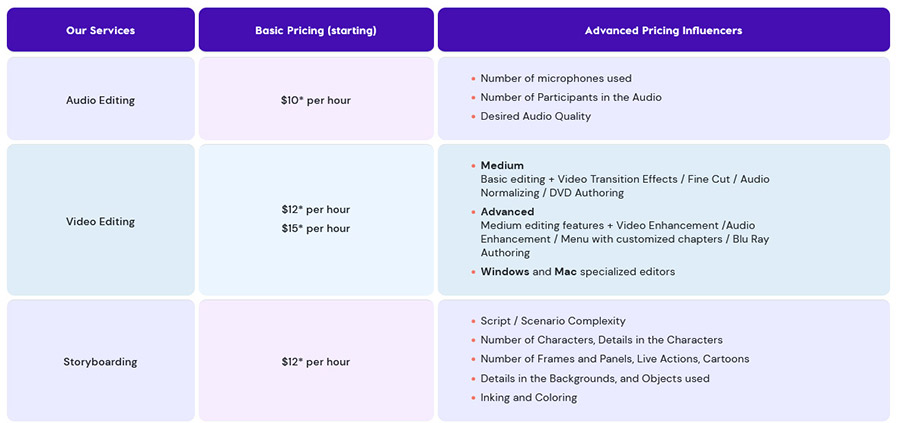 The pricing structure for VideoCaddy is ala carte. To get an understanding of what they offer, the individual prices, and what is involved in each item, it is best to visit the sight. It does not seem to indicate a package pricing options.
Turnaround varies based on the project you hire them to undertake. For instance, corporate video editing may take a couple of days where your home movies from the Grand Canyon could be done in a night.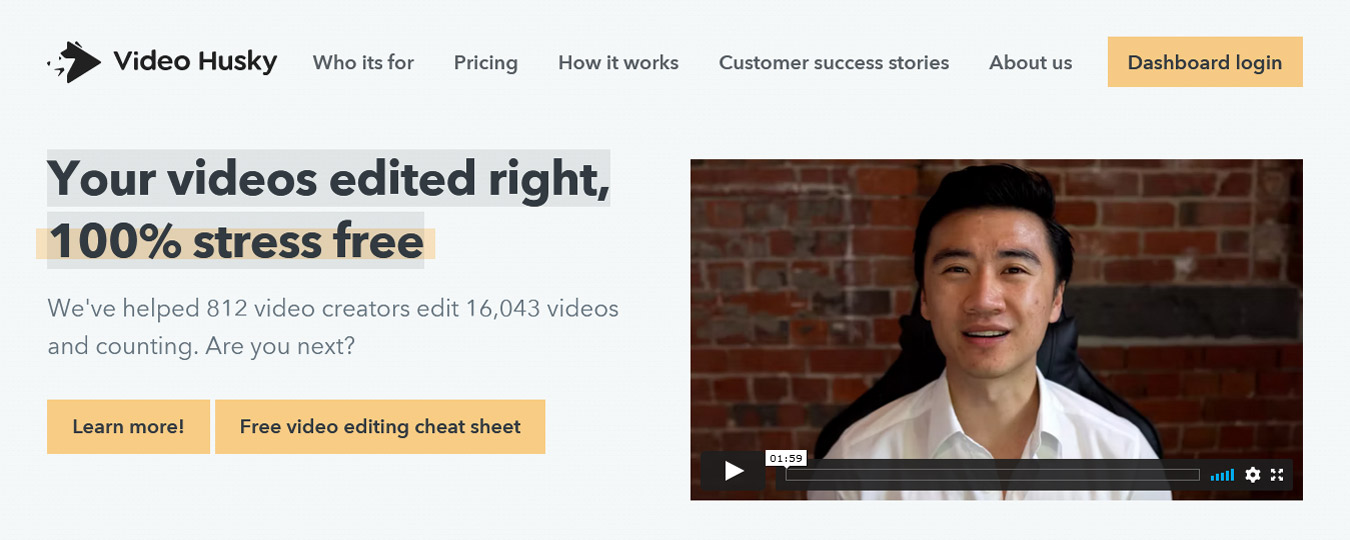 Meet VideoHusky
---
VideoHusky knows that editing your videos can be stressful. They not only sympathize, but they also created a plan for you to remove all stress and get your videos back to you quickly and edited to perfection. Never struggle to organize your videos again.
VideoHusky can determine if you are a good fit for their services based on some basic parameters, all sussed out during this simple process:
Is VideoHusky right for you:
If you are a content creator with a clear idea how you want your video to look like when done, then yes. If you have a backlog of videos waiting to be edited but no time to do it yourself, then yes. But most importantly, you think a working relationship with an editor for creative collaboration sounds like heaven, then absolutely, this is for you.
What makes VideoHusky awesome:
They specialize in video edits for audio visual content directed toward social media. They want your videos to hum, to pop, to sizzle, and to draw the eyes you need to scale your business. They are in the trade that makes an ROI an almost guaranteed truth. Any company that focuses on giving you new revenue through their excellence in skill is pretty awesome. Wouldn't you agree?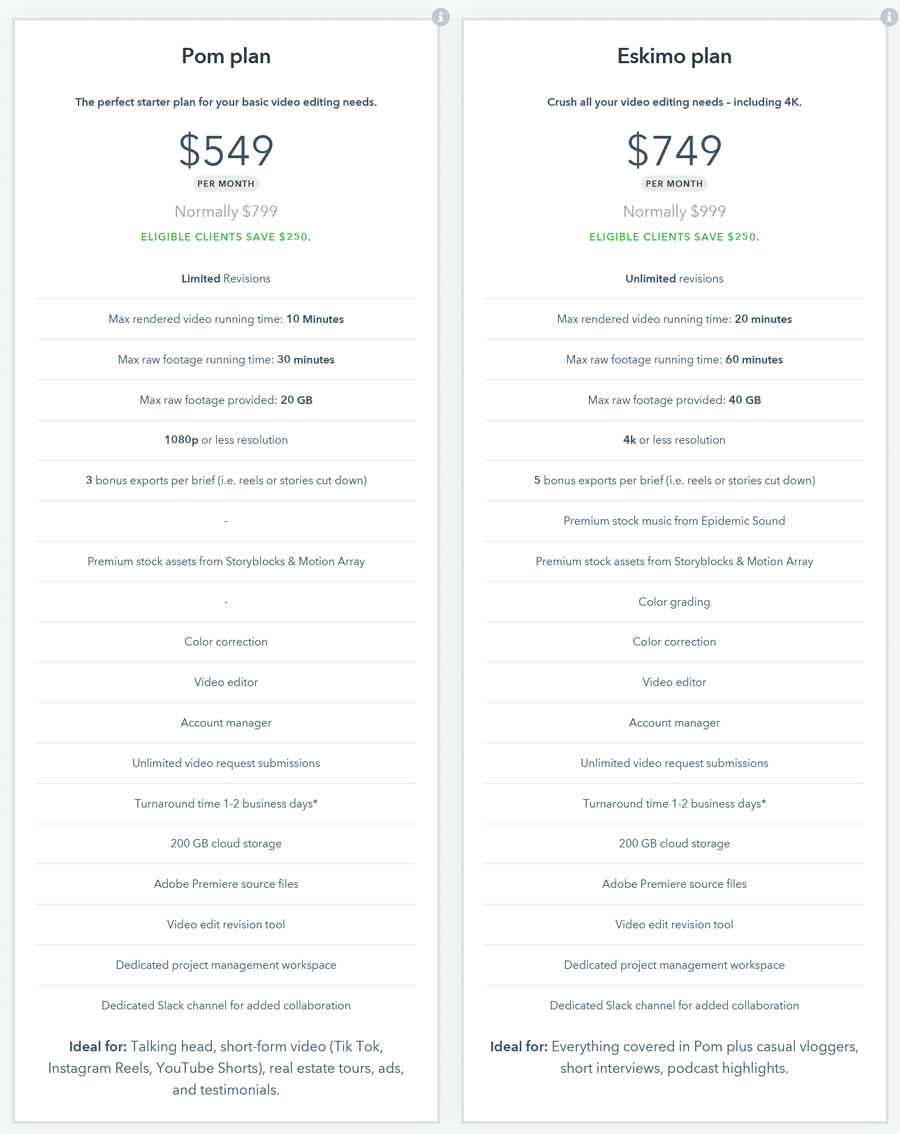 With two plans to choose from, both being billable monthly or quarterly, you have options that won't break the bank. And the quarterly option comes with a 10% discount.
1-2 business days for almost all projects.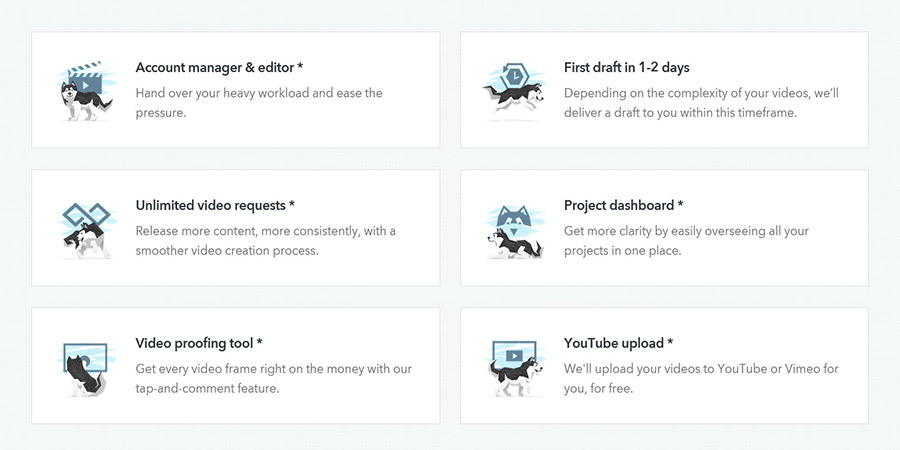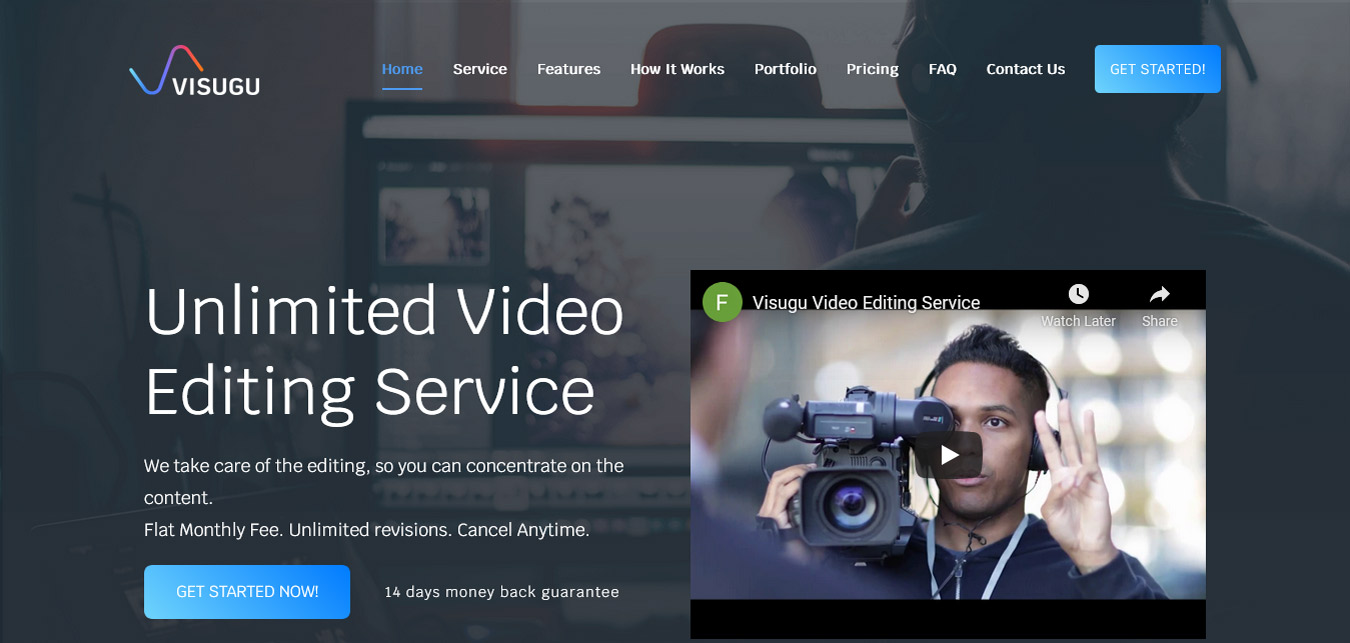 Meet Visugu
---
With a flat fee, unlimited revisions, and a very reasonable cancellation policy, Visugu is a worry-free editing source that knows you have a lot on your plate. Let them take this one thing off it and give you a little more freedom to do what you do best…innovate.
That is it. So simple, anyone can do it.
Is Visugu right for you:
We think it is. Why? Because everyone agrees, you have too little free time to edit your videos. Sure, it might seem like editing would be easy, and for those in the know that do only editing, it is a piece of cake. But for business owners with many balls in the air, it can be tricky. Let Visugu do it for you.
What makes Visugu awesome:
They want you to stress less and editing your videos is a great first step. But they take the worry-free mantra further by offering a 14-day money back guarantee, an anytime cancellation policy, and they do it for a flat fee. Add to that a fast turnaround and a suite of perks and you have the recipe for awesome at your fingertips.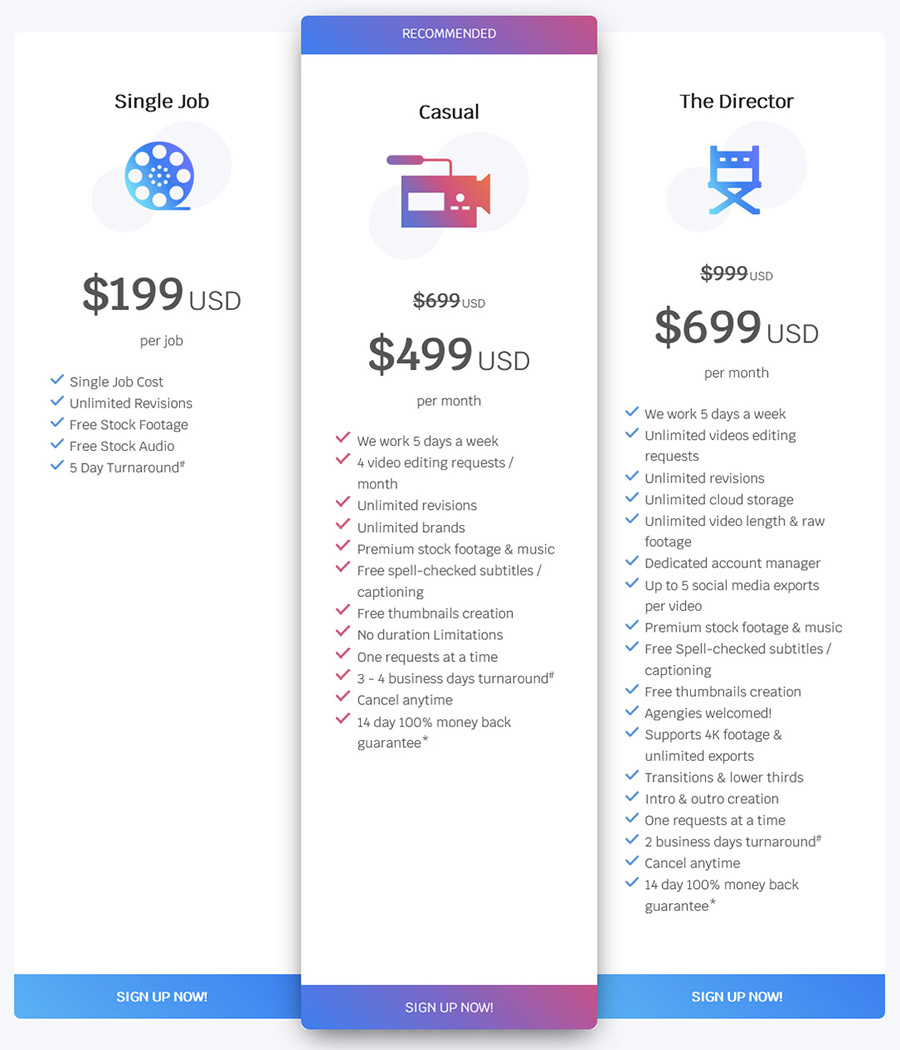 You can pay per job or by the flat subscription. It is up to you. Make the right choice and save money in the long run. Here are your three options:
The turnaround varies with the package you choose. View these packages above to see turnaround time options.