Are you finally ready to explore Fiverr? The popular freelance marketplace shook up the scene when it launched back in 2010, and the founders took quite a bit of derision for the "everything and anything for $5" pricing model, but the site was a success. Today, Fiverr is one of the top 200 freelance online marketplaces with over 2 million buyers, and 3 million sellers using the site regularly.
Of course, there have been a few changes over the years. The $5 pricing is gone, and freelance gigs are now priced from $5 to upward of $8K depending on the scope of the request. The platform has added professional business solutions, and a one-of-a-kind learning center that helps its freelancers sharpen their skills so clients get better results and freelancers can earn higher pay. So, if you are ready to check out Fiverr for yourself let's dive in.
This guide will get you up to speed fast by teaching you all you need to know about what Fiverr is, how to use the platform effectively, and how to get the best value from your Fiverr experience.
So, What Is Fiverr Exactly?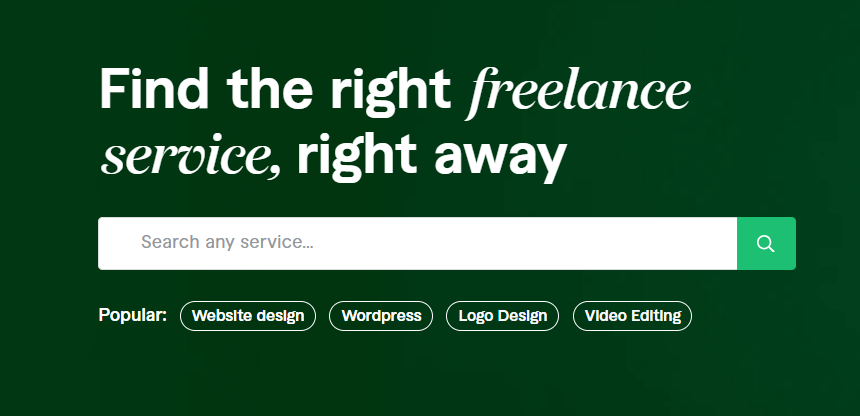 Put simply, Fiverr is a global online platform that provides tools for those needing a specific service to find and hire individual freelancers or contractors.
There are a number of freelance marketplace models to choose from these days, but Fiverr has managed to stay ahead of the curve and maintained its popularity since it hit the scene in 2010.
The platform's popularity is due in part to the wide range of services available including graphic design, branding services, book illustrations, storyboards, website design, digital marketing, SEO, ghostwriting, transcription, video captions, background music, and dozens of other services.
Fiverr stays ahead of the competition by pairing its wide selection of services with a suite of practical tools and specialized programs that streamline the hiring process and make it even easier for buyers to find the help they need quickly and without the need to sort through an endless scroll of irrelevant offers.
What Are Fiverr Business Solutions?
In addition to the standard Fiverr service offers, Fiverr also offers several specialized business packages under its Fiverr Business Solutions label. These packages are designed to provide creative teams, businesses, and agencies with a smoother, more streamlined way to access and manage the services they need to operate their businesses.
Fiverr offers three different Business Solutions to meet the needs of different types of businesses and teams.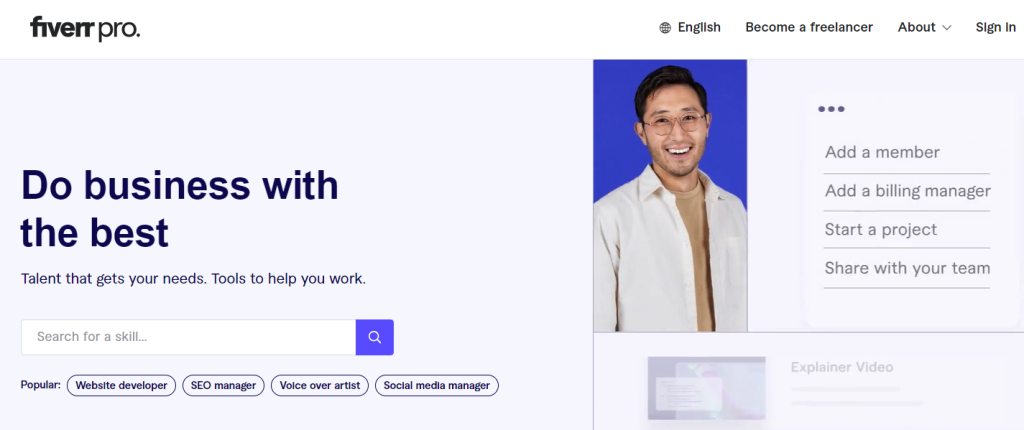 Fiverr Pro
---
Fiverr Pro is a free business package that gives users access to pre-vetted freelancers and opens up the available payment options to include wire transfer, electronic debit, and invoicing.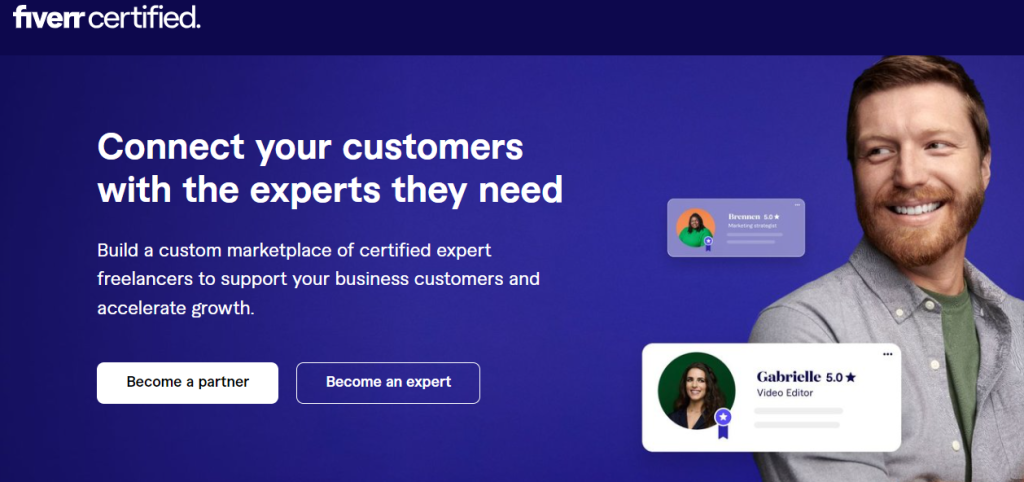 Fiverr Certified
---
Fiverr Certified lets you build your own custom marketplace of certified expert freelancers that your customers can use and gives you the ability to provide training and certify freelancers to provide the specialized services your customers are looking for.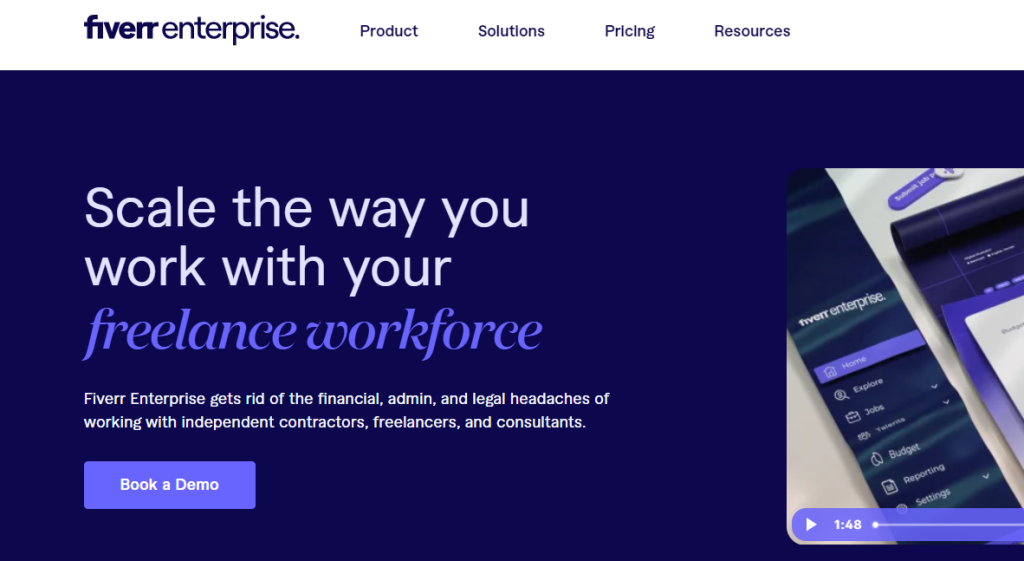 Fiverr Enterprise
---
Fiverr Enterprise will handle all the financial and administrative aspects of hiring and managing freelancers. Get access to a hiring team to find the right freelancers for you, customize onboarding documents, combine all your payments into one itemized monthly invoice, and more.
Why Is It Called Fiverr?
The Fiverr name is a holdover reference to the platform's original pricing model and marketing gimmick. The website initially made a name for itself and carved out a place for itself in a crowded market by promising buyers that they could get whatever service they needed for just $5.
This was a brilliant marketing move and Fiverr was a huge hit. However, the $5 price cap restricted the services available on Fiverr to those that could be performed by unskilled laborers in a very short period of time. Eventually, the price cap was lifted in favor of offering a wider variety of professional services provided by skilled freelancers and contractors.
Will I Get Scammed On Fiverr?
Fiverr and platforms like it are unbeatable when it comes to getting access to the widest variety of talent and getting the services you need at the most affordable price.
The platform is able to offer a wide array of services and workers at often rock-bottom prices because they cast such a wide net, welcoming in freelance workers from all over the world. Of course, there is a trade-off for all these options. The larger and more diverse the platform the harder it is to guarantee quality and safety.
It is simply not possible to thoroughly vet each and every person offering services on a site as large as Fiverr. That is not to say that Fiverr is completely unregulated. The platform has taken several strong steps to ensure that both buyers and sellers have a safe and positive marketplace experience.
Service providers undergo a basic vetting process when they sign up to sell services on the platform, and ratings and reviews from other users can help you feel confident that other buyers have had a good experience working with a specific seller.
If you happen to run into a problematic seller who did not deliver or a buyer who did not pay, the platform provides a resolution center that can help fairly sort out disputes.
Tips To Avoid Getting Scammed
Most Fiverr sellers are earnest and trustworthy, still, it never hurts to be cautious. Follow these tips and best practices to avoid some of the most common scams and ensure that you get the quality of service you are paying for.
Read The Reviews
---
Reading the reviews for a seller is one of the best ways that you can protect yourself from scammers and bad actors. This seems like a no-brainer, but the reviews are only useful if you actually read them and you might be surprised how many people don't. Scammers know that most people will simply look at the star rating above each review or scan the first couple of reviews before making their decision. That makes it easy for bad actors to scam unsuspecting buyers by simply placing fake reviews with a high-star rating or recruiting a co-conspirator to create a lot of fake reviews. To protect yourself, look for sellers with a range of reviews that offer details about the type of project and enough variety between reviews to strongly suggest different writers.
Pay Through Fiverr
---
Most scammers are looking for a way to separate you from your money without actually providing you with any service. Because Fiverr has security measures in place that prevent payment completion when the service has not been delivered, scammers will often try to entice you to take the financial transaction off of Fiverr to circumvent these protections.
Be wary of any seller who tries to lure you into an offsite financial transaction even if they promise that it will save you money, or that they can offer a better deal if you pay them directly through PayPal. These are common ploys scammers use to lure buyers into agreeing to make offsite payments.
At the end of the day, Fiverr is as safe as any other large global marketplace. You can greatly improve your odds of staying safe and secure by paying close attention to the small details of every potential transaction and trusting your instincts. If a particular service or seller sounds too good to be true it just might be. If you do have a bad experience with a seller be sure to report it to the Fiverr resolution center as soon as possible and don't forget to write a review detailing your experience to help protect other users from falling victim as well.
How Fiverr Works: The Basics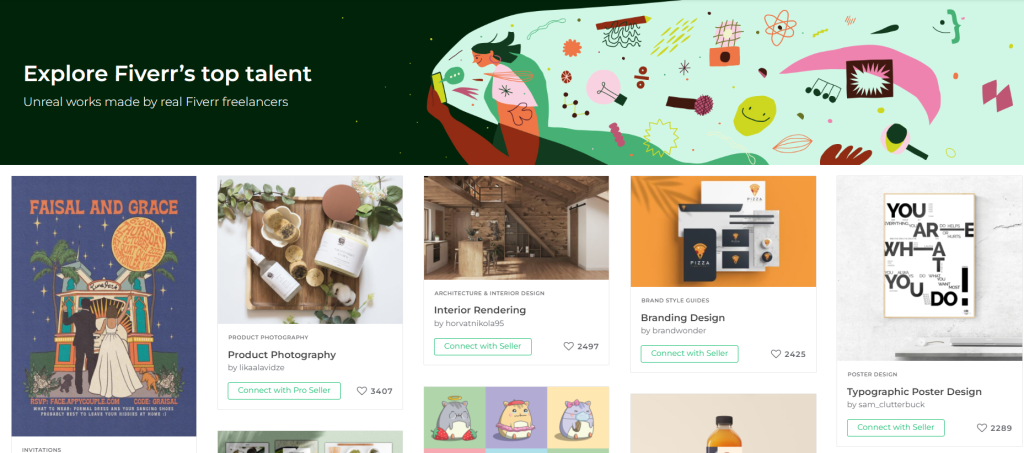 Talent Search
Browse the Fiverr platform using the categories list to locate freelancers and independent contractors offering the service you need or use the project matching tool to tell Fiverr what you need and let them provide you with a list of the best candidates to complete your task.
Hire Help
Create a short list of candidates and read reviews carefully before making your final selection
Communicate Your Needs
When you are certain of your selection contact the seller and provide them with all of the details they need to complete your project request. You can also request a custom project order if the seller doesn't seem to offer exactly what you need.
Communicate & Monitor Progress
Be sure to stay in touch and be available for your freelancer to answer any questions, solve issues that arise, and track progress as your freelancer works.
Review & Finalize Your Project
Once your freelancer has finished and delivered your work, take a look at the completed project and make sure it meets all of your requirements. If you are satisfied, approve the project to release the payment to your freelancer and start your next project.
Fiverr Hiring Tips
The process for finding and hiring a freelancer on Fiverr is fairly simple. Follow the steps provided above and the website prompts and you should have no trouble at all. The tips below will provide a little extra assurance that you are getting the best freelancer for every job.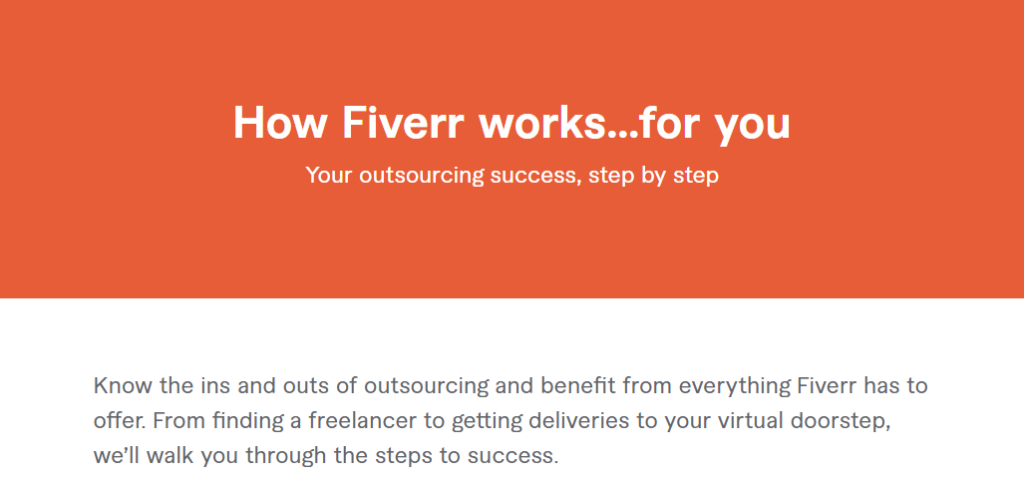 Define Your Specific Needs
---
Before you get started in your hunt for a freelancer, make sure that you can clearly define what you need to have done. The better that you understand what you are looking to accomplish the better you will be able to explain it to potential freelancers. The more detailed you can be in providing information about your project the more accurate the cost estimates and potential timelines for project completion will be and the easier it will be for you to make the best choice.
Sweat The Small Stuff
---
Before you make your final selection it is a good idea to take a close look at all of the details of your top picks' profiles to make sure you aren't overlooking any potential red flags or signs that they may not be the best choice to complete the job. This means looking through their portfolio of work to determine if their style is a good fit. You will also want to carefully read through the reviews from former clients as these can offer a wealth of information about the kind of things that are unlikely to be advertised on the freelancer's job posting.
Contact the Freelancer
---
Once you have selected the freelancer that you think will be the best fit for your project, contact them directly to have a conversation about your specific needs and what they are able to provide. This is your opportunity to ask any questions about their experience or formal training in a specific area, how long it is likely to take to complete the work, and what level of availability they have to take on your project.
Standing Out As A Fiverr Seller
Fiverr isn't just for those looking for services, if you have a particular skill or talent to offer you can earn some extra money or even a full-time income by setting up a Fiverr seller account and offering your service to potential buyers.
Freelancers love Fiverr because it allows them to set their own prices and work on their own schedules. That being said, because the platform has been around for quite a while and is well-known in freelance circles, it is one of the more competitive platforms so you are going to need to put in some extra effort to make sure you get noticed.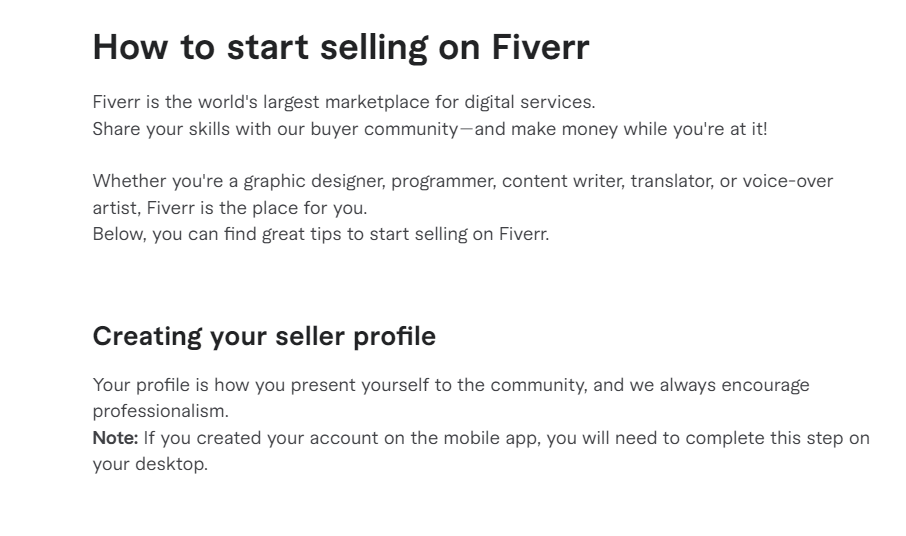 Here are some tips to help you stand out in a crowded marketplace:
Showcase Your Unique Skills
---
This one is obvious but it is so important that it is worth mentioning again. To stand out from the crowd on a platform as popular as Fiverr you are going to need to showcase what it is that makes you unique. Do you have specialized training that others may not have? Do you have years of experience? Have you worked for any well-known brands or clients? Think about what makes you the best choice and orient your profile and your postings around those traits or accomplishments.
Create a Compelling Profile
---
Your profile may be the only chance that you have to sell yourself to a potential client. Remember that clients are scrolling through pages of profiles of others selling the same services that you are. Make sure that your profile grabs attention with a high-resolution image of yourself looking confident, professional, and friendly.
Don't skimp on the details. Take the time to think about what makes you special and share it. Tell potential clients, how you got started in your industry, why you do the work that you do, and what your guiding principles are.
Don't be shy, include anything that might be of interest to a potential client. You never know what is going to resonate with a viewer and help them connect to you over another candidate.
Provide Excellent Customer Service
---
Your potential clients will be judging your response times and the quality of your answers right from the first contact. You can get a leg up on your competition simply through speedy customer service. Respond to messages as soon as they come in and provide thorough answers that address all questions that the buyer may ask and any information that you anticipate will make their decision easier.
Pro tip: Finish your response with a question for the buyer giving them a reason to need to respond back to you. This works as a gentle suggestion of a conversation that helps build rapport and makes them more likely to choose you to complete their project.
Show Me The Money: Paying & Getting Paid On Fiverr
Fiverr offers several different options to make paying and getting paid on Fiverr easy and convenient for both freelancers and clients.
Paying For Fiverr Services
---
Buyers on Fiverr can make payments using PayPal, Apple Pay, Google Pay, major credit or debit cards, and more. The specific payment options that are available to you may differ depending on where you are located as some payment methods are not yet available in all countries, or are only available in one country.
You can select and set your preferred payment method in your account settings by selecting "Billing" from the drop-down menu. Add a new payment method, remove an expired or obsolete method, and set a default from this screen.
Withdrawing Your Earnings As A Fiverr Seller
---
Sellers can withdraw earnings as soon as their account balance reaches a balance of $30 or more. Check your balance or Initiate a withdrawal from your account dashboard by selecting "Earnings" from the dropdown menu. Sellers can withdraw funds to their PayPal account, Fiverr Revenue Card, or via bank transfer.
Answers To Common Fiverr Questions
Whether you plan to hire a freelancer or sell your services, the information we have provided in this guide should set you up for a successful start on Fiverr. If you are looking for a bit more help keep reading to find out the answers to some of the most commonly asked questions about working with the Fiverr platform.
How Do I Find Out If A Specific Service Is Available On Fiverr?
---
There are a couple of different ways to go about finding a specific service on the Fiverr website. You can either search for the exact service you need by typing the keywords into the search bar at the top of the homepage or browse the category and subcategory menus located in the menu bar near the top of the screen to locate what you need.
How Does Fiverr Protect My Financial Transaction?
---
Fiverr protects all participants in a transaction by requiring buyers to pay for services upfront and securing the payment to be released only once the buyer is satisfied that the requested work has been delivered. All payments are held for 14 days to allow for any problems with an order to be identified and resolved.
What Is The Best Way To Communicate With Fiverr Sellers?
---
The Fiverr messaging system makes it easy to communicate with sellers on the platform. You can access the message system through the "Order" page by clicking on the "Contact" button.
Can I Cancel My Fiverr Order?
---
Both buyers and sellers can cancel a Fiverr order from the Resolution Center. You will need to provide a reason for the cancellation and the other party will have the opportunity to either accept or reject the cancellation.
If you are a seller, it is advised that you exhaust all other methods to resolve any issues before resorting to canceling an order as cancellations count against your level score and can keep you from reaching your full earning potential in the future.