I like to write.
But just because I like to write does not mean that I always know what to write about.
And I find that the same rule seems to apply for many writers.
Creativity is a wonderful thing, but it must be used wisely.
You can write down words, but it does not automatically follow that they make sense.
:
:
If you just read the above, I think you will see that I have made my point.
You have just read a few paragraphs that make no sense- at all.
But it sure sounded good, right?
And that is the goal. If you have nothing to write about, but like to write, then you make the best of a bad situation and write gibberish that sounds good, and other (unsuspecting) people like to read. You do need to know one basic thing, even if you are writing gibberish. Whatever you write about, it needs to hold the attention of the reader.
But that is enough of that nonsense.
I am here to tell you about something that does make sense, and is interesting, and will hold your attention.
Following in his father's footsteps (two years ago he finger painted a snowman for Dallas-based 7-Eleven to feature on their "holiday exclusive" coffee cups), Will Ferrell's son, Mattias (age five), is the artist behind this year's holiday cup design. He features a snowman (as his father's design did), but adds a winter background, and snowflakes.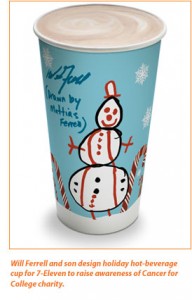 The cup also features Will's autograph, and the logo "Cancer for College", "a great charity that helps cancer survivors get on with their lives — lives that may have been put on hold because of illness, treatment and resulting financial hardship," that the Ferrell family supports, and hopes that these cups will help to support.
So, it might not be a bad idea to join in the cause, and pick up one of these cups, next time you stop by a 7 Eleven.