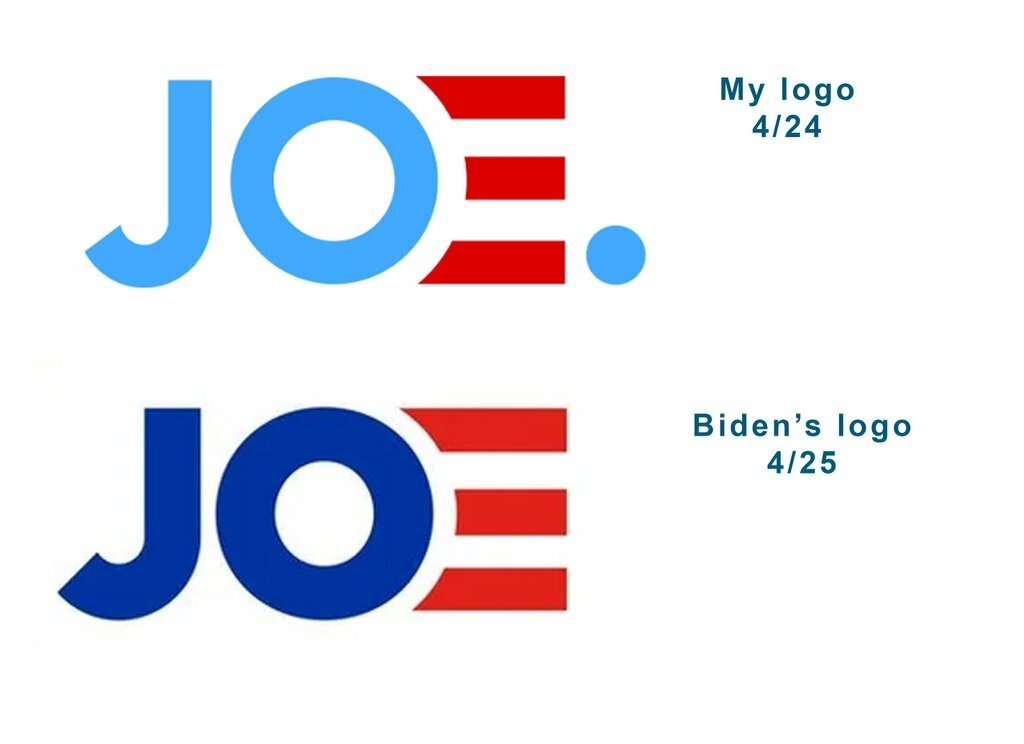 A Reddit user took to the popular forum recently, specifically in the subreddits /r/logodesign and /r/legaladvice, to determine whether other users agreed with him that a logo he had designed had been used as Joe Biden's campaign logo.
The poster, helloworld_cpsc, wrote in /r/legaladvice, "I basically created a logo for Biden and sent it to his former economic chief, who certainly has connections to him. The next morning Biden launches the site with a logo that looks exactly like the one I sent to him and the staffer tells me, 'Thanks.' I haven't heard from the Biden campaign…I have tweets and screenshots to prove everything. All with time stamps. What should I do?"
On Reddit, he posted a side by side of his logo and Joe Biden's recently released logo, and the responses were overwhelming. "That's clearly your design. Get a lawyer ASAP." "It's been knocked off and you have a case." "Save all sketches and raw ai files and make sure you have as many hard dates as possible when documenting."

Hundreds of commenters piped in with advice on what the supposed logo designer should do, and the vast majority recommended hiring a lawyer, while some went as far as telling him to bide his time and wait until further into the campaign in order to maximize on the publicity.
"Delete your posts and hibernate…for a few months. When you rise you will be immensely more
powerful."

Other users were more practical. "Do not take this advice. If you're aware of the wrongful conduct and wait to file suit in the hopes of getting higher damages, you could actually hurt your case in the long run."

The original poster, who has since deleted their post and comments, initially mentioned that he was a supporter of Joe Biden and did not want to hurt his campaign, but was confused by what appeared to be a case of plagiarism. One commenter remarked, "It looks like a direct copy, I think you're in for a big under the table payday." The similarities between the two logos are uncanny, both using a sans-serif font, with a J that has a specific aesthetic, and the E coming off of the O like a flag.

Now that the original poster has deleted their post and comments, there's no telling what he plans to do with this accusation. When asked by commenters on Reddit why he deleted the post, his response was repeatedly, "Getting an attorney." What does that mean for the Joe logo and campaign? Only time will tell.