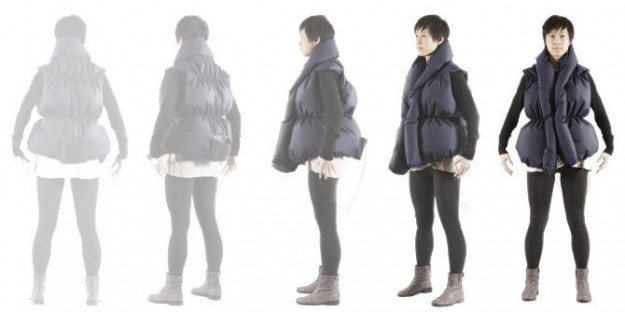 Living in a world that celebrates social media, and narrowing it down to Facebook in particular, Melissa Kit Chow (in collaboration with Andy Payne and Phil Seaton as part of MIT's Tangible Media Group), has designed this vest, seeking to find the connection between digital data and physicality.
The "Like- A- Hug Vest", inflates when something of yours is "liked" on Facebook, producing an effect of feeling hugged-whats more, if they are wearing a similar vest, they can hug you back!
Even though I have a hard time seeing this going anywhere, it is still in interesting thought-combining clothing with social media.
Plus, I think that the vest is hideous looking- and can you imagine the confused looks people would give you, if you were walking by, and suddenly blew up like a balloon??