Your logo is often your business's first impression. It greatly impacts what customers or clients may think when they see it on a card, your site, and in graphics. You need it to grab attention and keep it.
Moreover, logos create a sense of trust and professionalism, put your mission into a quick visual, and create connections with your audience. The more memorable a logo, the better it reaches your customers and helps them to remember you.
You likely know the value of a great logo, but maybe you're looking for a quick, inexpensive way to get one for your new business. If you're on a tight budget or just starting, investing in your brand logo might not be possible right now.
You know that your brand's visual identity is important, so what do you do?
There are online logo design sites and programs for creating logos with no graphic design skills necessary, there are also sites that offer free logo design creators, and, lastly, there are sites that will design a logo for FREE for you.
We've gone through all the above-mentioned and picked out our choices for the best free logo makers and feel logo design sites that can help you to get a stunning logo that creates a good first impression of your business or brand.
Before you choose a free logo maker tool, or go have a free logo designed, you may also want to consider hiring a graphic designer or working with a logo design contest platform to get the best possible results with more customization. We'll go over why you should be careful when using a free creator at the end.
But for now, and without further ado, here are our top online free logo makers and free logo design websites.
How To Get A Free Logo Design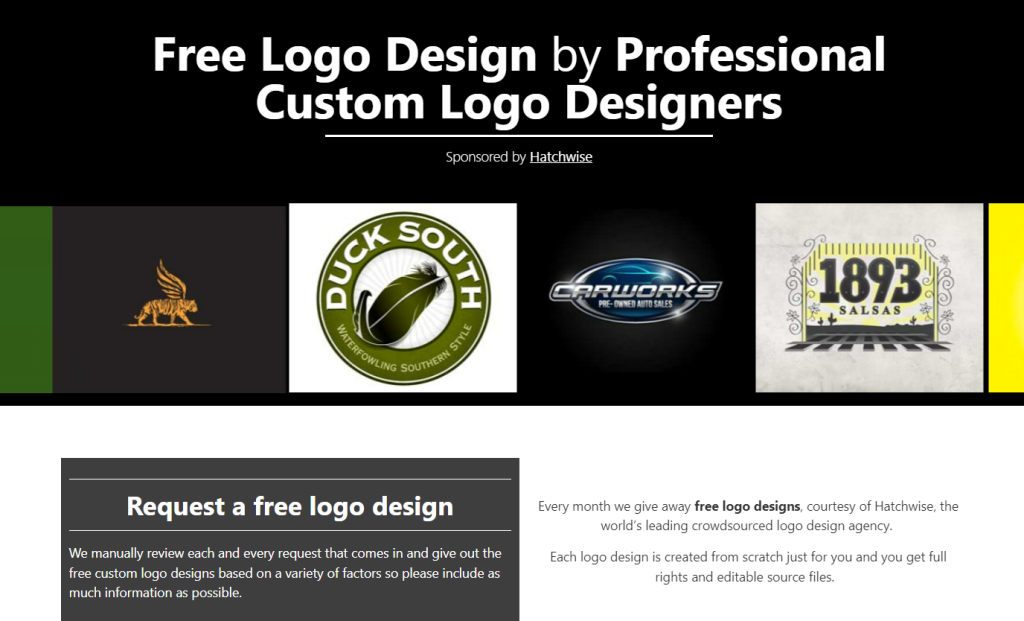 1. LogoDesign.org– "Free Logos by Professional Custom Logo Designers"
LogoDesign.org is a great platform to get a FREE logo design. That's right-no payment is necessary. You will need to fill in a form with your contact information and a few details (branding, company name, target audience, etc.) about what you are looking for and that's it.
Once you submit your request it will be reviewed and within a few days your new, custom-designed logo will be emailed to your inbox. You will receive two design options and those include the source files (ai, jpg, and pdf) as well as the rights to the design.
If you would like to get an original logo designed by a professional designer in the easiest way possible, with no effort on your part, this is the very best option for you.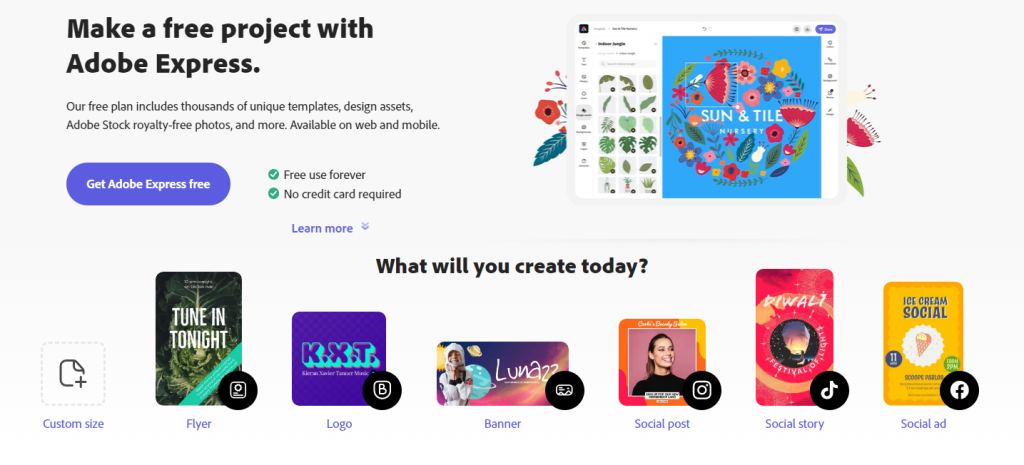 Adobe Creative Cloud Express is a great free tool when you want to create graphics and logos for your brand. There's quite a bit of customization that you can achieve within their templates, including changing up fonts, colors, and texts.
There are hundreds of icons and several logo templates and text combinations you can use as a jumping-off point. This tool allows you to get inspiration and a pre-generated template which means you don't have to start completely from scratch. They provide industry breakdowns for logo templates, and the system walks you through how to customize your logo for your needs.
You can double-click on a piece of the design to update it to your needs and easily replace an icon with one that suits your business by selecting the replace option and choosing from their library of hundreds of icons.
You can also include a brand in your preferences, like assigning colors or fonts. Your current Adobe assets can be linked through the library section. Just like other Adobe products, the simplicity of its free logo maker through Express is very straightforward.
Within the Adobe Express platform, you can also create other branded elements, such as social media posts, website graphics, and more.
And, of course, you get Adobe CC Express free forever. A premium offering is $9.99/month and includes a free 30-day trial.

Canva is a comprehensive online graphic design tool that many people are familiar with already. It's also a great tool for creating a free logo. Apart from crafting your social media graphics and landing pages, you can use Canva to create dozens of visual projects.
It offers a drag-and-drop interface and easy double-click-to-edit, so you don't need design experience to create beautiful logos quickly. With hundreds of templates, you can start playing around with the options and scrolling through the template library until you find something that speaks to your brand.
Swapping out icons or design elements is tricker in Canva versus Express. Still, you can look through their elements tab and choose a new icon. You'll just want to match the colors of the rest of your logo design.
Both free and premium versions are available, so if you love a design template, you can sign up for Canva Pro to gain access and start customizing your new logo design. It's likely unsurprisingly that the best templates, icons, and graphics are available in the Pro plan.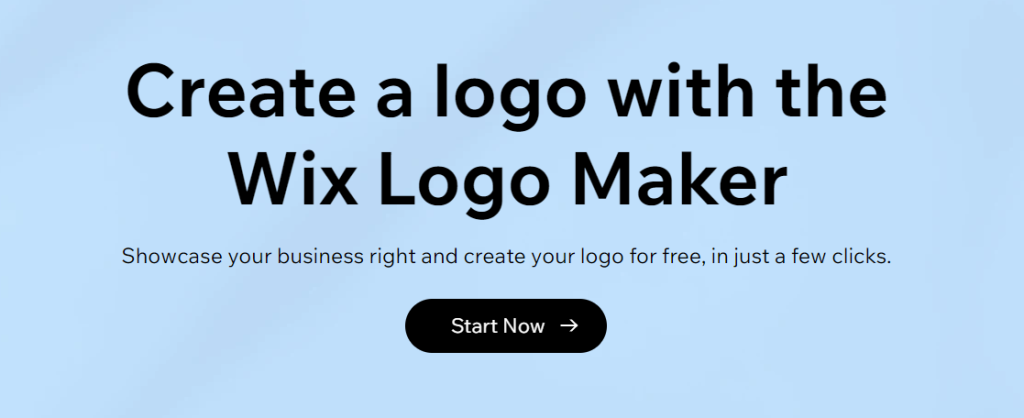 3. Wix Logo Maker– "Create a logo with the Wix Logo Maker"
Wix offers a dedicated online logo maker tool that helps generate modern logo designs by answering a couple of simple questions. You'll tell the generator about your industry, work, etc., and then choose from relevant colors, icons, and fonts. Once you've found a logo you enjoy, you can customize it and then download it for use.
The results the free Wix logo maker can create are decent quality, and you can customize them quite a bit. You can download a free sample of the logo to try out, and then you'll need to purchase one of two logo plans. The sample is small but not watermarked. It allows you to see what the design would look like in many of the places you'll put it.
You'll get full commercial rights for the image when you purchase a logo plan, and if you're a Wix site owner, you can import the design right onto your website. It can even create a website for you based on the design you just created.
You can also choose to hire a graphic designer to create your logo right on their page.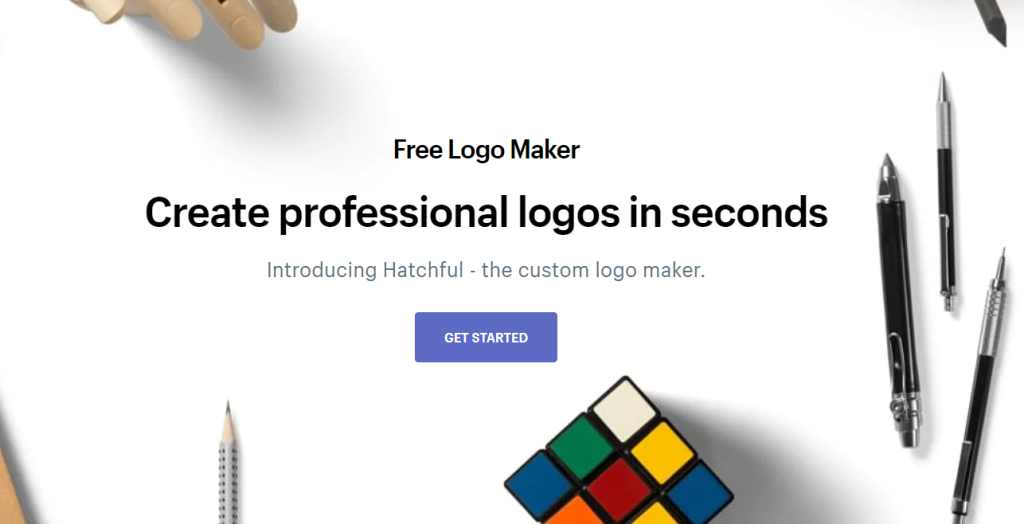 Shopify's Hatchful is an easy-to-use, online logo maker and works especially well for eCommerce businesses when they want to create a quick, professional-looking logo for their online store. You'll begin by typing in your brand's name and choosing the icons, colors, and fonts that fit your brand profile and tone. You'll see a wide range of unique logo combinations from the generator and can pick your favorite.
As it is a DIY logo maker, customizing the theme, feel, and the color is simple but limited. There aren't as many icon options on this particular creator, but if you don't want an icon, it can be okay. The best thing about this tool is that once you provide an email address to create an account, you'll receive different sizes, file types, and layouts, including different aspect ratios and sizes, to use on a variety of platforms.
And downloading the logo file package is actually free.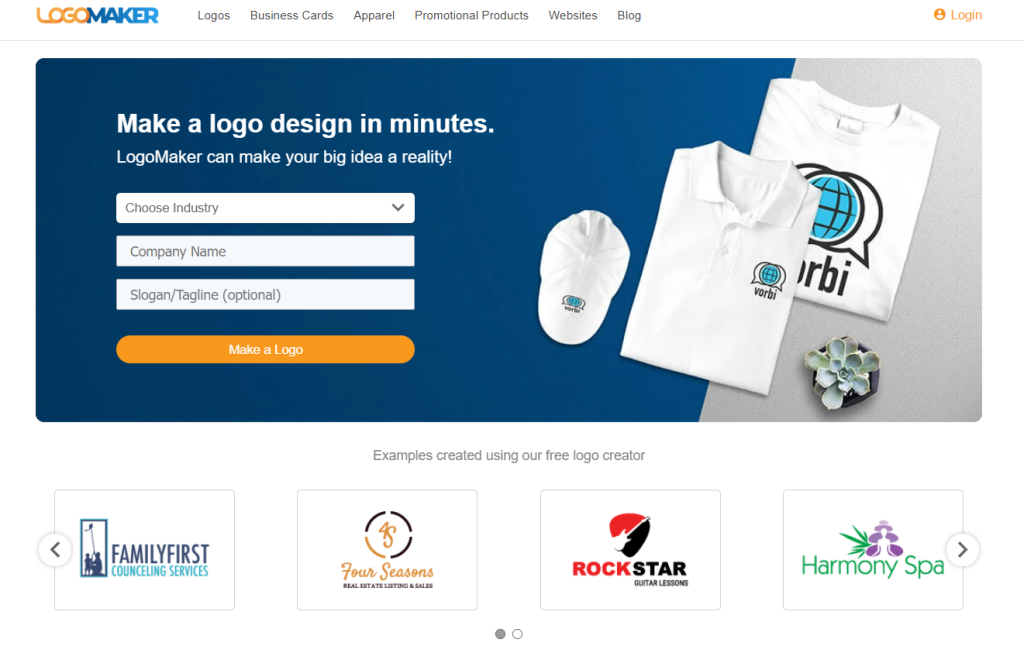 5. LogoMaker.com– "Create a logo online for free"
Logomaker.com allows you to create a logo on their platform with a selection of templates and designs. First, you'll input the name of your brand or business into the generator. Then, you can choose a few options that you like in terms of style, such as bold font, handwriting, center icons, and icons at the end of the line.
The free logo maker will spin up a few designs that you can customize with the LogoMaker app. Then, you can use your brand logo for free on the site to customize business cards, apparel, or promo products. If you want to download the files to use your logo anywhere, you can pay $40 for the logo package, which includes different sizes and formats for using the logo across the web and print.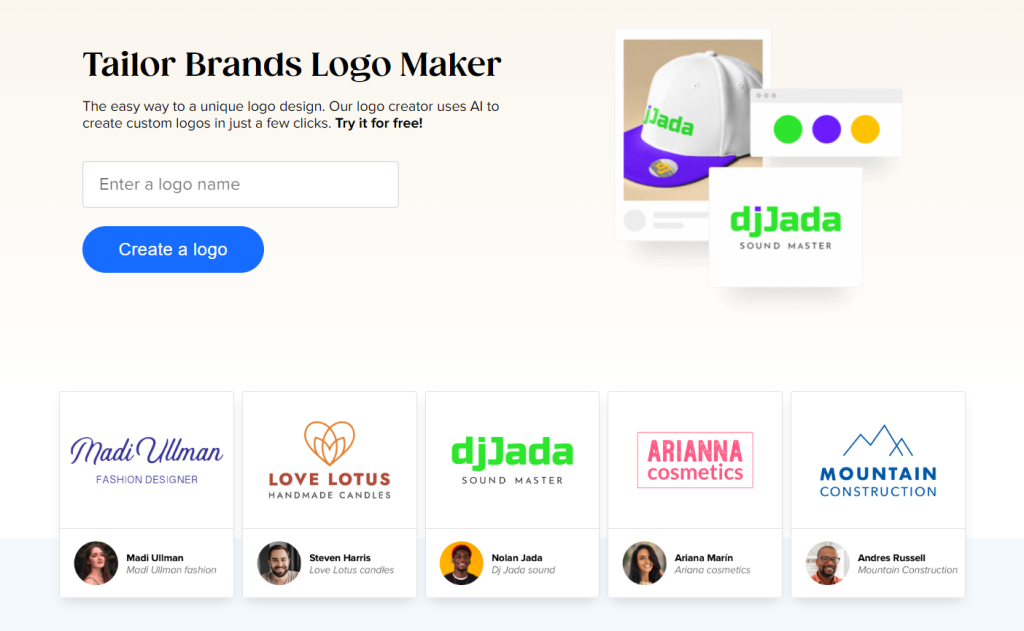 Tailor Brands logo maker is an AI-powered, free logo design tool that lets you customize unique logos for your business in just a few minutes. When you don't have tons of time and want something simple, it can be a great choice.
The logo maker tool asks for your brand's name and what type of business you are in what industry. Then, you can select icons from a large library and pick the top five you want to see used in the design. You can then tell it what font type to use and choose three style options.
You can customize the logo with your preferred colors, spacing, layout, and more. Once you're finished, you can download a high-resolution file package, which includes PNGs and JPGs, as well as transparent and colored backgrounds.
The logo design download is available with all their plans, including the basic at $3.99 per month if billed yearly and $9.99 if billed monthly. You will own the design even if you cancel your subscription.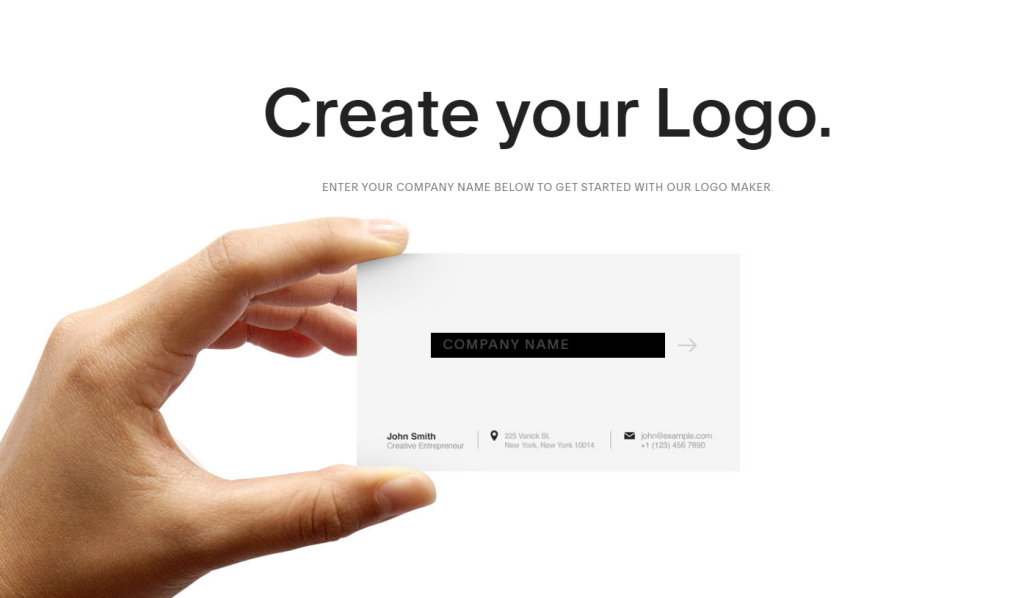 The Squarespace Logo Generator is a very simple tool that lets you create a new logo from a small library of font and icon options. It's not as robust as the other free logo tools on the list, but it can get the job done if you're looking for something especially simple and basic.
You can customize the symbols, icons, and colors used. Squarespace will generate a logo you can download by setting up a free account.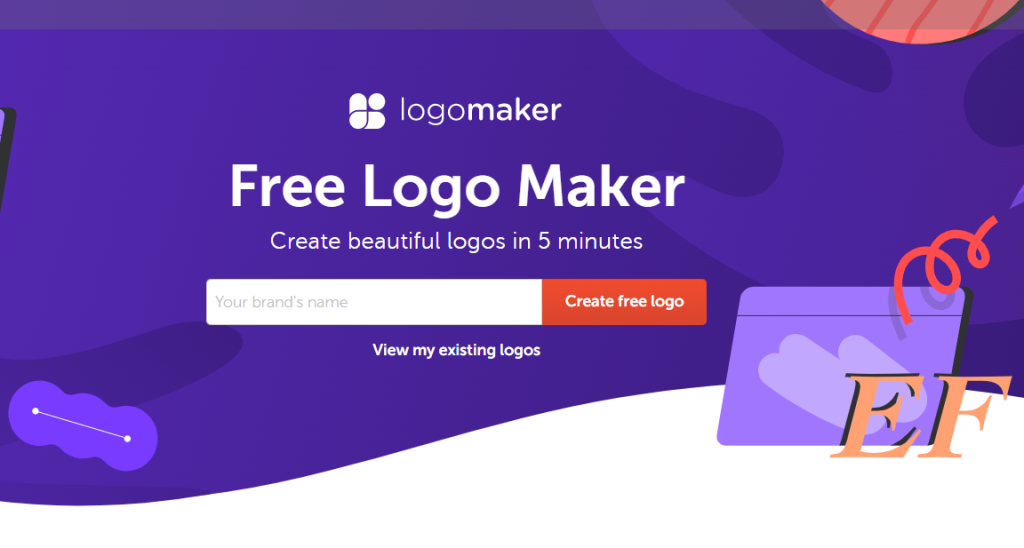 NameCheap Logo Design Tool offers some great features when creating a professional-looking brand logo. You go through the process of refining the type of font and typography you like and choose three icons and a favorite color. Then, the AI comes up with a handful of logo designs to pick from.
You can look at mockups of your logo to get an idea of what it will look like in real life, and you can customize it to make it more unique and choose from several color schemes to enhance the look. Once you complete your logo design, all you need to do is register with the site for free, and you'll automatically get a zip file of the design.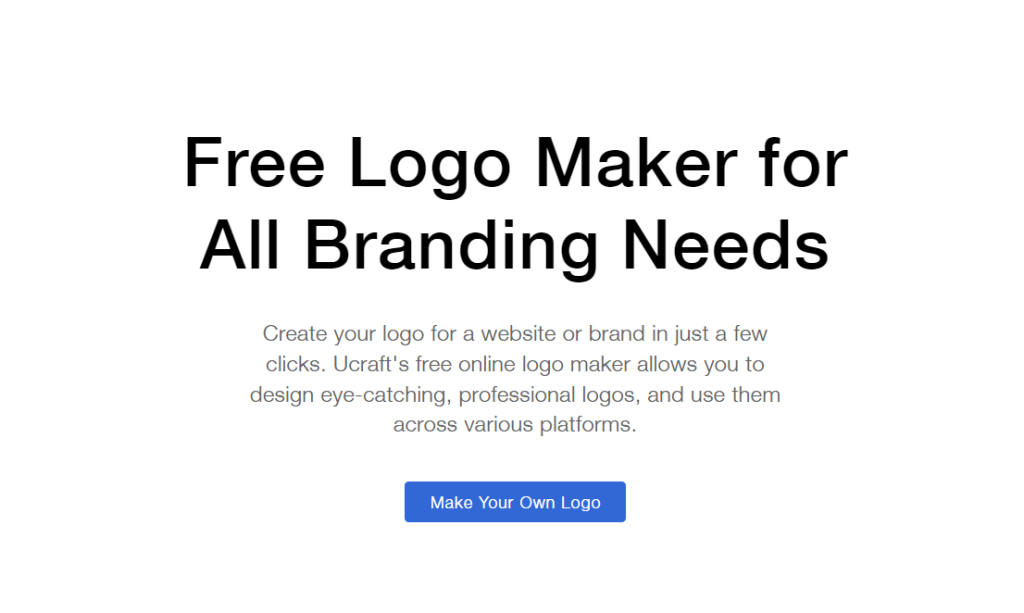 9. Ucraft Logo Maker– "Free Logo Maker for All Branding Needs"
If you're looking for a way to design a logo that doesn't use AI to generate a template, Ucraft can help you create a unique logo from scratch. It's a vector editor that affords a decent amount of flexibility, and you can choose as many icons and colors as you want. However, the fonts and shapes are limited.
Once you complete your design, you can export the high-resolution PNG image file for free. You can also choose to have no background or a background of your brand color and download both options. While the logo library is large, you'll still see many of the same options available on the other sites, and it may take some scrolling to get to the icon you want.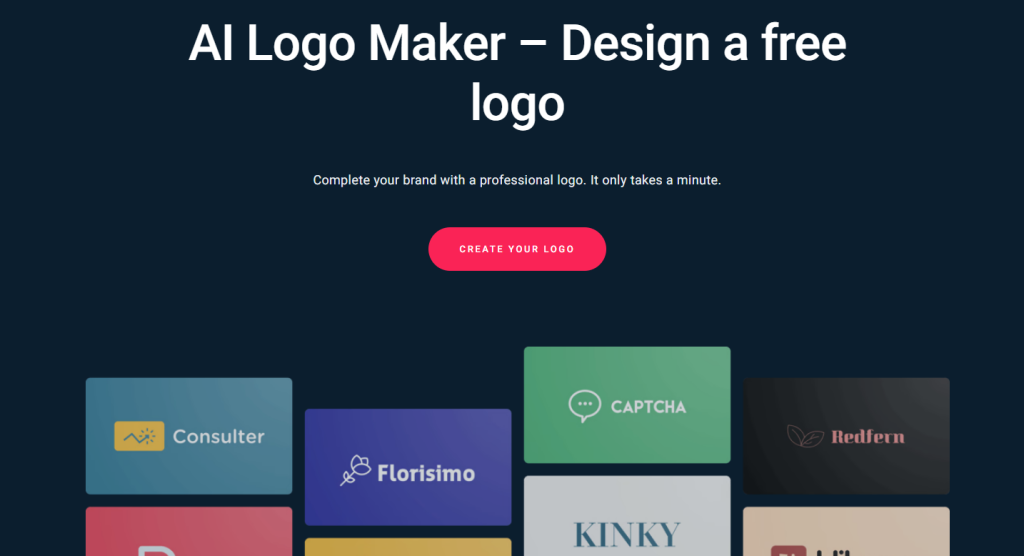 10. Zyro Free Logo Maker– "AI Logo Maker – Design a free logo"
Zyro is all about simplicity and is a very easy tool to use. This AI logo builder helps you create a design based on a few prompts. You can also choose to design it yourself from the starting menu. With the AI editor, you'll pick out a starter logo you like as a reference, choose the colors, and then choose a shape. That's it. If you want simple, then you want Zyro.
The starter logo designs are very abstract, and it can be difficult to choose one to go with. It is free, however, and within minutes, you'll be able to download your new logo without using a professional graphic designer.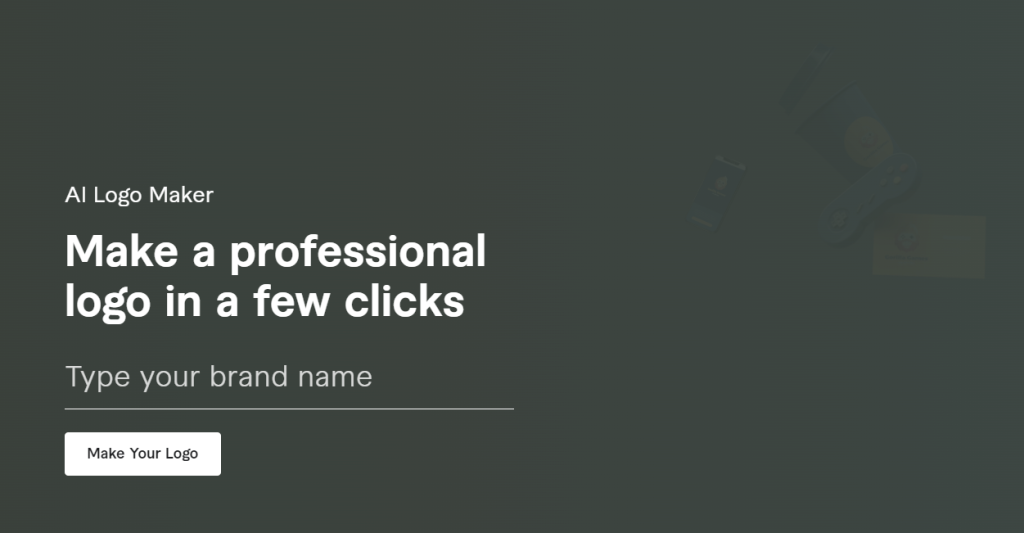 Fiverr's logo maker allows you to create logos by choosing your industry and moving sliders to show where you want your logo to land on certain scales, such as fun vs. sophisticated and modern vs. classic. By tweaking the colors, icons, design, and typeface, you can personalize the pre-generated ideas to create a logo that showcases your brand.
To see and use the logo designs, you'll need to register with Fiverr. You can also choose the paid option to have your logo assessed and polished by one of their designers, creating an even better version. However, this is not free, so if you're looking for a no-cost option, you can stick with the basic AI design.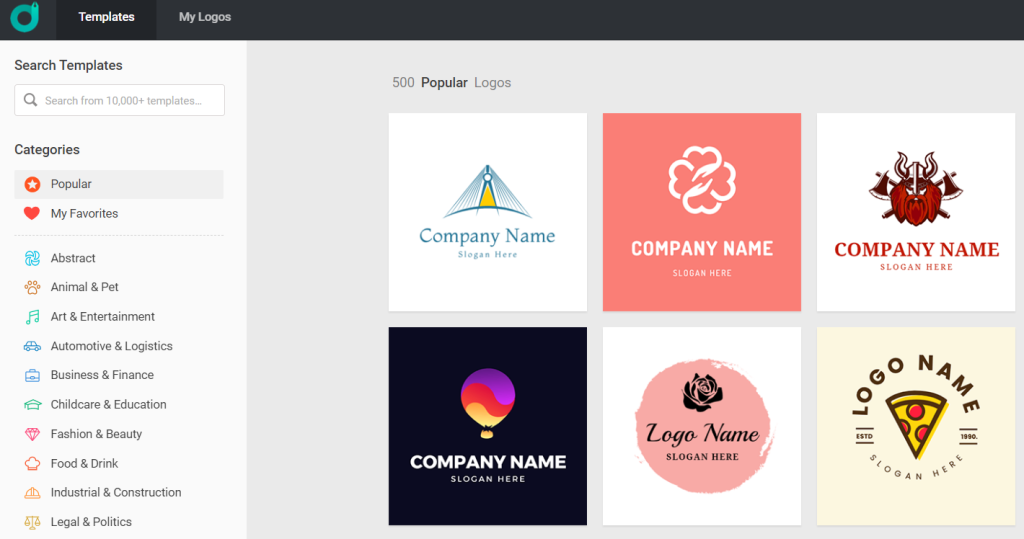 12. DesignEvo Free Logo Maker– "Create Custom Logos with DesignEvo Free Logo Maker"
DesignEvo is a very popular logo maker and offers thousands of templates you can use as the base of your brand new logo. By hovering over any template, you can customize the background, text, color, icon, shape, etc., to create the look you want. You can also narrow down the options to match your industry or search for templates that match your business.
You can also find similar designs if you see one heading in the right direction and want several more templates to choose from in that style. You can tweak and change your logo from any device with cloud access. The DesignEvo maker is a useful tool that offers a bit more customization than others. However, you should note that the color templates aren't as varied.
How Free Logo Makers Can Underserve Your Brand
Logo makers are very tempting. Many online free logo designers can create an attractive, if basic, logo that you can use for your brand. However, will a free online logo maker really do the best job? After all, your logo will represent your brand across many platforms and mediums. It should be memorable, unique, and captivating.
Before you consider using a free logo maker for your lifetime brand logo, here are a few things to remember.
They Aren't Wholly Unique
Online logo maker tools are popular. Everyone with access to the internet can use them, and thousands of people visit sites like these regularly. With the template style of these sites, it's possible someone will create a logo similar to yours. That makes your brand's visual presence lack some originality and pizazz.
You Can't Be as Creative
Creativity is lacking in a template designer, no matter how you use it. There simply isn't as much control over the fonts, shapes, color combinations, and design elements as there is when you create something from scratch. It can be hard to get exactly what you want in these cases because you're using a set library of options.
Typically, There's No Copyright
When you're working on a free logo maker site, you usually won't get a trademark or copyright license for the logo. These template designs are very similar to each other, and it would be impossible to create a copyright for a design that could potentially be created again. With that in mind, you may want to consider future issues of copyright and originality.
You May Find Hidden Charges
On several of the "free logo maker" sites, you may have noticed that designing the logo is free, but actually downloading it and using it is not. Be sure to factor in the fact that you might still need to pay for what you designed, even if it's a more generic logo.
Best Free Logo Makers Conclusion
So, what is your best option? Hiring a professional designer or working with a logo design contest can provide you with a solution to the above issues. You'll have full copyright ownership of the design, get every type of file you could need, and be able to personalize it exactly how you want.
You'll have the chance to be more creative and develop a unique logo that speaks volumes about your brand.
If you're looking for a way to get the best of both worlds, the Free Custom Logo Design option we provide is a great choice. We work with Hatchwise to provide free custom-made logo designs each month. All you need to do is fill out the form at the link above with as much information as possible. Then, be on the lookout for an email informing you about your selection.
Although a free online logo maker does have some drawbacks, it can be a useful tool if you are on a budget, need something quickly, or are looking for an attractive placeholder while you have a professional work on your design. Make sure you consider what makes a successful logo when designing yours on a free site.
For best results, you'll want to consider using a logo designer or a logo design contest to create a completely personalized icon that represents your brand. A great resource for logo contests is Hatchwise. You can check out our honest review of Hatchwise here.