The Walt Disney Pictures Company is one of the world's leading entertainment providers and film studios, with both live-action and animated offerings. It was founded by Walter Disney, an animator, entrepreneur, film producer, and voice actor.
Today, the symbol of The Walt Disney Company is a beautiful princess castle, which first appeared on the logo in 1985. The image pays homage to the Cinderella castle from one of the studio's most beloved films and the accompanying theme park that houses a true-to-life size version of the palace. It's a symbol of imagination and magic and is tied to happiness and creativity for viewers across the world, both young and old.
Where did the logo begin, and where is it now?
Let's discuss this famous film studio and production company and see the evolution of its charming logo.
About Disney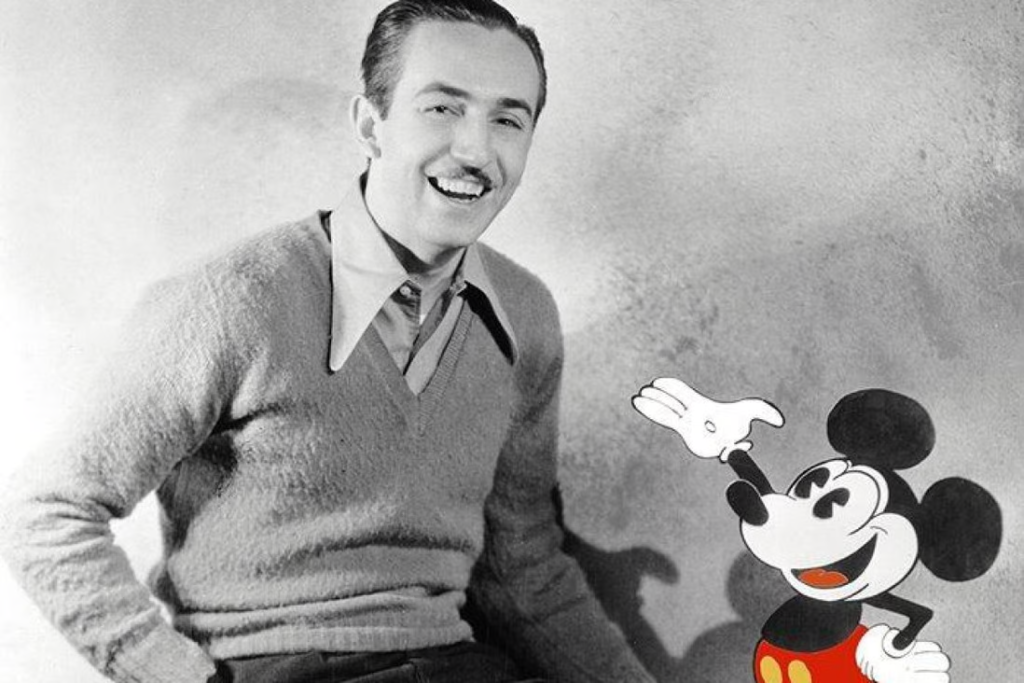 If it's possible to imagine Walt Disney was actually fired for lacking creativity. Business schools and motivational speakers love to bring it up, and as strange as it might seem, it wasn't the only setback the company experienced.
The company started with Walt. During his time working at the Kansas City Film Ad Company, Walt's interest in cel animation began. He drew several cartoons for various publications but wanted more. He went on to start his own animation company shortly after.
Before Disney became the worldwide success that it is today, Walt and his friend Ubbe Iwerks created the Laugh-O-Gram Studio. It was a silent movie production workshop, but it wasn't to last.
The small studio went bankrupt in just six months, but the work allowed Walt to move to Los Angeles, where he founded the Disney Brothers Studio with his brother, Roy, in 1923 with just $20 to his name. They began producing two animated short films, Alice and Oswald the Lucky Rabbit. During this time, Disney also created a series of cartoons that starred Oswald.
Although audiences loved these short movies and they were quite successful, Walt forgot to copyright his illustrations (something that would never happen again, with Disney copyright still being some of the most robust in the industry).
Consequently, once his contract with the studio expired in February 1928, Walt also lost his rights to the characters Alice and Oswald. He took a lesson from this unfortunate occurrence and became especially cautious about copyrighting everything he created thereafter to prevent the issue from ever happening again.
He didn't give up, however, and just three short years later, it became The Walt Disney Studio and has had unprecedented success since then.
At first, the studio mainly focused on shorter pieces and animated programs. In 1928, the studio released "Steamboat Willie," which featured our favorite lovable mouse. As time would tell, Mickey became one of the most recognizable cartoons in history. In 1934, Disney began producing feature films after the success of the Mickey Mouse shorts.
In 1937, the studio released its first feature film, Snow White And The Seven Dwarfs, 14 years after they got their start. Their first live-action film, Treasure Island, came out in 1950, and in 1955, Disney opened its first theme park, Disneyland, in California. Fans of the brand were ecstatic about the opportunity to visit the park and are to this day.
Since its foundation, Walt Disney has opened several properties and released dozens of films that became childhood and family classics, including Mary Poppins, Tarzan, The Lion King, and many more. Additionally, they acquired Pixar, Marvel, ESPN, and 21st Century Fox in 2019, which has launched their success into a whole new stratosphere.
The Disney we see currently is no longer just an animation studio. It's a multi-faceted brand with different divisions, such as live-action and animated films, live events, theme parks, restaurants, and inspirational experiences.
The Disney Parks
Disneyland and Walt Disney World are the two sections of Disney's wildly successful theme park attraction offering. However, many wonder what are the differences between these two American Disney parks.
A significant difference between them is that Walt Disney World is much larger than Disneyland and has several more attractions, including golf courses and water parks. Walt Disney World has 27 thousand acres, while Disneyland is a bit over 500 acres, making Disney World "The Most Magical Place on Earth" nearly twice the size of Manhattan.
Disneyland also has only two theme parks within it, Disneyland Park and California Adventure Park, while Disney World has the main park, EPCOT, Disney's Animal Kingdom, and Disney's Hollywood Studios. It is also home to various yachting, beach, and golf resorts.
The other primary differences between them, aside from the different rides and attractions, are the castles and Avengers Campus.
Disneyland showcases Sleeping Beauty's Castle, while Disney World has the larger Cinderella Castle. And at Disneyland, you'll find the Avengers Campus will Marvel-themed rides. However, a new Guardians of the Galaxy-themed ride is set to debut in Disney World in 2023.
What are the "Hidden Mickeys?"
The Hidden Mickeys are a feature of Walt Disney World. With reportedly about 1,000 images secreted around the resort, the Hidden Mickeys are typically a large circle with two smaller circle ears and aren't obvious at first glance.
One example of a Hidden Mickey is the purple vein-like leaves in the shape of Mickey's head inside the "It's A Small World" ride's Africa section.
Disney+
Disney + has nearly every Disney movie and more, including Disney Channel, Marvel, Fox, and vintage TV shows. With acquisitions growing and more studios becoming a part of the Disney family, you can find that much more entertainment available on the streaming platforms. They also make Disney original TV shows that exist solely on the streaming service. It works just like any other streaming provider and allows access to its full catalog of movies and TV shows for a monthly subscription fee.
Disney Logo Over Time
The very first Walt Disney logo showcases an image of Mickey Mouse – the most recognized Walt Disney character, on a black background. From that simple beginning that features the words "Walt Disney home entertainment" to the impressive Cinderella Castle, which is a current logo staple, the icon has grown and changed over the years.
The company even boasts an animated logo of a ball of white light with a shooting star that flows with an arc behind it. Against the deep blue background, this star led to a castle in a lighter shade of blue with a stripped-down appearance.
As the Walt Disney logo began to appear in movie intros, the "Walt Disney Pictures" tag was added, and the castle's animation was updated and changed. In a continuing theme, the animated version of the logo is often updated for whatever film it's coming before.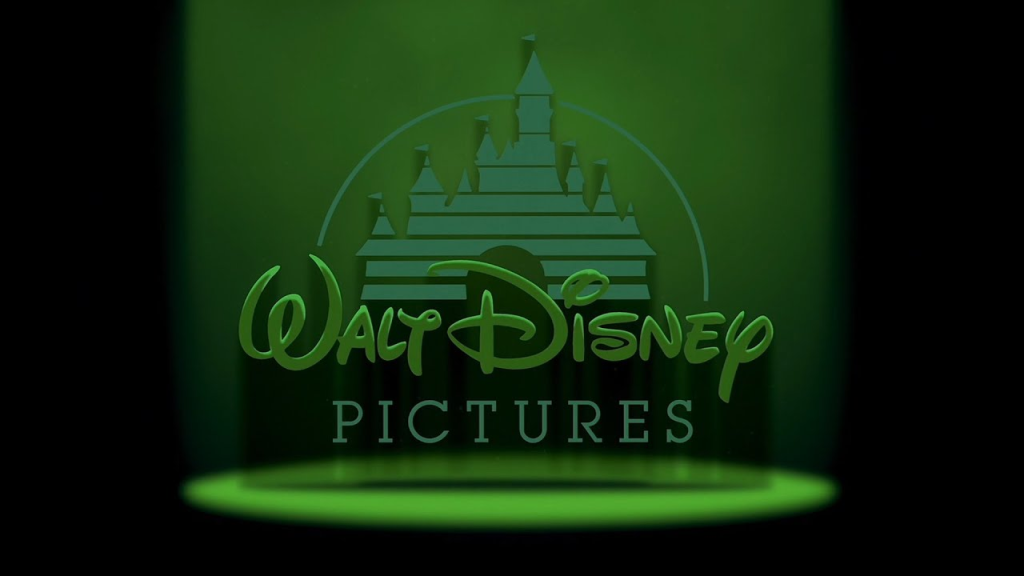 For instance, the Snow Dogs logo opening from 2002 featured an arcing line with icicles and snow. In Lilo and Stich, the logo had a blinking and beeping UFO-like object over the arcing line. And then, it is caught by a green spotlight and takes off like a space shuttle. Even in the latest versions that have enhanced CGI animation, special touches are added to nod to the film the logo is accompanying, like the pirate flag and mermaids from Pirates of the Caribbean.
Now, let's look at the history of the logo icon Disney has used over the years and how that castle found its way in.
Disney Logo Key Elements
There have been a few key elements to the Disney logo design that have been perfected over the years.
1. The Castle
The Disney logo draws inspiration from its movie princesses and princes. Sleeping Beauty, Cinderella, Snow White, and other classic Disney princesses typically all come from or get to live in a castle, and the logo pays homage to that fact.
Thanks to Disney, many kids from across the globe have fantasized about being princes and princesses, and acknowledging this huge cultural impact is essential to the brand's reputation. So, naturally, including the castle in the design was a great move.
Outside the cinematic realm, the castle references Disneyland and the Magic Kingdom. The first theme park was created in 1955, with Sleeping Beauty Palace as a prime attraction. By marrying the theme of the Disney castle and the actual castles you can visit, the logo pulls double-duty.
As technology has become more sophisticated, the logo adopted those innovations, particularly in the animated logo openings, which has allowed the brand to stay fresh and current.
2. Black & White Coloring
By creating the base logo in a monochromatic black and white, Disney was able to create something they could use anywhere by simply flipping or altering a single color. It made the icon adaptable, modern, and easily marketable. The other main variation of the logo was the classic blue used in its films' openings.
3. Color:
The primary blue color is as follows:
4. The Font
The Walt Disney logo font is based on Walt's own handwriting. The swooping curves are playful and creative, evoking a child-like sensibility and charm. A modern font representation of the brand has been created, and many others play off it for humorous pop culture references.
Conclusion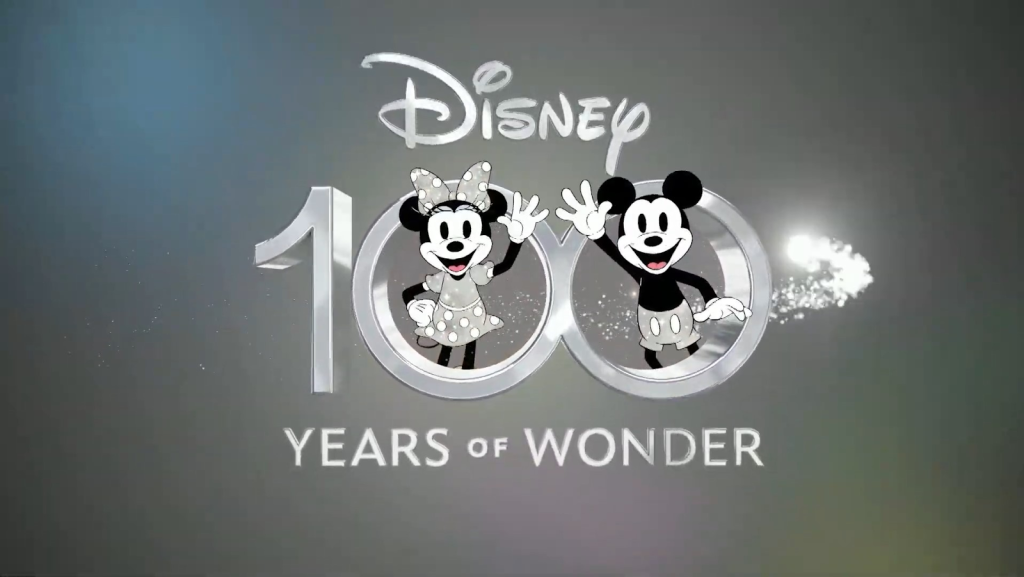 The Disney logo is one of the most recognized and loved in the world. No matter where you see it, whether that be in Hollywood, where it all started, in a movie theater, or in the Hong Kong Disneyland, the Disney castle and font are instantly recognizable.
From appearances on clothing to its presence at the start of each film, the logo is everywhere. Disney has so effectively associated their purpose with their logo that people know what to expect in terms of quality and scope when they see it attached to any production, event, or item. That power makes the logo an inseparable part of Disney's merchandising and promotion.
What's more, in its animated, unanimated, and simplified forms, the logo is a universal part of the company's branding. Their multiple versions of the logo are a great example of how a business can successfully tie its message to multiple logos. It's an especially good model to follow when you're considering using several versions of your logo simultaneously.
Walt Disney's baby has been filling the world with joy and entertainment for children and families for nearly a century. From its beginnings filled with firings and a handful of failed ventures, Walt Disney's tenacity and determination went on to create one of the most successful companies in the history of the world.
Well done, Walt.