Bosch is a technology company with a long legacy, and the logo history to match.
This engineering company was founded in 1886 and has delivered more than a century of top performance across industries.
Bosch is still a well-respected brand sold worldwide. The Bosch logo has evolved over time while maintaining recognizable branding and a consistent look and feel.
Explore the history of the Bosch logo as well as the Bosch company to see how this logo has stood the test of time.
About Bosch
The Robert Bosch GmbH company, also known simply as Bosch, is a German firm founded in 1886. The company takes its name from its founder, the engineer Robert Bosch, who worked with Thomas Edison before starting his own workshop.
Mr. Bosch began the company out of a backyard and it grew as he found success. Bosch expanded internationally in the early 1900s. By the 1910s, Bosch products were available in every continent except Antarctica.
In its early years, Bosch focused on electrical and mechanical devices, especially for automobiles. The company sold its first low-voltage car generator in 1887. Then it expanded into ignition systems, spark plugs, generators, headlights, and other car parts.
Bosch has been a mainstay of the auto industry ever since. Today, the company is the world's largest supplier of automotive parts and equipment.
Bosch diversified their products in the 1930s. The company began making gas instruments, electric power tools, radios, home appliances, and more. This move made Bosch a household name.
Founder Robert Bosch has a mixed political legacy. He held many progressive views and took his role as a business leader seriously. He focused on occupational training, workplace safety, and worker's rights. Bosch was the first German company to introduce the eight-hour workday. He offered apprenticeship programs to recruit and train young workers. He also tried to make broader changes by supporting peace efforts between Germany and France after World War I.
However, Bosch was also a major contributor to the Nazi war effort during World War II. German tanks, airplanes, and automobiles all used Bosch components. Several Bosch facilities used slave labor from concentration camps and captured enemy combatants in this work.
Some historians claim that Robert Bosch supported resistance activity in secret, but the Bosch leadership gave every appearance of cooperating with the regime. Mr. Bosch died in 1942 at age 80.
The company stayed intact after WWII, eventually recovering from the war and the death of its founder. Bosch continued to offer new technological products like public address systems, hydraulic brakes, digital radios, solar panels, software, dishwashers, lithium-ion batteries, computer chips, and more. The company now focuses on transportation, industrial tech, energy, construction, and consumer appliances.
Today, the charitable organization Robert Bosch Shiftung owns the Bosch company. This group spends most of the company's proceeds on beneficial causes unrelated to Bosch's products.
The Bosch Logo Over Time
Bosch's first logo was created in 1900. After more than 120 years in business, the company has updated its branding with the times. However, the Bosch logo has remained remarkably consistent over the decades. The powerful design can be identified at first glance, by people around the world.
The brand's modern colors, font choices, graphics, and layout are similar to what consumers saw in the 1920s. All the elements in Bosch's current logo were present in its very first design. This consistency is fitting for a brand known for its engineering, production, and efficiency. The logo reflects Bosch's commitment to reliable performance.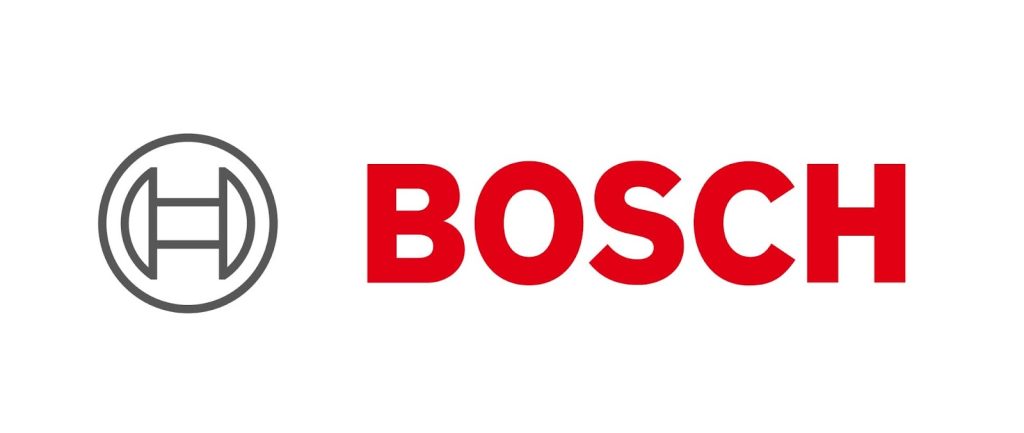 Bosch's Current Logo
---
Bosch introduced their current logo in 2018. This design maintains classic brand features like the wordmark's bold red lettering. The wordmark is virtually unchanged since the 1981 design. This long-term consistency reflects the company's long history.
The modern logo also merges recent emblem designs. The company returned to a flat design, which is now rendered in deep grey instead of black. These changes are subtle, but they show that Bosch is ready to evolve with the changing market.
The Bosch Logo Main Design Elements
The Bosch logo has been remarkably consistent for more than a century, which has made the brand easily recognizable.
Burning Magnet
Every Bosch logo has featured its iconic burning magnet, which calls back to the company's first signature product.
Colors
The Bosch color story—black or dark grey, and red—is a striking combination that offers high contrast in almost every situation, making for easy brand recognition.
Font
Bosch has used similar sans-serif fonts since the 1920s, which has given the logo a timeless, classic, yet modern feel.
Lessons From The Bosch Logo
The Bosch company created a solid visual identity in 1913. Since then, the company has seen global expansion, wars, changing technology, and evolving design preferences.
However, their well-designed logo has remained relevant, appealing, and recognizable through all these events. The Bosch logo is a classic blend of form and function, which is why it has stood the test of time.